2022 is in full swing! And while we're still celebrating our successes from 2021, we can't wait to see what this new year has in store for on-demand home services.

As we continue to work, exercise, cook, educate, sleep, and relax in our homes, we're becoming increasingly aware of our surroundings and rethinking ways to make the space we spend so much time in more versatile.
So, what does this mean for the home services industry heading into 2022? If you have the time and curiosity to find out, I've got a few insights to share about what trends homeowners, renters, and contractors can expect to see as we enter a new year full of new opportunities.
The Big Picture
Before diving into what we can expect from home services in 2022, it's critical to address the trends we've noticed this past year as an evolving benchmark since the pandemic's debut in 2020.
Escalated by the onset of COVID-19 nearly two years ago, the Total Addressable Market (TAM) for home services sky-rocketed by a margin of 17%, increasing from $506 to $595 billion as people faced the reality of having to do just about everything from the comfort of their homes. We can divide this notable increase into three main spending categories:
Home improvement: $376.9 billion
Home maintenance: $157.7 billion

Home emergency: $60.6 billion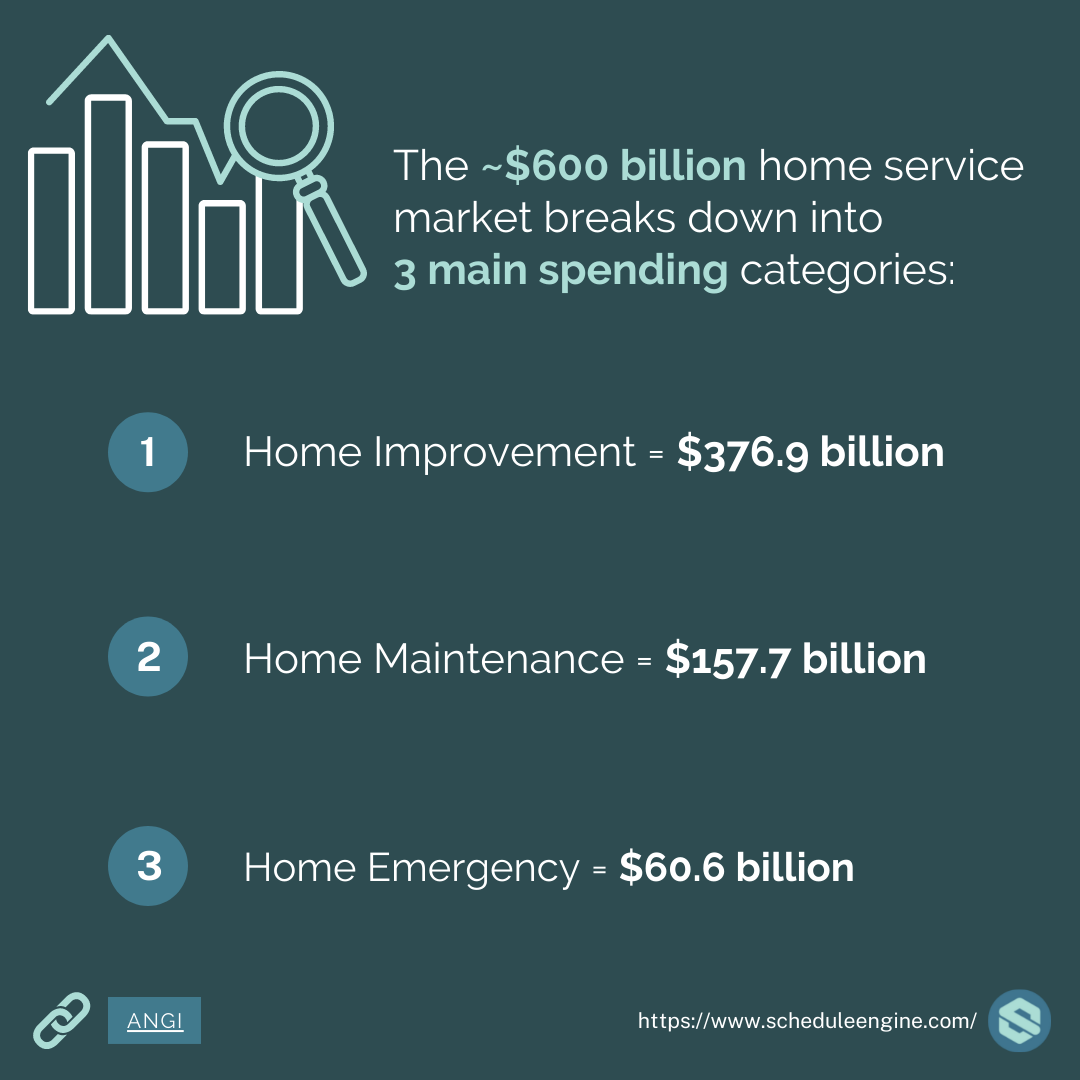 With home improvement spending ranked highest, it's clear that home care has expanded beyond temporary fixes and repairs. Rather than spending money on pre-pandemic commodities like restaurants, travel, and gym memberships, homeowners and renters are investing in their home's performance. According to a study by Harvard Joint Center for Housing Studies, home improvement spending will continue to rise 2% or more per year as we continue living at home.
While the home service business sector has grown tremendously despite the pandemic, it's essential to acknowledge the domino-effect trends that impact customers, from booking and funding home projects to how contractors will handle incoming demand.
Trends Impacting the Home Service Industry Boom
With over 728 million home service tasks (including cleaning, plumbing, landscaping, and all the alike) completed a year, the home services industry will need to evolve as we continue to see business strains and challenges hitting the industry. I've narrowed down a few to break it down.

The Housing Market
Homelife is becoming the new way of life--so it's no surprise to see a positive correlation between homeownership and home service jobs. The millennial homeownership rate between 2017 and 2020 increased by nearly 8%, growing from 40%-47.9%. If this rate continues at 2%-4% in the oncoming years, as high as 64% of millennials could be homeowners by 2025.
Why does this matter? As the demand for real estate increases, construction companies and home service contractors will have to scale their availability and services to keep up. While this demand is helping book more business for contractors, decorators, handypersons, and home improvement professionals, it comes with challenges in meeting the needs of all homeowners: technician and material shortages, project backlogs, and inventory cost spikes.
The Technician Shortage
With the adoption of appropriate safety measures and vaccine roll-outs, the demand for contractors and technicians has risen to an all-time high over the past year. But there's been an ongoing issue in the home services industry, making it difficult to match the rising demand for home improvement: the technician shortage.
As older generations retire from the home services industry, it's challenging for contractors to attract newer generations to a career in the trades. The technician shortage will continue to confront the industry as long as stigmas around manual labor, compensation, and work hours prevail. 2022 can be a year of opportunity for contractors to excite their current technicians and newer generations about working in home services. From competitive salaries, benefits, and flexible working hours to rewarding training and apprenticeship programs, contractors have the chance to rethink their business operations to support a balanced lifestyle for technicians.
To create a balanced lifestyle for their already existing hard-working team, contractors can leverage tech-enabled services to drive demand and help prioritize high-value jobs.

The Supply Chain Conundrum
Alongside the technician shortage, it's equally important to acknowledge the pandemic's disruption to the global supply chain. The market size value for the worldwide supply chain stands at $15.85 billion, with an expected value of $37.41 billion at a Compound Annual Growth Rate (CAGR) of 11.2% from 2020 to 2027. While these numbers look large upfront, there's been a strain on the supply chain since the beginning of the pandemic.
The ongoing demand for home remodeling, improvement, and new construction projects has limited the amount of available equipment and resources contractors need to operate and complete jobs. Due to logistics issues, manufacturing shortages, and trucking labor shortages, material costs have jumped, forcing homeowners to pay prices like never before to fund and fulfill the home projects they've been dreaming of.
Going forward, we can expect residential repair, maintenance, and enhancement jobs to grow. But due to continuing material shortages and high prices, residential and commercial construction may be slower to come by. Throughout 2022, and potentially longer, we can expect the global supply chain to play catch-up until the pandemic falls under a certain level of control.

The Ever-Changing Climate
Another reason homeowners and renters are investing in their home's performance is to prepare for changes in climate due to the record-breaking weather events we saw in 2021.
Last February, the Texas arctic blast left millions of people with burst pipes, flooding, and without enough drinking water or electricity to keep warm. In the fall of 2021, a Nor'easter hit New England, where hurricane-force winds sent trees crashing onto power lines, cutting electricity to hundreds of thousands of homes.
While we can't predict or control what mother nature will bring in 2022, the consequences of last year's unprecedented weather conditions will lead homeowners and renters to prioritize preventative maintenance to prepare for any extreme weather events or emergencies. From system repairs to proper insulation, people will seek long-term and reliable solutions for their homes to ensure they're safe and protected year-round.
Education around water and energy efficiency, as well as the installation of products to support these initiatives will also become increasingly prevalent in the future as homeowners focus on sustainability and ways to save money on their utility bills.
Trends by Trade
In continuation of the four factors mentioned above, let's look at what new and ongoing trends home service contractors, big or small, can expect to see across the trades in 2022.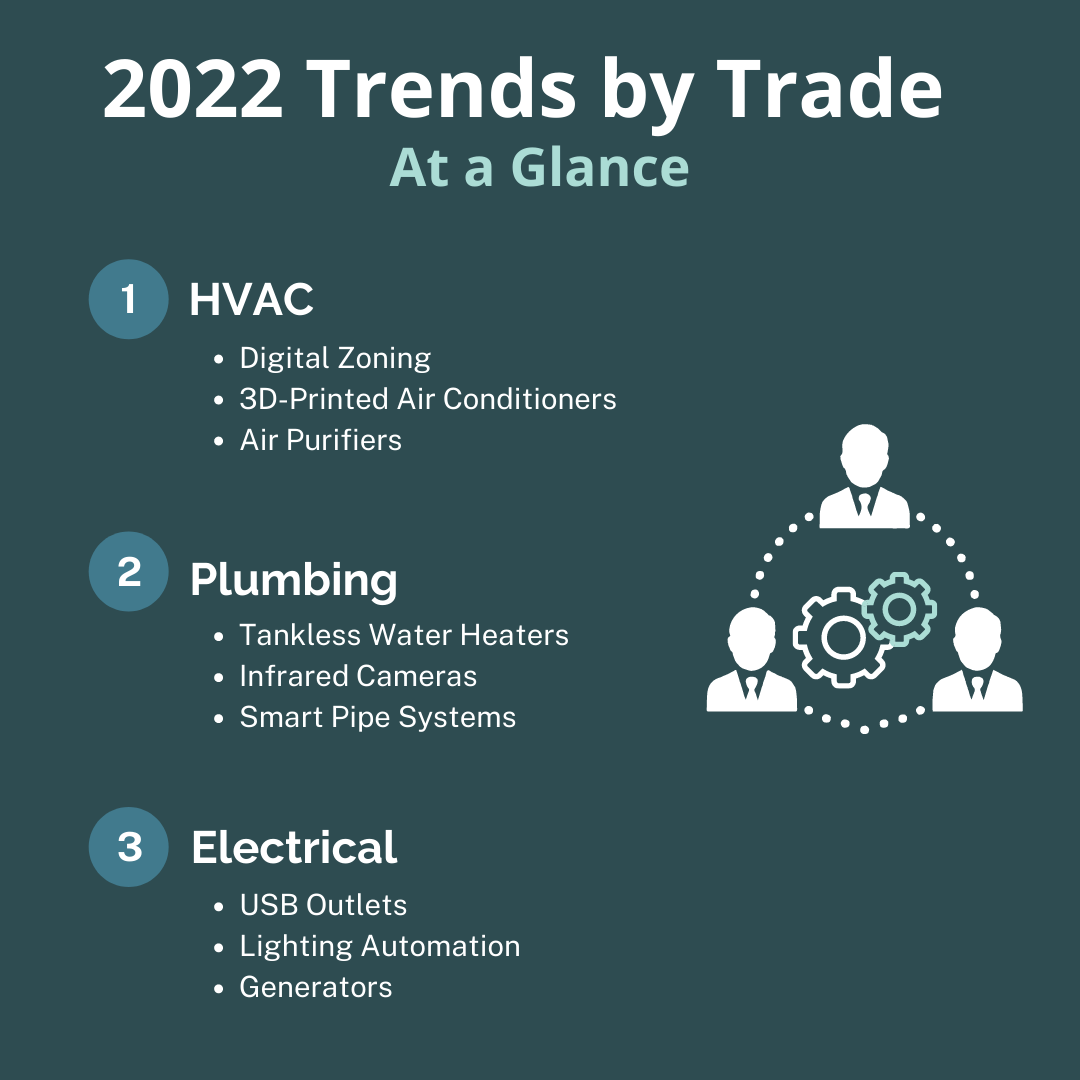 HVAC
Nowadays, a simple sneeze on the sidewalk turns heads. The awareness around clean hands, surfaces, and especially clean, comfortable is now remarkably common. As we journey through 2022, the following systems and methods may grow in popularity as homeowners take control over their heating, ventilation, and air conditioning (HVAC) systems.

Digital zoning: This programmable system allows users to set different temperatures throughout their home to target the areas or 'zones' they spend more time in. They're easy to install with wireless internet and can help reduce energy costs.

User-friendly controls: For homeowners installing new smart systems and devices, they're looking for simple and user-friendly interfaces that can adapt to their home lifestyle behaviors and alert them of any dangers like furnace issues or CO leaks.

Smart thermostats: To help keep their homes comfortable and save money every month, homeowners are investing in programmable thermostats that allow them to monitor and set their home's temperature on their smart device from any location.

IoT HVAC systems: HVAC systems are adopting smart technology for equipment, humidity, and temperature monitoring. Smart HVAC systems can also signal alerts for when something's not working or when it's time for preventative maintenance.

Geothermal solutions: While more expensive to install, geothermal systems are becoming popular due to their higher operational efficiency and durability, lower noise levels, and eco-friendly nature.

3D printed air conditioner: Technology meets HVAC with 3D-printed porous blocks. Using durable and reliable materials, these blocks are designed to absorb humidity and cool air through evaporation. Although this technology is more recent and less common, it is something to look out for in 2022.

Air purifiers: What used to be considered extra additions to a home's HVAC system have become a hygienic necessity. Products like air scrubbers, air cleaners, and whole-house humidifiers can help prevent the spread of germs and contaminants, monitor humidity to protect wooden furniture and floors, and improve overall indoor air quality.

Plumbing
With more time spent at home than at the office, families use their bathrooms, kitchens, and laundry rooms more often. In effect, they're likely to invest in plumbing systems and fixtures that require less maintenance.
Tankless water heaters: Homes are turning to tankless water heaters because they heat water only when it is needed, whereas traditional water heaters heat large amounts of water regardless of whether it's used. According to the US Department of Energy, tankless water heaters can be 24%-34% more energy-efficient than conventional tanks and last up to 20 years.
Infrared technology: While commonly used to detect electrical issues, infrared cameras are trending because they can also detect leaks and moisture in plumbing systems and determine the source of the problem without tearing down any cabinets or walls.

Greywater recycling systems: As an eco-friendly and water-conserving alternative, greywater recycling systems reuse wastewater from washing machines, showers, baths, sinks, and dishwashers for other purposes like watering grass or the garden.

Smart pipe systems: As homes get smarter, so do pipes! Smart pipe systems use sensors to detect any issues or leaks within pipes, helping homeowners prevent water damage.

Water quality: Just like air quality, water quality systems like water softeners are becoming more popular as people spend more time at home, use their water fixtures more frequently, and focus on personal hygiene and health.

Electrical
From new home office lighting to electrical vehicle charging, homeowners and renters are raising the bar for having reliable, safe, and energy-efficient electrical systems. I've outlined a few trending systems below.
USB outlets: The majority of smart devices are powered by USB cords. Rather than installing the traditional two or three-pronged outlets, homeowners are installing USB outlets to eliminate the use of extra adapters.
Lighting automation: Going back to the internet of things (IoT), the ability to control lights and dimmers on a smart device is becoming increasingly popular to improve home efficiency and convenience.

Generators: Whether there's an unexpected power outage or an extreme weather event, families are investing in better generators so they can power their homes when the electric grid fails.

Vehicle charging stations: As more people invest in eco-friendly vehicles, they're in need of in-home charging stations with the installation help of trained electricians.

Teaming Up With Technology
As seen from across the trades above, one of the major trends we'll continue seeing in 2022 is the combination of home systems and technology. Providing seamless and efficient solutions, technology allows customers to rethink how they can save time, money, and energy--all at the touch of their fingertips.
Since 2016, investments in smart technology have increased by 20%. As of 2020, over 33 million households in the U.S have smart thermostats. Additionally influenced by the pandemic, touchless devices and fixtures like touchless sinks or voice-recognizing systems like the Amazon Alexa are also gaining more traction to help homeowners save time and energy.
As technology steps up its game, contractors can train their team to become experts on installing anything from smart thermostats to home intercom systems to help homeowners connect all the elements of their homes.
Telematics
Across all the trades and for any contracting business, telematics can and will continue to be a valuable tool in the home services industry. Using Global Positioning System (GPS) technology, many contracting companies use telematics as a method that can track vehicle data, help with vehicle dispatching, and enhance overall operational efficiency.

Software for Contractors
Technology in home services goes beyond smart devices, smart home systems, and telematics. When hiring a contractor to install, repair, or maintain their home, homeowners and renters are looking for quick, efficient solutions that require less action on their behalf. That being said, we are seeing contractors beginning to implement software technologies like Schedule Engine to streamline their online business operations and enhance the user experience.

Schedule Engine: Getting Ahead of the Trends
If you're a contractor looking for an extra hand to tackle the trends of 2022 and help your customers improve their home's performance, look no further than Schedule Engine.
Our suite of resources is here to lift the load off your staff and workload.
Online Scheduling: Our online scheduling software streamlines the booking process, helping customers book complete appointments with less time, effort, and attention from you and your team.
Live Voice: With scheduling integrations and emergency on-call escalation workflow strategies managed by industry-trained agents, Live Voice makes it easy for you to deliver the best customer experience around the clock, even after hours and on holidays.

Live Chat: Our live chat experience features real industry-trained agents who can book real jobs on the spot, build brand loyalty, and boost customer satisfaction.

From booking automation to live chatting, our services can help you manage higher call volumes, connect your customers with real live agents to solve their problems, and provide you data with our Customer Insights to track a customer's journey from start to finish.
Do you think Schedule Engine could be the perfect solution for your contractor business? Take a look at Air Control Heating & Air and how our services helped modernize their business.
"Our website was basic before Schedule Engine. We never had the ability to book online. We needed technology that would work with our installations and systems, and that would integrate with Housecall Pro. Schedule Engine was exactly what we were looking for to go to the next level," Bill, the owner of Air Control, shared in an interview.
How Can Contractors Win?
As a homeowner myself, it's a flawed assumption that every homeowner or renter knows how to make their home as high-performing and efficient as possible. When contractors can step in and take the role of a trusted home property manager that informs, educates, and empowers their customers to improve their home's performance, they'll stand out amongst their competitors and position themselves for success in the future.
In 2022 and beyond, contractors will need to focus on customer care and implement efficient strategies to stay ahead of the rise in demand for home services. Whether that means optimizing their website, strategizing their staffing resources, or adopting software technology to streamline their business operations, innovation is endless as the industry is expected to grow.
When you're more available for your customers and offer trusted, reliable services that address their home service needs, they'll keep coming back, knowing they'll get the right solution at the right time. 2022 is an exciting year for home services, so make sure to follow the trends as people invest in their home lifestyles.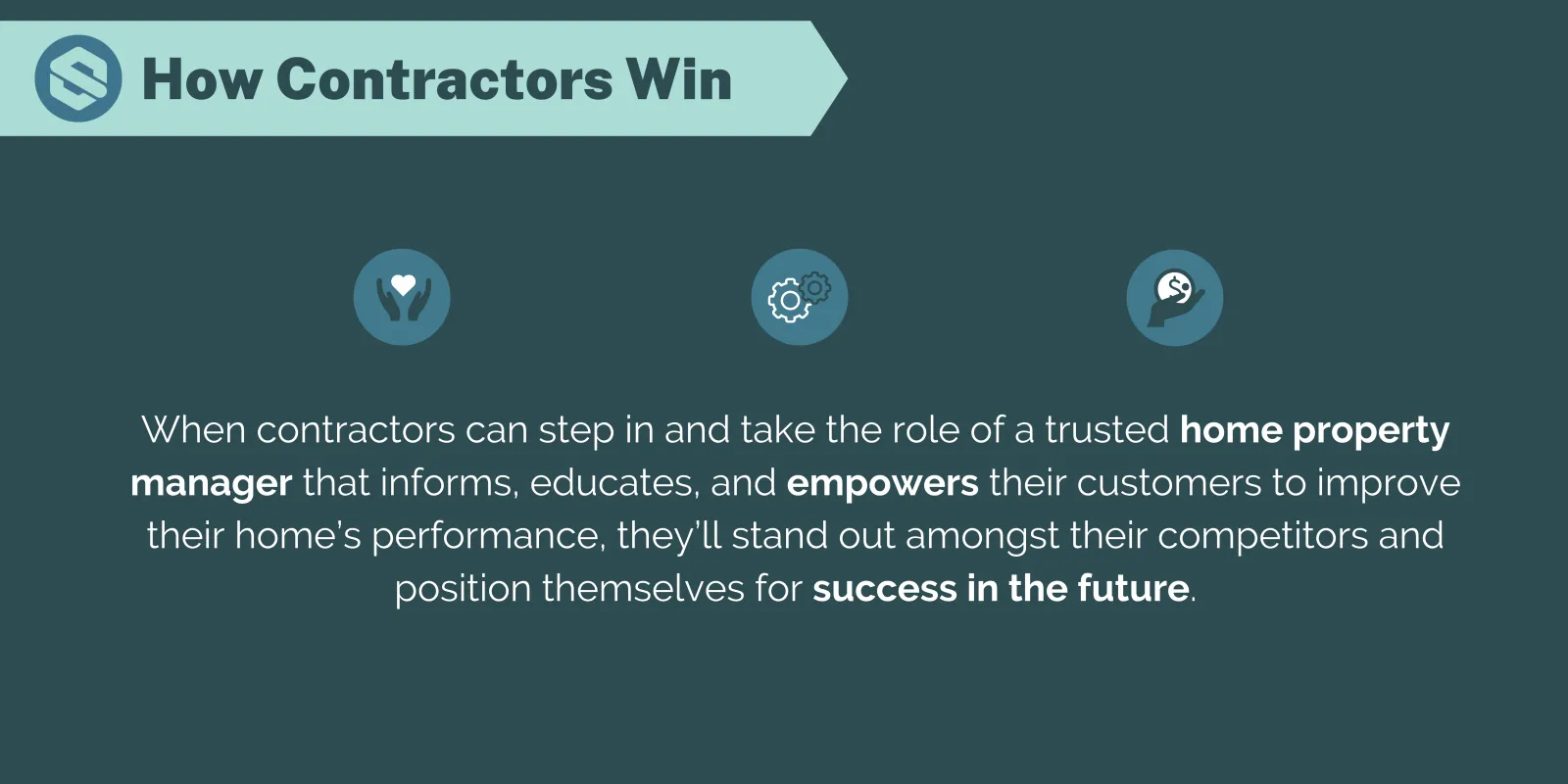 Want to learn more about how Schedule Engine can support your business from digital marketing tips to live services?
Download our latest Resource Guide on Exceeding Customer Expectations & Winning the Customer Experience: A Blueprint for Today's Home Service Provider.