The holidays are a hectic time of year for all of us. It can be difficult to mitigate the stress of managing increased demand home service businesses face during the holidays, on top of obligations outside of work. The good news is, your favorite Dynamic Duo is here to help!
If you don't know them already, Eddie McFarlane and Jerry Rollins are your go-to industry support squad from Schedule Engine's Toolshed. Throughout their many years in the industry, they know all about what it's like being a contractor. And they're here to help you through the holiday season.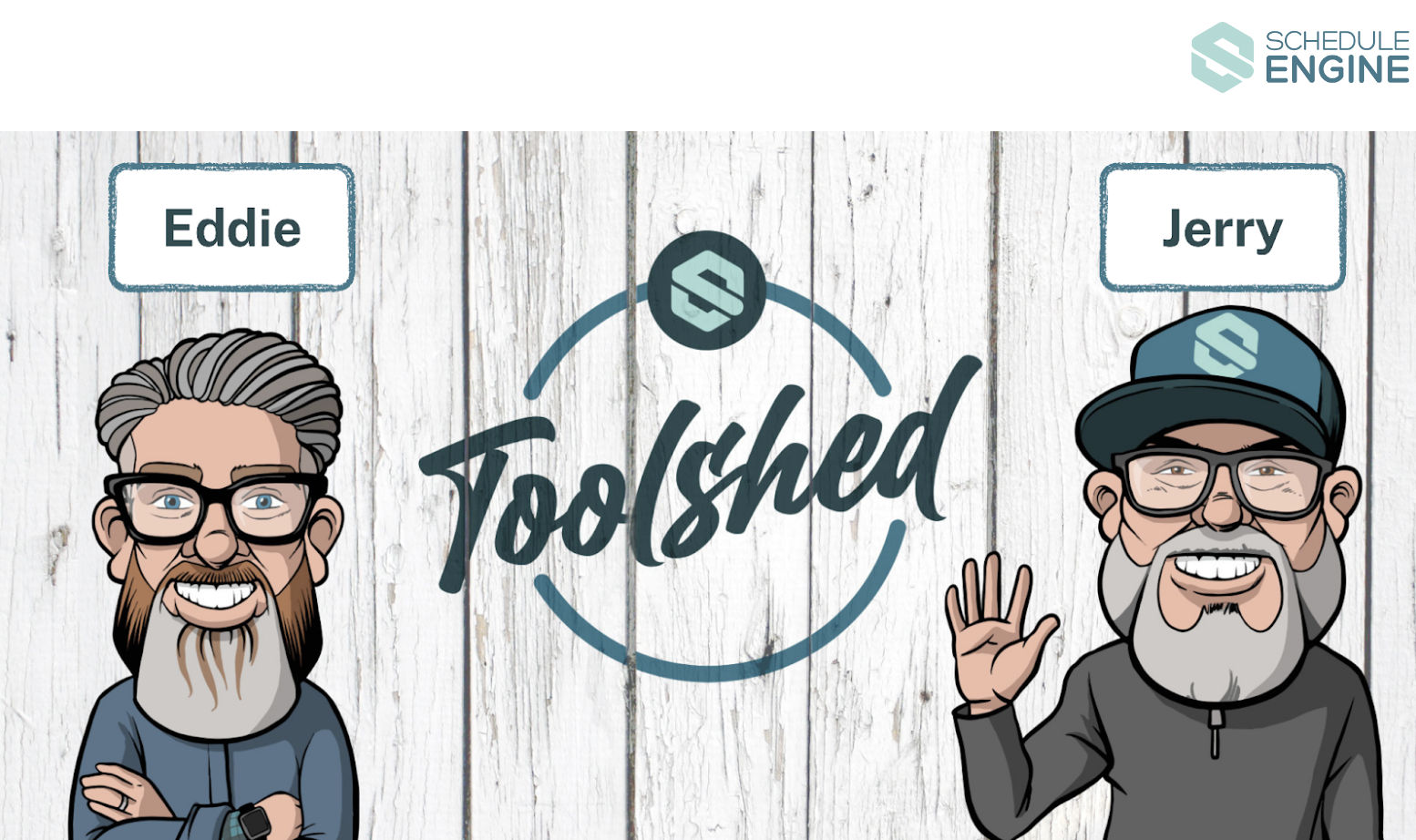 We sat down with Eddie and Jerry to get their top tips on how to prepare and handle the holiday season in the home service business. Here's what they had to say.


Business Management Tips During the Holidays
When it comes to handling business as a contractor around the holidays, here's how to best prepare.
1. Take a look at long-range forecasts.
Because weather varies regionally, and demand varies by weather and trade, this time of year can be a little all over the place! Ease the uncertainty by looking at long-range weather forecasts to see what's on the horizon. Keep an eye out for weather that increases demand, such as cold snaps and snowstorms.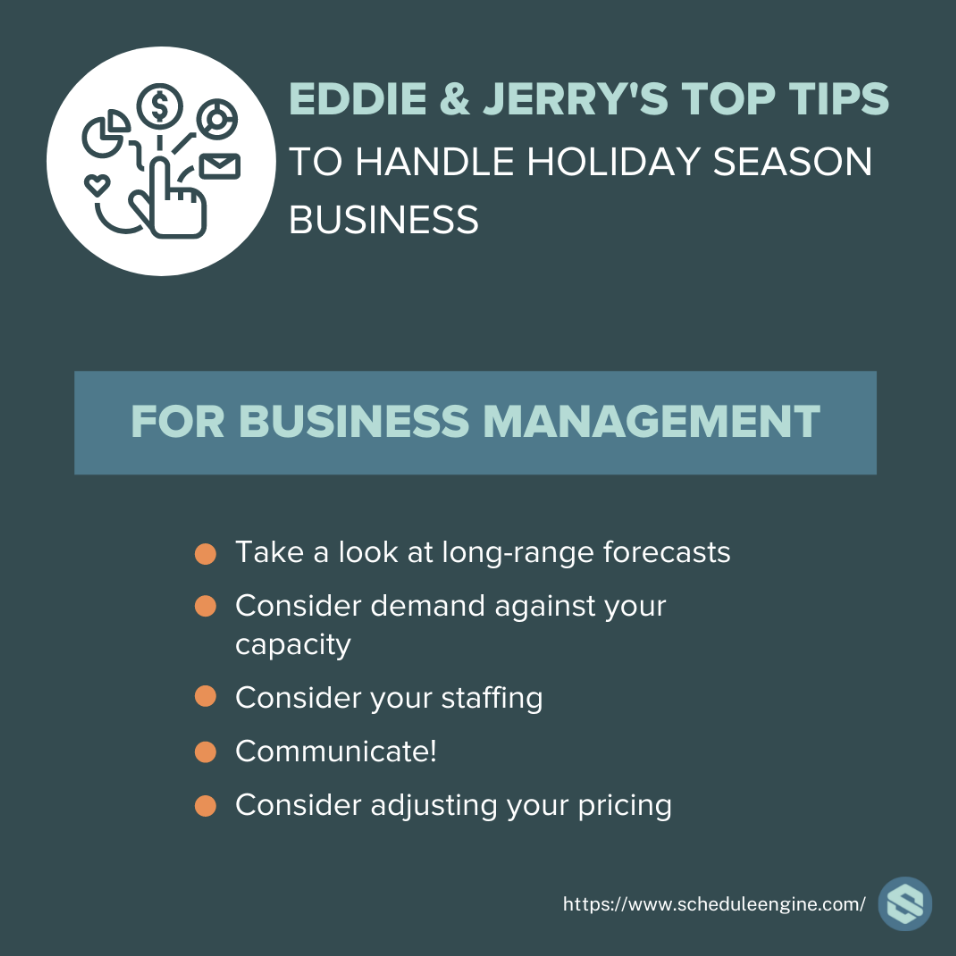 2. Consider demand against your capacity.
Based on what the weather forecasts say, consider the capacity you'll need to handle the corresponding demand. You should also consider demand based on the trades you service. Do emergencies occur in your trade? If so, it may be worthwhile to evaluate capacity for seasonal demand plus emergencies.
If you're expecting more demand than you can handle, make sure you have the support you need to handle overflow calls. Partnering with a live customer support provider that specializes in-home services can help make managing holiday season business a whole lot easier. The right service can help you serve customers the right way and escalate emergencies to the right people at the right time, which will take pressure off of your team.

3. Plan ahead for staffing levels.
Now that you know how many people you need, figure out how many you will actually have. The holiday season is a popular time to take time off, and you'll want to be sure you give your employees the ability to rest and spend time with family. Start things off on a voluntary basis. Ask your team who is open to working on holidays. You can incentivize employees to work on the holidays if needed. Don't forget to make sure that your staff rotation is fair throughout the year (If John and Jane worked on the 4th of July and Thanksgiving, try to give them New Year's off).
Keep in mind that having a high capacity during the holidays can result in more customer acquisitions because competitors may not be prepared. By planning and staffing accordingly, you can be the home services provider that saves holiday celebrations for a customer in your area!

4. Communicate, communicate, communicate!
This time of year, more than ever, it's easy to lose tabs on communication. Start discussing early, both internally and externally, what your business will look like during the holiday season. On an internal basis, remind your team to share their schedules and availability and let them know well in advance what you'll be expecting of them. Having one source of truth for all your scheduling services can also help make it easier to communicate across all your teams.
On an external basis, talk to your customers too! Send communications that share your holiday hours and availability. If you have the capacity, encourage consumers to rely on you for their holiday season home service needs to keep your company top-of-mind this year.

5. Consider adjusting your pricing.
This time of year, pricing can be an excellent gating function. If you want to increase demand, consider reducing prices to acquire additional customers. If you want to decrease demand, raise prices to reflect the size of your staff and their sacrifice and effort in working the holidays. Doing so brings more value to your team in turn.
You can also adjust your pricing to reflect your capacity to serve this time of the year. Should you only want to service emergencies during the holidays, you can limit your capacity for low-value jobs, in order to ensure your technicians aren't getting pulled away from their family and friends for jobs that could reasonably wait.



Bonus Tips: Life Management During The Holidays
We don't discount how demanding the job can be during the holiday season—and how much that can impact your work-life balance. That's why Eddie and Jerry also served up tips on staying in control of your and your team's life and happiness this time of year.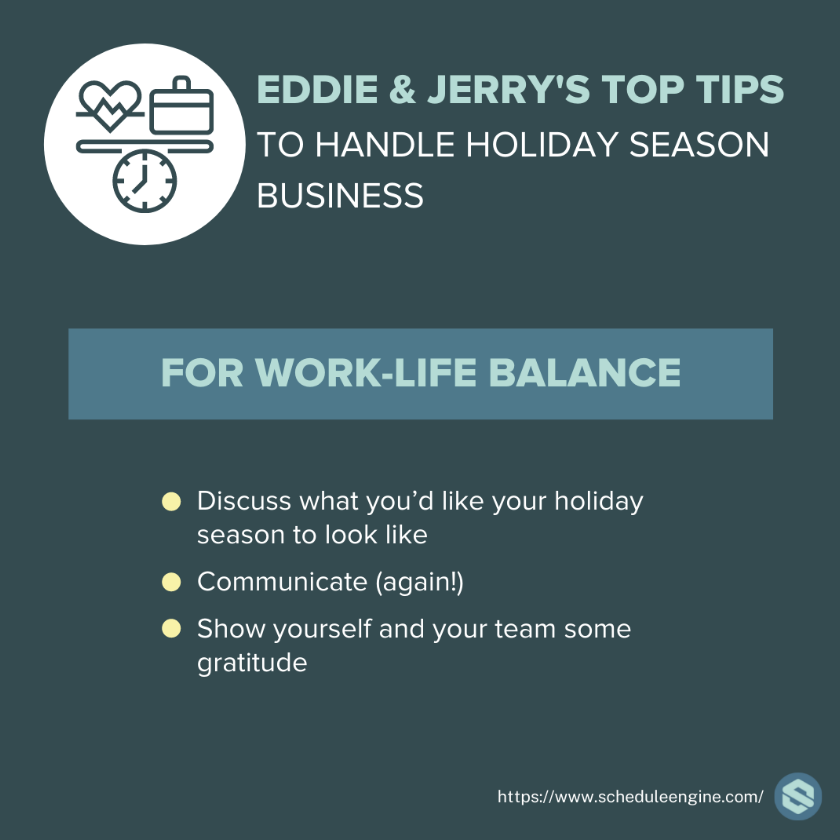 1. Discuss what you'd like your holiday season to look like.
At the end of the day, you're in control of your and your team's work-life balance experience. So, sit down and discuss as a team. Do you want to work on the holidays? Take it off? Take a half-day? You can even loop in your loved ones to have a say in what's best for you. The most important step is having a conversation.
2. Communicate, communicate, communicate (again)!
Are you sensing a theme here? For the same reason communication is vital for managing a business, it's essential for managing your work-life balance. Update your company's voicemail and employee email addresses with out-of-office statuses if applicable. If you choose to work, let your customers know that too! Send out some communications to let them know, "We're working for the holidays!".
These efforts can help you balance the workload coming in and leave no gaps in your communication amongst everyone involved, leading to more work in the long run.
3. Show yourself and your team some gratitude.
Working on the holidays is difficult. You know it, your team knows it, and your loved ones certainly know it. So, acknowledge the sacrifice, and show everyone some gratitude for their dedication. Little efforts can go a long way:
Encourage employees (and yourself!) to spend quality time with loved ones when they're not working

Send a hand-written note or holiday card to your employees and their families to say thanks

Share the love by sending gift cards towards their holiday meal

Throw a team social gathering to celebrate together
It's your big rocks that matter most—and don't you forget it!
Schedule Engine can help you manage your work-life balance by taking some of the pressure off your plate. Our Online Scheduling, Live Chat, and Live Voice service offerings can handle all of your customer service needs during the holiday season so that you don't have to. For more information on how Schedule Engine can help you sail smoothly through your holiday season, reach out to the team! We'd love to tell you more about it.
With these tips in your toolbelt, you'll feel the holiday cheer instead of holiday stress. Now go get after it!
PS: The duo is always around to support our home service heroes—holidays or not! The YouTube channel has a backlog of all of the tips and tricks videos you may need. Feel free to swing by the Shed for some learning and growing with Eddie, Jerry, and our community of home service pros…They're also accepting any open-standing holiday party invitations. Just sayin'! 😉
If you want to catch up on Toolshed Season 2 while you sip eggnog and reflect on the past year, be our guest! It's the perfect holiday binge if we do say so ourselves.