You heard it here first, folks: Toolshed is returning for Season 2! Okay, actually you heard it here first when I announced it on our Facebook Live (my first one ever, don't judge too harshly). But I wanted to share it with my LinkedIn fam, too, because I'm psyched!
What's Toolshed?
Not familiar with Toolshed just yet? Here's the rundown.
Toolshed is your favorite daily and weekly dose of home services industry training, insights, and tips. We seek to provide intentional positivity within the home services industry by elevating the best people and practices in the trades. From years of experience working in the industry, Jerry Rollins and I, plus the many others we worked with that were kind enough to share their wisdom with us, have loads of performance-driven tips and tools, and a pile of war stories to share. And we do so every Tuesday-Thursday at 8:00a EST with a 15-minute video to start your day. It's your chance to add a couple of notches to your toolbelt, sharpen your skills and build your career.
Are you as busy as us? Don't worry, we've got all of our content uploaded and ready (free and easy to access) in our Facebook Group and on YouTube, so you can binge Season 1 before Season 2 even hits the scene!


Season 2: Coming Soon!
Toolshed is here to make conducting your business as easy as can be. We seek to add value to you, your team, and your business every day. And we have a whole 'nother season of content to help you do so, with a better, fresher format to match! Like professional athletes, technicians need daily coaching to perform at their highest level. Insert Toolshed Season 2: The Huddle.
Four days a week is all your techs need to:
Be happier and more confident in their work.

Increase customer satisfaction.

Produce higher sales.


What's on the Line-Up?
This season, we're diving in on all the tough things in business planning, strategy, and implementation—the things that grind your gears. We'll be bringing in industry friends to tap into their expertise and learn from their lessons of leadership and development with the following topics: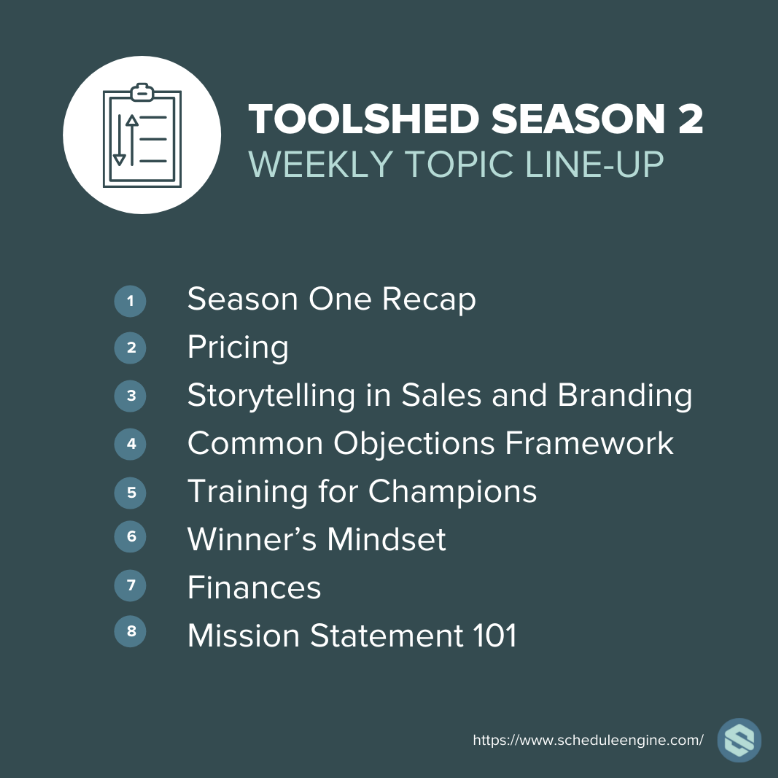 Week One: Season One Recap

Week Two: Pricing

Week Three: Storytelling in Sales and Branding

Week Four: Common Objections Framework

Week Five: Training for Champions

Week Six: Winner's Mindset

Week Seven: Finances

Week Eight: Mission Statement 101
Plus, there will be giveaways and surprises from our friends at Schedule Engine and Emerson, too. So keep your eye out for those along the way!
With this killer table of contents, we hope you're as excited as we are. If you are, let us know! We don't want this to be a one-way communication stream; Toolshed is a resource group designed for you, by you, and your needs. Feel free to introduce yourself, ask questions, and tell us what you'd like to get out of Toolshed in our Facebook group. Jerry and I are here for no one other than you.
We're looking forward to seeing you soon, so bring your team, bring your friends, and let's fill our toolboxes at Toolshed! Join our Facebook group today for regular Toolshed content, updates from Jerry and myself, and to be primed and ready as soon as Season 2 launches on September 14th.