It's no secret that home service contractors have it tough. Between dealing with changing customer service preferences and rival businesses undercutting prices, it's not easy to stay competitive.
As a founding member of a tech company focused on customer experience and a person who has worked on both the manufacturer and the contractor side, I've been an open ear to hundreds of contractors during my decades of experience in the home services industry. I know the problems you face and how to solve them.
Bear with me while we play Freaky Friday for a minute. If we reversed roles, and I was in your shoes as a contractor, here would be my plan of attack. I'd compete on three fronts — customer convenience, technological integration, and recruitment. Let me break it down for you.
Attack 1: Provide Radical Customer Convenience
Let's face it—consumers aren't living quite the same lives they used to. With innovations in technology, consumer expectations have changed, and speedy convenience is the name of the game. Nowadays, contractors who make it easy to do business with customers will win the job. There are a few hard facts to keep in mind if you want to keep up with customers:
Consumers are more concerned about the quality of their experience than the price.

Consumers are used to radical convenience from online commerce giants like Amazon and expect the ability to track purchases, groceries, and pizza to their front doors in real-time.

Consumers seek instant gratification and expect you to be there when they need you.
So, what do you need to do?
Reinvent your customer service experience.
Provide easy, convenient scheduling and contact options that allow your customers to communicate with your business how and when they want. This course of action is crucial because, at the end of the day, if you don't provide the experience that your customer wants, someone else will.
It can be easy to think that you may lose control when offering this level of customer experience. Yet, it is on the contrary! By configuring your website to qualify and schedule appointments, you'll be able to mimic your top-performing CSR.
Look for ways to approach exceeding customer expectations.
The COVID-19 pandemic has sped up the adoption of digital technologies. More customers are more willing to turn to tech. Plus, many people are still reluctant to allow anyone in their homes due to COVID-19, so if you could have a third-party technician remotely view and diagnose issues through a virtual visit, it would be a game-changer.
For example, there is no better time for remote service support than after hours. Contractors can use the services to screen out minor problems remotely. Homeowners save time and on-call techs can stay at home. In other words, it's a win-win!
Attack 2: Leverage Technology For Business Growth
You probably find yourself swamped with only so many hours in a day and the many responsibilities that come with running a contracting business. This burnout has a trickle-down effect. Your CSRs are sitting in call centers, unable to stay above water during the ebbs and flows of the seasons. They're doing monotonous work (too much of it) and struggling to tread water.
If you can relieve some of that burden, your CSRs will better equip your customers and serve them with an experience that will exceed all their expectations. So, what do you need to do?
Leverage technology to perform and eliminate monotonous tasks.
Advances in technology have provided opportunities to automate some of your CSRs' more monotonous tasks. You can integrate technology to handle scheduling, booking, customer communications, and more.
Reposition your existing team members.
With technology taking on some of their load, you can move your existing CSRs into more thought-based roles, where they can prioritize higher-value interactions. This reorganization will give your employees more time to be proactive on the job and follow up on open quotes.
And I promise this will be great for your business and your team! A client of ours in Pennsylvania said:
"Wow, this is amazing! I don't want to turn my existing employees into robots answering the phone, but into more managerial roles."
They pushed more of their business through online channels, which empowered them to convert their CSR employees into channel managers to oversee appointment flows—a more fulfilling job and better use of skilled work.
Attack 3: Reimagine Recruitment and Talent Acquisition
Recruitment is consistently one of the biggest challenges in the home services industry. The fact of the matter is, there is too much work and not enough skilled labor. The only way to reconcile that is to produce more skilled labor.
So, how can you capture talent?
Modernize your brand.
Nowadays, prospective employees favor businesses that are perceived positively. The best way to attract and capture this younger generation of technicians is to build a brand that personifies convenience, excellent customer experience, cutting-edge technology use, healthy social media presence, fulfilling career opportunities, and more.
Enact new ways of recruiting by showing prospective employees what experience your company can provide.
The new generation of talent wants to work for a business with a mission they can get behind. Young employees want a culture that places value on their experiences as workers. It's no longer just about salary—it's about the experience. It's about professional and personal fulfillment.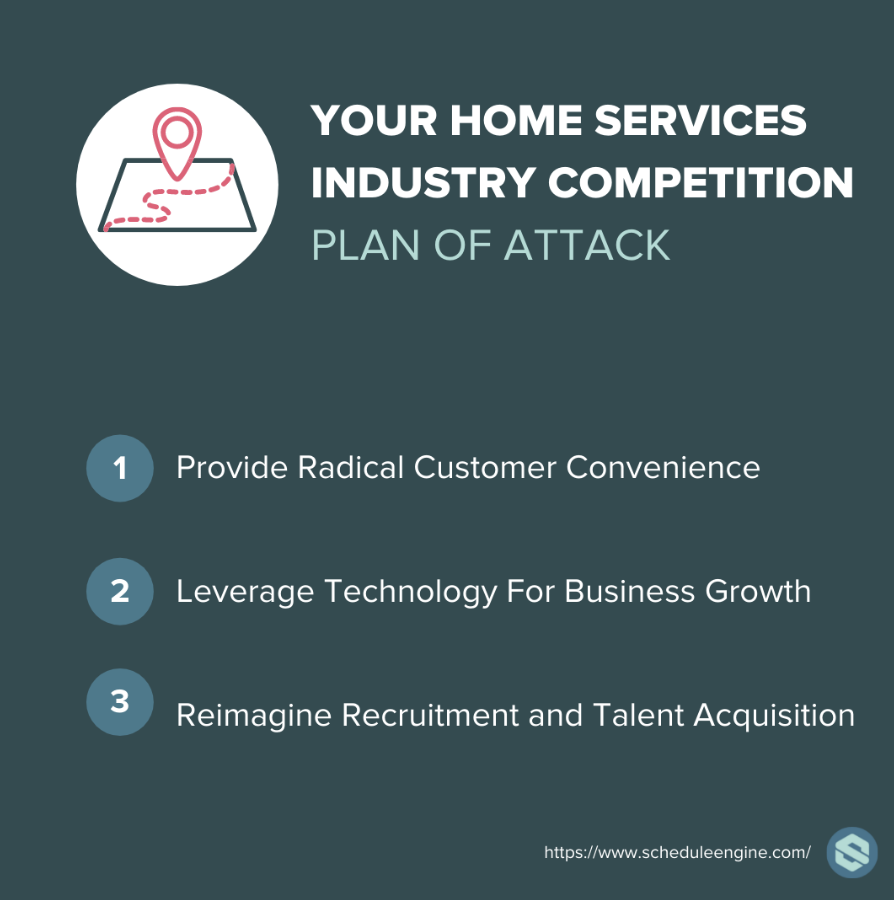 The truth is, you might need some help with this plan of attack. That's where Schedule Engine comes in: We offer Remote Assist services and phone support with live, industry-trained agents, which together can help resolve simple maintenance problems when you are tied up.
The result? You can prioritize your field techs for important, revenue-generating calls and ensure your employees get to put their skills to work and help evolve the home service industry. It's convenient for your techs and your customers —the ultimate win-win.
Want to learn more about how Schedule Engine can help you stand out in a competitive market? Reach out, we'd love to hear from you.