I've heard it, you've heard it, we've all heard it: the home services industry customer is changing, and contractors need to keep up. It's the tale of the time. But wait, can we take a step back?
Before we begin to think about how to serve the modern consumer, we first must understand who this modern consumer is—then get to the "what to do about it" later. As someone who has extensive experience from sales to business management and planning, I know a thing or two about home services consumers. And I'm here to tell you all about them.
What's New With Customers These Days?
In recent years, the world underwent a monstrous change (I think you all know the one I'm talking about). 2020 sent consumers, like a big, 'ole army of caterpillars, into hibernation. Now, emerging as butterflies, they're participating in all new behaviors.
So, how exactly are they so different? You can start to answer that question by taking a look in the mirror. Take a moment to think about the following scenarios:
You're not in the mood to cook, so you and the family decide to order takeout. But you don't know what you're in the mood to eat. What do you do next?

It's about time for a vacation. You and your partner in crime agree on a trip to the West Coast. It's time to find accommodations. What do you do next?

A close friend's birthday is coming up and you're planning to surprise them with dinner at a nice restaurant in town. What do you do next?
I'm willing to bet most of you answered "what you'd do next" for all three situations with "go online" to order food, find and book a hotel room, or find and book a restaurant reservation. Am I right?
You see, it's not just younger, new homeowners we're talking about when we say there's a "new, modern consumer." We're talking about ourselves: consumers who have collectively experienced unforeseen circumstances that fundamentally changed how we behave. Whether it's pre-ordering weekly groceries or scheduling a Teladoc appointment rather than an in-person one, nearly every aspect of our lives has become conveniently digital.
And who's to say consumers don't want the same conveniently digital experiences from the home services industry? Well, they do. According to an article on Invoca, in the majority of home services verticals, over 55% of consumers run a search before scheduling an appointment. Invoca goes further to break this statistic down, reporting that the following percentages of shoppers by category ran a search before converting:
65% Home remodeling

64%: Appliance repair

62% HVAC repair

58% Electrical

54% Plumbing


Factors Influencing Consumer Behavior in 2021-22
Several consumer behavior trends came as a result of our collective metamorphosis. These trends are influencing consumer behavior around home services, so let me break them down for you.


Modern Consumer Thoughts & Feelings
The new, modern consumer feels and thinks differently about the home services industry. These thoughts and feelings tend to be primarily influenced by:
In today's transient society, home services consumers are willing to rely on something more than just their parents' or friends' recommendations. They want to feel well-informed in their decision-making process, so they'll take it upon themselves to be consumer savvy, relying on digital sources to locate solutions quickly. While they feel they can trust peer reviews and recommendations online, they're still willing to try a new provider if it's more convenient.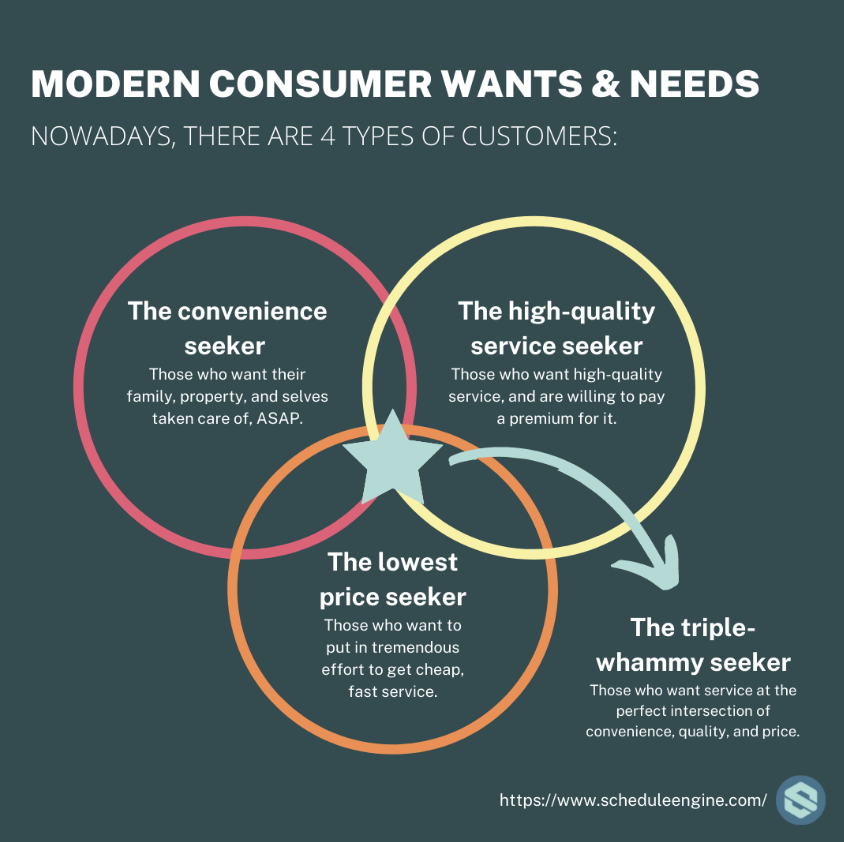 Modern Consumer Wants & Needs (And Pain Points)
These thoughts and feelings are transforming consumer wants and needs. There are four types of consumers:
The convenience seeker: those who want their family, property, and selves taken care of, ASAP.

The high-quality service seeker: those who want high-quality service and are willing to pay a premium for it.

The lowest price seeker: those who want to put in tremendous effort to get cheap, fast service.
...and finally, the cumulation of them all:
The triple-whammy seeker: those who want service at the perfect intersection of convenience, quality, and price.
There's one thing that all four have in common: they need XYZ service.
Their primary pain points in pursuit of that need are:
Lack of digital/brand accessibility

Lack of transparency around pricing

Availability of service

Speed of service
If a contractor does not serve up a consumers' needs for each of the things listed above, consumers won't get what they want. So, they'll be quick to act accordingly.


Modern Consumer Actions
Driven by those wants, needs, and pain points, the modern consumer takes different action steps.
Action based on convenience
Because convenience is a key driver for consumers, they'll pay higher prices to achieve it—something they may not have been willing to do in the past. Consumers want instant gratification. If the modern consumer can readily access information and get instant answers during the decision-making process, they'll act on it.
Action based on ability to meet expectations
Consumers act based on how well a brand meets their expectations. If consumers find a new brand that can better meet their needs, they'll jump ship and abandon brand loyalty. An article by Invoca reports that 83% of consumers say they require a positive experience to remain loyal to a brand, and 82% would switch providers due to a bad one. With fluidity between brands at an all-time high, contractors will constantly need to fight against the incoming tide of consumer pickiness.
The modern consumer actively seeks out brand personalities—they want to know about you, your company, and what you stand for—and will scrape your website, social media, or otherwise to find it. Based on how they feel about your brand, they'll make their next move.


How To Stay Up To Date On The Modern Consumer
Alright, good news! Now you're educated on the modern consumer. The bad news is, in the time it took you to read this article, the world changed a little more—it's constantly doing that! So, you need to keep a pulse on your customers and the thoughts, feelings, wants, needs, and pain points that guide their actions. Here are a few great ways to do so:
Engage in contractor communities
Keep a tab on trade associations, Facebook and other social media groups, trade and services forums, and more to stay in touch with real-time changes in customer wants and needs.
Think about yourself as a consumer!
Pay attention to how you, your friends, and your family interact with the world. Putting yourself in the shoes of a consumer (because you are one!) can uncover the root of consumer actions.
Get feedback in real-time for your customers.
I can tell you what I know about consumers, but at the end of the day, you need to talk to your own customers. Ask more than "How did you hear about us," but more so, "Really, why did you choose us? How did you settle on our company to serve you?". Say your thank you's, and ask to learn more about their experience and how you can improve.
You have a wealth of knowledge from your customers, which makes up every buyer persona you can think of, so utilize it! Not sure where to start? Schedule Engine's Customer Insights services can help you. Learn more about Customer Insights.


Now What?
Okay, so you've learned about the modern consumer. What do you do next?
It might feel like you just read a ton about consumer behavior. But this is just the tip of the iceberg. Make sure to stay in the know by reading up on various consumer reports, journals, articles, and more as part of your regular routine.
Based on everything you just read, there are many ways that you can adjust your service experience to better serve the modern customer.
Want to learn more about how Schedule Engine can help you learn about your customers, and serve them how they'd like to be served? Download our latest Resource Guide on Exceeding Customer Expectations & Winning the Customer Experience: A Blueprint for Today's Home Service Provider.