The home services industry asks for a unique level of vulnerability from its customers. With the expectation of welcoming strangers into their homes, customers may feel apprehensive about the home service process —and that apprehension has developed even further due to the state of the world today. The COVID-19 pandemic has led consumers to seek virtually distanced interactions with businesses they can trust.
So what can you do to mitigate the apprehension and be that trusted provider? Well, think about it like this: You may not let a stranger into your home, but you would a friend. And how do you make friends out of strangers? You get to know them—learn what they like and don't like, remember their birthday and get them a gift when the date rolls around! Who says you can't do the same for customers?
The most successful companies in the industry are those who build strong foundations of trust and comfort with customers. The personal side of the business, where relationships are formed and nurtured over time, will always be the most valuable asset to any company.
Maximizing Business Growth with the Customer Relationship Formula
With fewer physical touchpoints between the customer and contractor, having control over your client experiences and relationships can be challenging in today's day and age.
So, what's the secret to success? Throughout my 20+ years working in sales and leadership in the home services industry, I've built thousands of relationships with contractor clients (ranging from field technicians to executives). Through learning from the very best in their respective trades, I observed the winning formula:
Data + Customer Service = Business Growth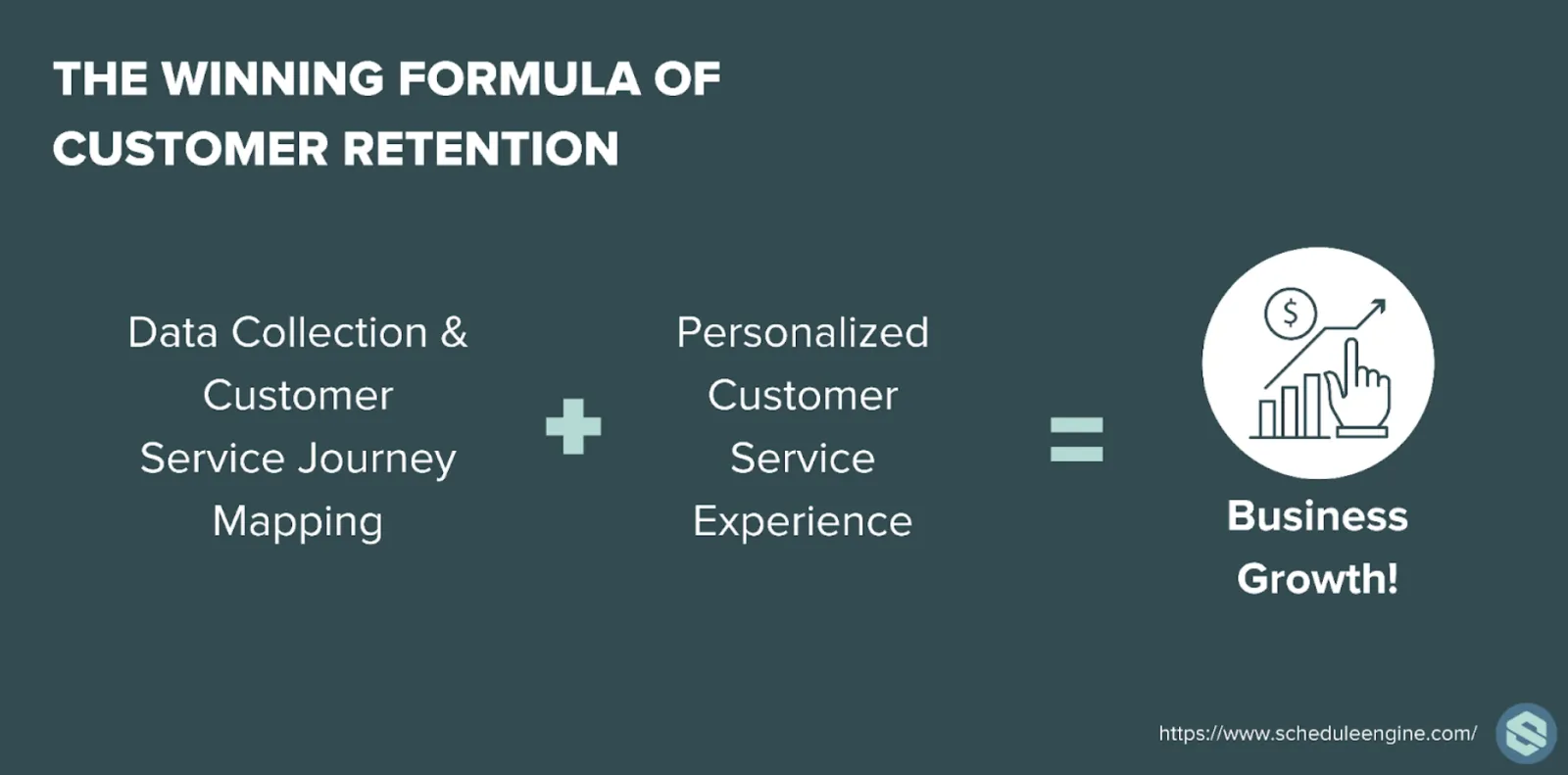 Component #1: Data Collection & Customer Service Journey Mapping
Over the years, the average company can learn a lot about their customers via previous services data, demand generation data, campaign tracking data, and more. Not sure which data is relevant? Here are some key questions to guide what you should know about your customers:
What are the clients' hot buttons—what's most important to them?

Where do they best like to spend their money?

Are they reactive or proactive?
In other words, you need to understand where the homeowner stands in their shopping journey. Two things can influence consumer action: (1) their state of urgency for resolve and (2) their level of awareness about what they're trying to accomplish.
If urgency is high (reactive), they need a quick and easy solution. If a consumer's level of awareness is high (proactive), they need just enough stickiness from your brand to choose you over the other providers in the market.
You should maximize your ability to be digitally present, or first in their online search, in all situations. You can accomplish this by offering quick solutions and providing the right level of information to capture them wherever they stand.
Knowing these things unlocks the door to the consumer's needs and wants, unlocking your potential to serve them better. But this data can't stand alone; you need to open the door and act on it!
Component #2: Personalized Customer Service Experience
The data you collect on your customers should be put to work when building relationships with them. Put yourself in their shoes. Which company would you trust with your business: the one that harbors your data but doesn't tell you why? Or the one that politely asks for your data and uses it to make your life easier, better, and more enjoyable? I'm guessing the latter.
Today the best providers provide security, trust, and peace of mind for their customers by offering preventative maintenance programs that get ahead of and take care of their needs, how and when they want it. This offer includes everything from 24/7 emergency support to online booking to help customers help themselves. Many top providers also offer VIP memberships to show customers how and why they care.
So, set your customers up with impactful memberships and programs to gain insights from them in a more thoughtful way. Creating a positive customer experience will influence them to keep coming back, leading to the sum of the equation: business growth.
The Sum: Business Growth!
Actively integrating data with exceptional customer service provides a memorable client experience for home service contractors looking to grow and retain their repeat client base. You can improve your client experience by using online tools to streamline your customer experience and integrating with field service management systems such as Housecall Pro, ServiceTitan, Successware, and others.
And the proof will show in your ROI, which you will be able to see through the following funnel:
Automating the operational lift off of your CSR team with upgraded tools and services will alleviate friction in the customer experience and help deliver prompt, personalized service 100% of the time.

An improved experience will lead to establishing stronger relationships with current and new customers.

Being able to tie those conversions directly to bookings and campaigns via your upgraded tools will validate your marketing investments in a way you hadn't seen before.
This is where solutions like Schedule Engine come in. We can connect those data points from conversion to marketing investments, giving you awareness into where conversion is happening and how investments are growing business performance.
By adapting to the changes accelerated by the pandemic and creating a way to trace the impact of the investments you make, you can provide your customers with the increased convenience and efficiency they crave while getting to know them a little better along the way. The winning formula = enacted!
Want to learn more about how to modernize your home service business and win the customer experience? Download our latest Resource Guide on Exceeding Customer Expectations & Winning the Customer Experience: A Blueprint for Today's Home Service Provider.