At a large company in any industry, there are more resources. There are more people to cover more departments, provide more services, and generate more revenue. So, it's a common assumption that it's easier to have a large organization, but that's not necessarily the case.
In the home services industry, it's possible, and even common, to have a more significant profitability percentage as a small business than as a large one. As a nimble small contractor business, you can adjust to changes quickly, and get your ducks in a row far faster than the big guys can turn the ship. As the speed and access to information continues to increase in the modern world, small businesses are in a good spot to thrive! Your agility and ability to test and try new things gives you an edge.
Challenges of the Small Contractor & How to Overcome Them
Like any business, the small shops of the home services industry face a set of challenges. Here are just a couple of the overarching ones and some tips to overcome them.
Knowing when you need help
With the pace of technology and digital evolution occurring every day, there are many software solutions and outsourcing programs out there that can make the life of a small contractor business owner easier. There are options that allow you to scale your services and unlock more efficiencies and profitability for small shops (without the enterprise-level price tag). You just have to do your research!
Gaining insights to grow and improve your business
Naturally, with fewer people on your team, there is less time to devote to idea generation about your business and its growth strategy. Small shops require all hands on deck to service customers—and they often spend more time working in the business than on the business. As a result, there may be less idea circulation, fewer problem areas identified, and no one to help you with the processes you're struggling with, like sales or pricing.
Sometimes it's nice to get opinions from outside sources! Accepting input, insight, and even help and services from beyond your business's walls can help you to expand your mindset and your business.
Small and big contractors alike are facing the most severe shortage of skilled trades labor since the Great Recession, with 92% of contractors saying they've had difficulty finding skilled workers.
This shortage is leading to a slew of other challenges:
68% of contractors say they are asking skilled workers to do more work, leading to lower employee retention and burnout.

56% report a challenge in meeting project schedule requirements.

35% of contractors report turning down work due to the labor shortage.
Tips to Overcome Small Business Challenges
To overcome these challenges and compete in today's home services industry, here are three of my top tips:
By joining an association, you become instantly connected to a massive, collaborative network of people going through the same challenges many contractors are facing. As a Vice-Chair at Air Conditioning Contractors Of America (ACCA), I've experienced the benefit of this practice first-hand. Being part of a group that regularly shares information, advice, guidance, and support to lift members of the industry allows the small business owners to level up with the big ones.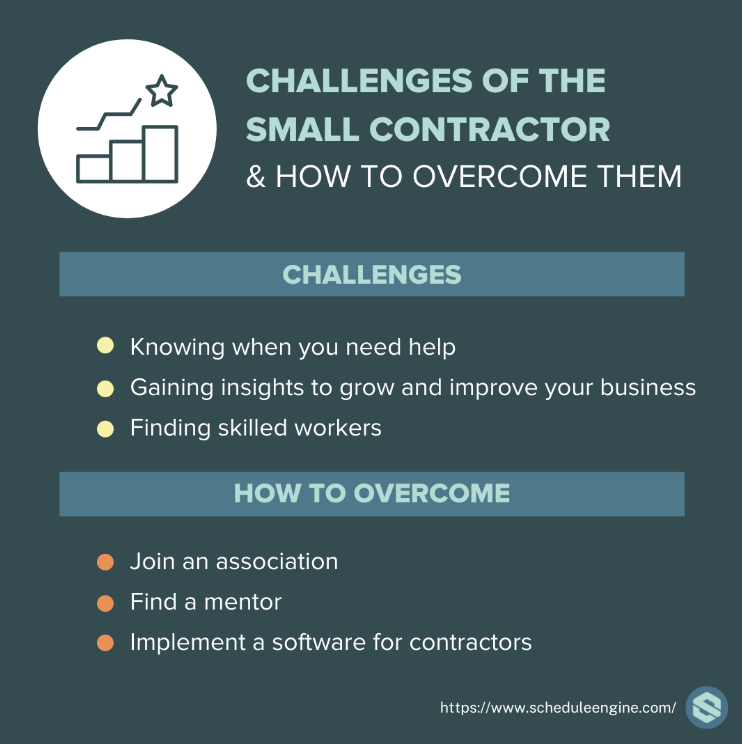 While it's tricky to find a mentor or coach, it's even trickier not to have one. Having a mentor that can help see the bigger picture of your business from the outside and share valuable tips and practices with you and your team can be the difference between a win and a missed opportunity. Find a reputable professional with home services industry experience or coach (not a guru) to help you, and you're sure to reap the benefits. You can check out one of Schedule Engine's dear partners, Business Development Resources (BDR), to start.
Implement software for contractors
Finding and implementing a software created to solve the challenges of running a home service business may be the solution you're looking for. There is contractor software out there that can help you handle your scheduling needs, gain customer insights, and handle demand capacity planning.

Small Business Action Plan: How to Compete for Customer Attention in the Home Services Industry
To compete and win in the home services industry as a small player, you need to understand and cater to your customer's journey. This means providing the means to interact with your business however your customers prefer. Once you have that, follow these steps to bring everything together:
Figure out what your customers' journey looks like
What is your trade? What is your line of business—Residential? Commercial? Who is your customer? How do they want to interact with your company?
Put yourself into the shoes of your customer. Think through all of the steps they take, from realizing there's a problem in their home to them giving you that coveted 5-star review. Build that into a customer journey map, showing where they are in a positive mindset (e.g., a common maintenance issue or repair) and a negative mindset (e.g., an overwhelming emergency).
Not sure what a customer journey map is? A simple online search can yield great resources.
Create a program to address and maximize every step of that journey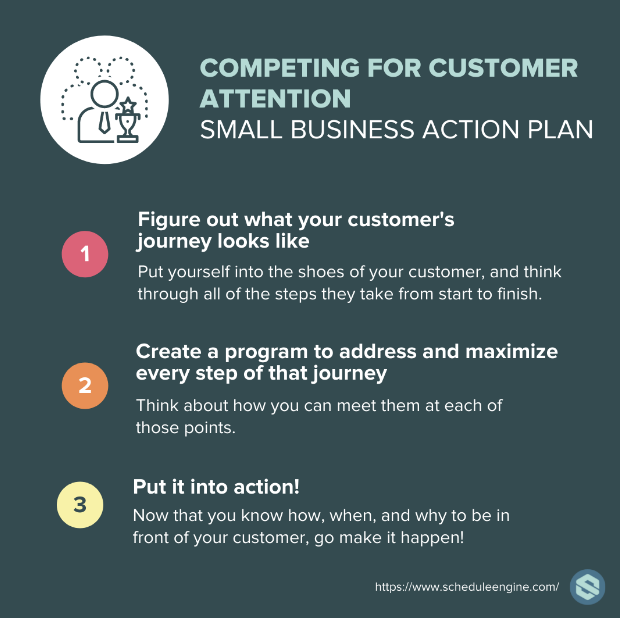 Once you've outlined what your customers are thinking, feeling, and behaving at each journey stage, think about how you can meet them exactly where they are. For example:
Do they search "HVAC contractor near me?" online? Then maybe you should work on your online presence and optimize your website so you rank for local search results on Google.

Do they prefer to book online, chat, or call? It most likely depends on the situation and you should ensure you offer every option to book.
Put it into action!
Doing is significantly greater than talking. Now that you know how, when, and why to be in front of your customer, make it happen! The only way to see if your plan works is if you try, and I'm willing to bet it will!
How Schedule Engine Can Help
You're already great at providing expert home services for your customers. That's why you're in business! But, while you're out solving your customer's problems, it can be easy to forgo other important parts of running a successful shop, like easy scheduling and prompt customer service. Whether it's due to a lack of resources, a shortage of skilled workers, or limited operating hours, Schedule Engine can step in to help.
Our integrated scheduling services—Online Scheduling, Live Chat, and Live Voice—can man the scheduling and customer service front while you handle the more important stuff. You do what you do best while we handle:
making it easy for your customers to do business with you by enabling them to book appointments however they want (online, via chat, or by phone).

streamlining the entire customer experience for your customers and your employees.

creating a 360-degree view of your customer with our marketing attribution analytics.

all your customer touch points 24/7, especially during special circumstances, like after-hours, holidays, blackouts, or emergencies.
Reach out to us today to learn more about our services and how we can help you compete and win in the industry.