With any business investment you make, you expect a positive business impact to come as a result. To empower you to get the highest return on investment with your Schedule Engine services, we've put together an action plan that harnesses the full power of Schedule Engine's tools to maximize ROI potential.
Schedule Engine Services Maximization Action Plan
Whether you have implemented Schedule Engine's Online Scheduling, Live Chat, and/or Live Voice service as part of your business plan, you've invested in your business' success. The next step is to amplify those services to your customers. Invest in educating and marketing your new services to prospects and loyal customers so that they know just how easy it is to do business with you.
Nowadays, marketing efforts are primarily digital—and they work. A study at MIT found that companies that have embraced digital transformation are 26% more profitable than their peers! This is largely because today's consumers seek hyper-convenience, and are therefore more engaged by quick, easy digital interaction. According to Superoffice, multi-channel digital touchpoints create highly engaged customers, who buy 90% more frequently, spend 60% more per purchase, and have 3x the annual value.
Using digital marketing tactics to amplify your services to your customers is sure to drive up that ROI. Don't know where to start? We've broken it down into an easy-to-follow, step-by-step plan.
Make it easy to access the services on your website with targeted calls to action (CTA.)

Create content that talks about the services (booking, chat, voice) you offer.

Implement a marketing plan to share the content and guide users back to your easy-to-use website.
Here's a little more detail for you.
1: Make it easy to access the services on your website with targeted CTAs.
When a potential customer scans your website, they should know how easy it is to contact you or schedule an appointment with your business. Strategically place CTAs throughout your site that instruct users to book, chat or call, and link directly to the service, so a user can do so quickly and with ease.
CTAs should be placed multiple times on every page of your website where a user may convert, especially in locations where you describe your services. For example, take a look at our client's website, Any Hour Services. They have strategically positioned CTAs to "Book Now", "Call," "Chat," or "Schedule" right on the homepage. As a result of this and other targeted marketing efforts, Any Hour has experienced tremendous results with Schedule Engine.
2: Create content that talks about the services (booking, chat, voice) you offer.
We know that every customer interaction and homeowner issue is unique, so that is why we have created a multichannel approach to connecting homeowners and contractors. To get the most out of Schedule Engine, we recommend taking a multichannel approach as well. You can create content to share the message by reaching out through blogs, flyers, websites, TV commercials, billboards, mailers, and more.


Writing
Do you have a blog on your website or a place where you share company news and announcements? Create written content that describes your booking, chat, or voice services that you can share through those pipelines. Here are some examples of content types you can share with your customers:
Blogs

Flyers

Press releases

Landing pages

Customer testimonials
Video
Did you know that viewers retain 95% of a message when they watch it in a video compared to 10% when reading it in text? Using a video explaining how easy it is to book, chat, or call your company in your marketing materials can make your content more effective. Take a look at this example from our client, Reliable Heating & Air. Reliable Heating & Air's content marketing efforts have significantly impacted their booking numbers, 20% of which came directly through Schedule Engine's online scheduling tool.
3: Implement a marketing plan to share the content and guide users back to your easy-to-use website.
Once you've positioned CTAs on your site and created content to share with your customers, it's time to enact a marketing plan! There are countless ways to market your Schedule Engine services. Here are a few great places to start.


Social Media
21% of consumers are more likely to buy from brands that they can reach on social media. Ensuring your social media followers know how easy, efficient, and convenient it is to do business with you can boost your job bookings, build your brand reputation, and foster relationship building.
57% of consumers will follow a brand's social channels to learn about new products or services, so share about your new digital tools and the ways your customers can reach you on your social media channels. There are a few creative ways you can do that:
Post on your owned channels (i.e., Facebook, LinkedIn, Twitter)

Change the cover photo on your social accounts

Share promotions, giveaways, and other specials related to booking, chat, or voice services on your social media

Link to blog posts, videos, or other types of content you've created

Add a booking link to your social account profiles for easy booking
Here are some examples from a few of our clients: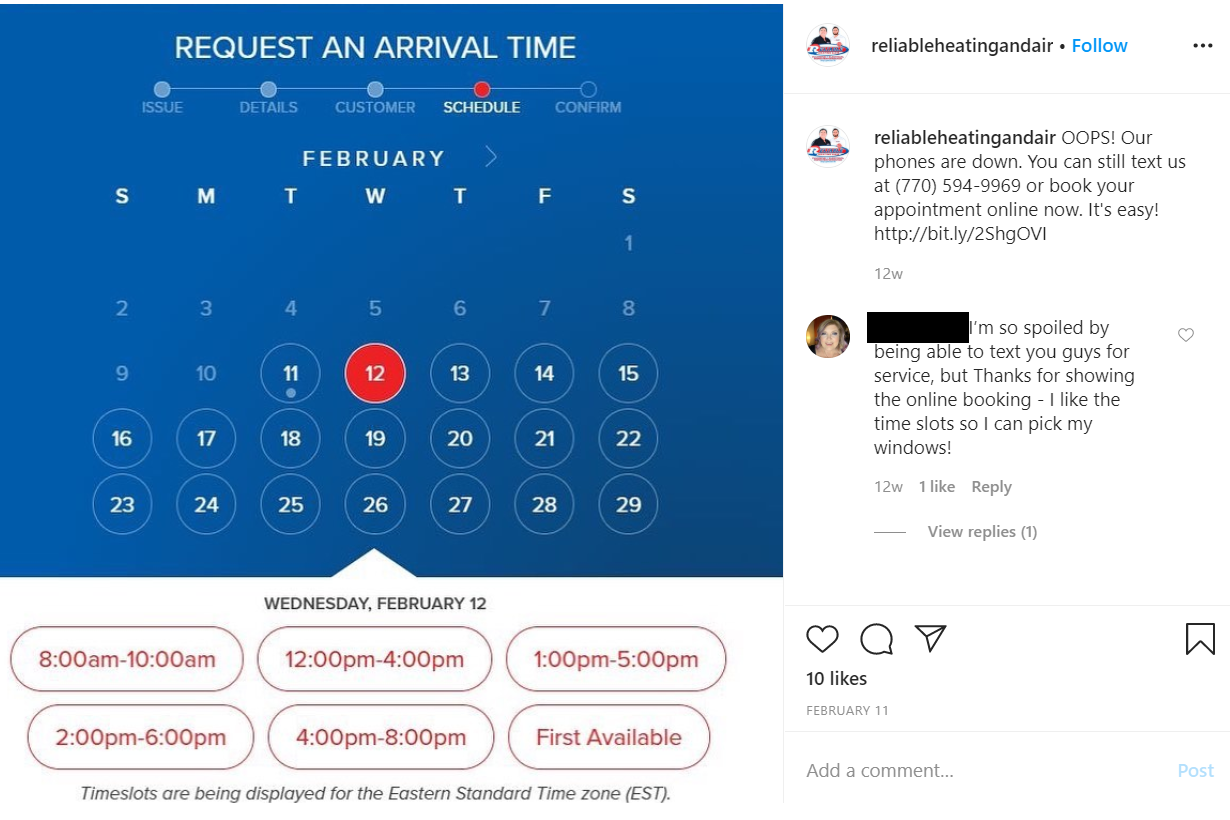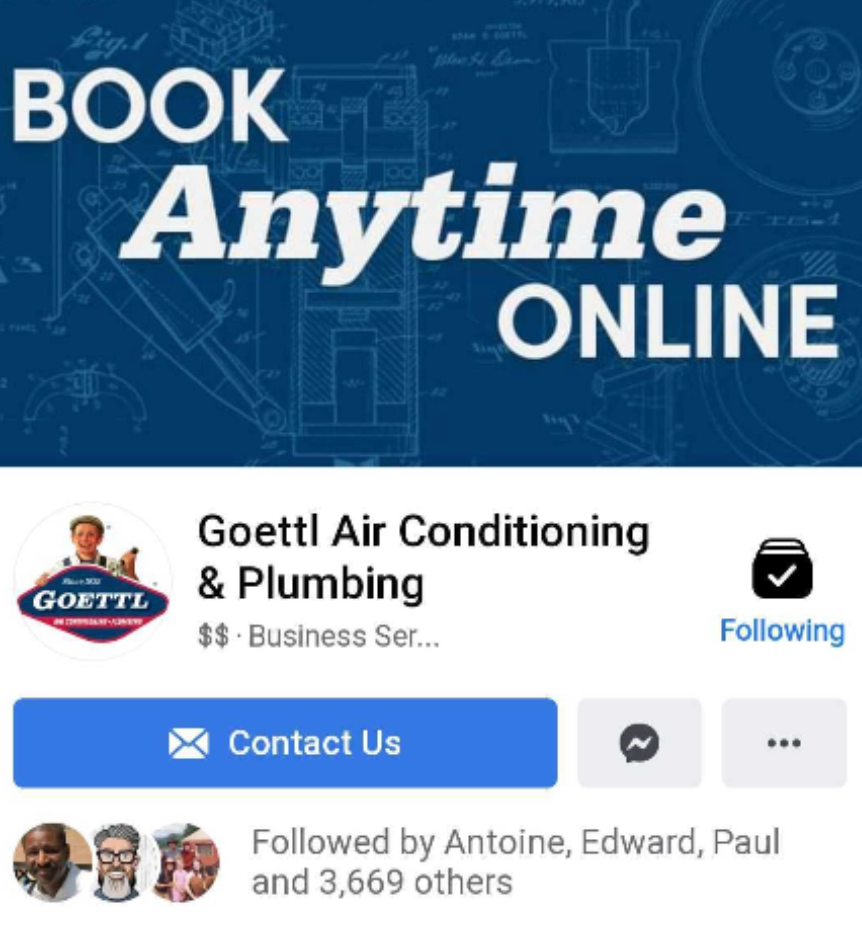 Email/SMS/Mailers
Just like with socials, you can share your new services via email, text message, or directly to a customer's home in a mailer! Whether it's promotions, written, or video content you'd like to share, send it directly to your customers via email, SMS, or mail.

Here are some examples from a few of our clients: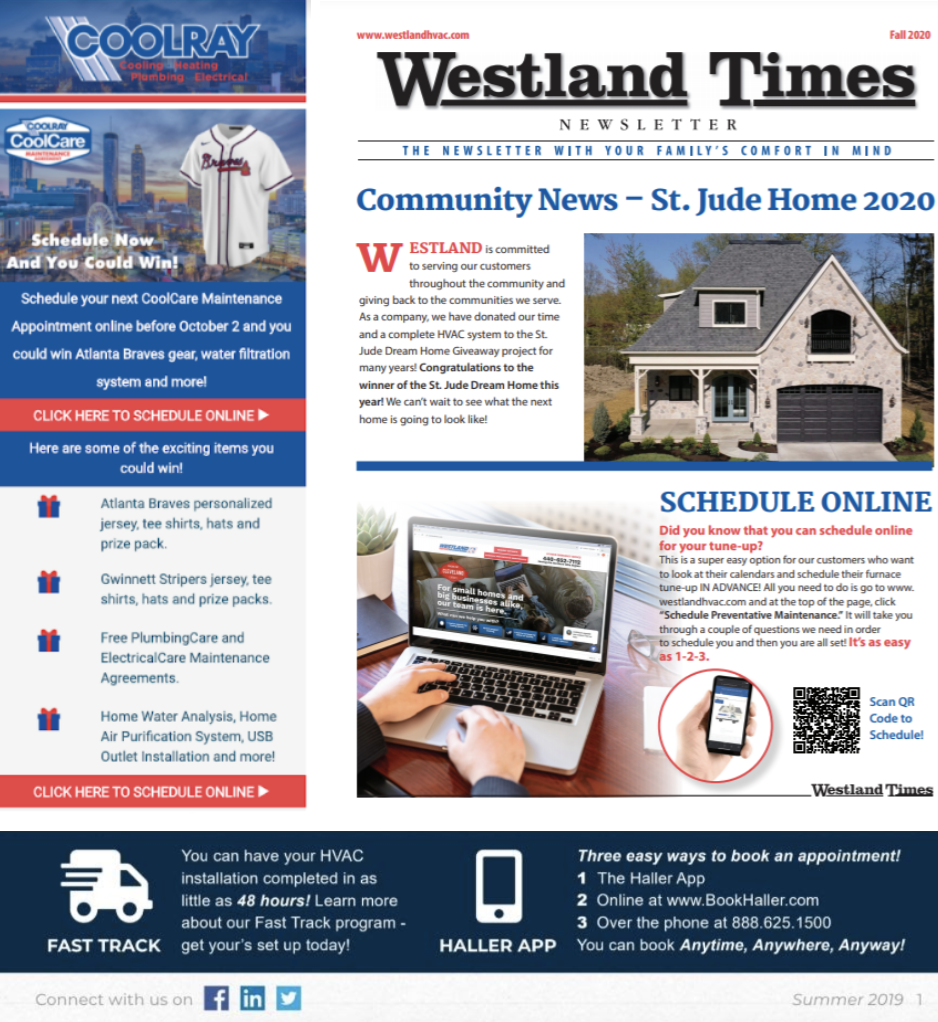 Coolray, Westland, and Haller Enterprises all use email, SMS, and/or home mailers to inform and communicate about their offerings to their customer base.
Coolray sent out an email blast featuring a promotion for customers who book their appointments online. Westland included a module in their newsletter mailer that educated their customers on how to book online. Haller included a footer at the bottom of their emails that tells their email subscribers about the "three easy ways to book an appointment" with them.
All of these efforts drive awareness among consumers about the ways they can book, and encourages them to act. Don't believe that these efforts make a difference? Take a peek below: at a graph of client booking data in relation to their marketing efforts.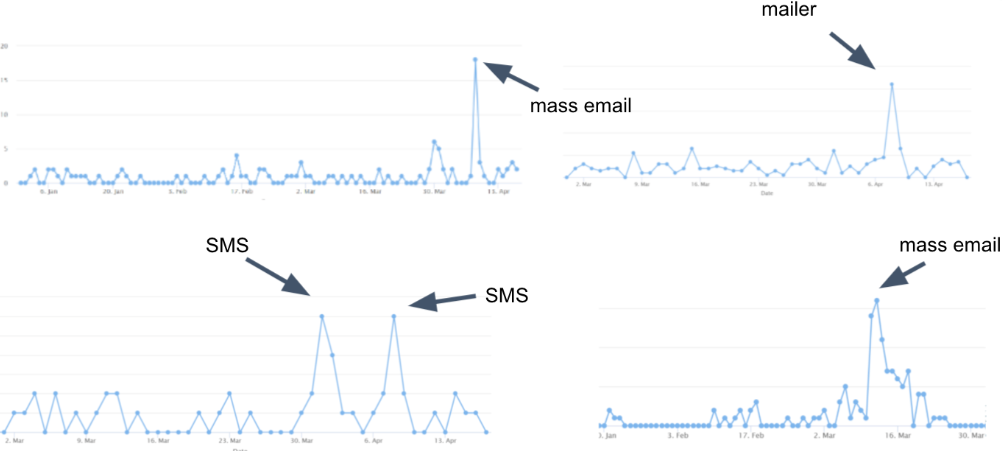 The data presented was sourced from an internal Schedule Engine database. It showcases individual contractors' daily booking volumes, as impacted by strategic marketing efforts.
Additional Messaging Opportunities
A few other places where you can insert messaging about your services include:
Customer service agent scripts

Hold messages on the phone

Employee email signatures

And any others you can think of—be creative!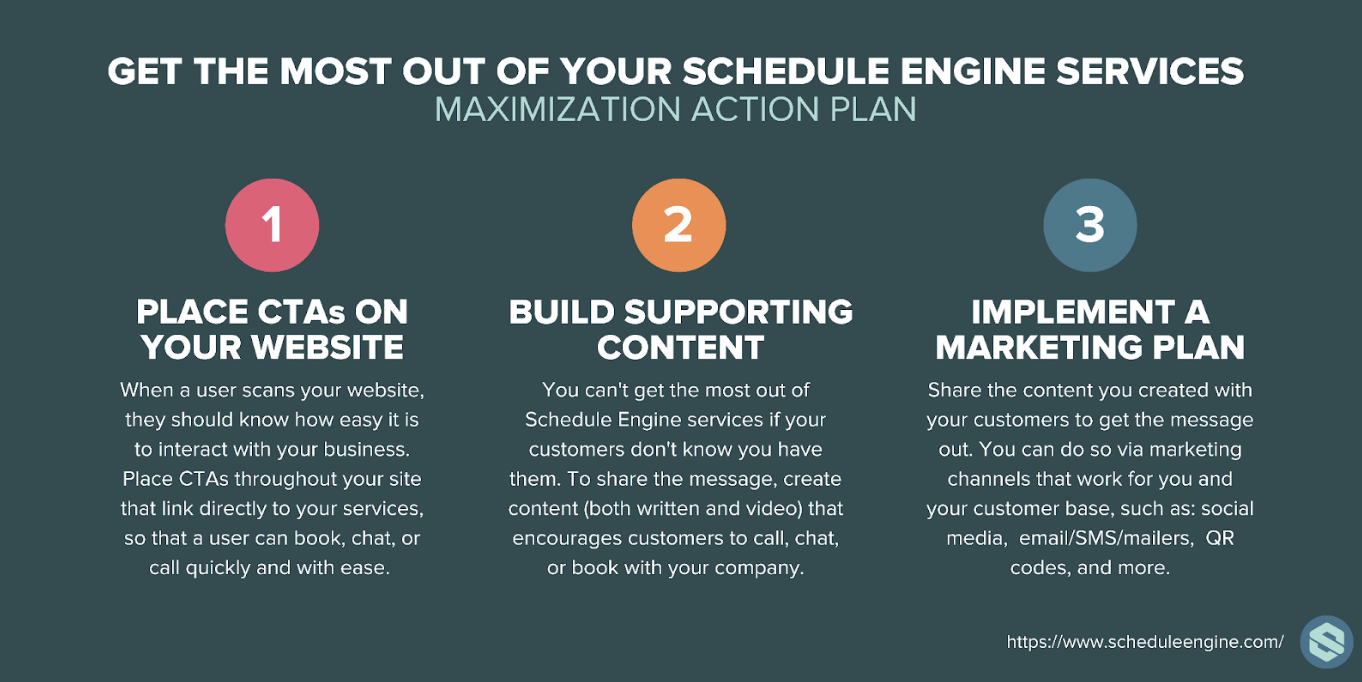 4: Level up your ecosystem of services to include the whole suite: Online Scheduler, Live Voice, and Live Chat.
At the end of the day, to create the most seamless experience for your customer and the most streamlined way to manage your business, you want to take an integrated approach to centralize all your customer experience touchpoints. Studies show that brands with the strongest multi-channel customer engagement strategies retain an average of 89% of their customers, in comparison to 33% of companies with one-channel strategies.
As an ecosystem, Online Scheduling, Live Chat, and Live Voice can complement each other to drive maximum impact across your business.


Benefits of Completing Your Schedule Engine Suite
Makes it easy for your customers to do business with you by enabling them to book appointments, however, whenever they want

Streamlines the experience for your customers and employees

Ability to record all customer touch-points to create a 360-degree view of your customer. By using this data, you will learn how, when and why your customers do business with you and from it, you can provide a better, more improved customer experience.

Ensures peace of mind across all of your customer relations channels

Allows you to leverage a single point of contact across your services (your Customer Service Manager) who has your best interest at heart

Makes managing special circumstances (i.e holidays, blackouts, pricing adjustments to services, or emergencies) easy with one support team across all services
Speak to your Customer Success Manager to find out how adding additional Schedule Engine services can make a difference for your business.
No matter which maximization tactic you choose to implement (if not all of them 😉), you'll reap the benefits. So, get started on enacting your own maximization strategy today!
Want to learn more about how Schedule Engine can boost your business' success?