Once upon a time, in a world not far from you, a bright, inventive contractor took a hard look at the industry that raised him and determined that it wasn't serving its people right. The home services industry, full of disjointed customer experiences and complicated contractor lifestyles, was not inspiring for anyone involved. So, the bright, inventive contractor gathered a team of fellow contractors and innovative thinkers to come up with a solution.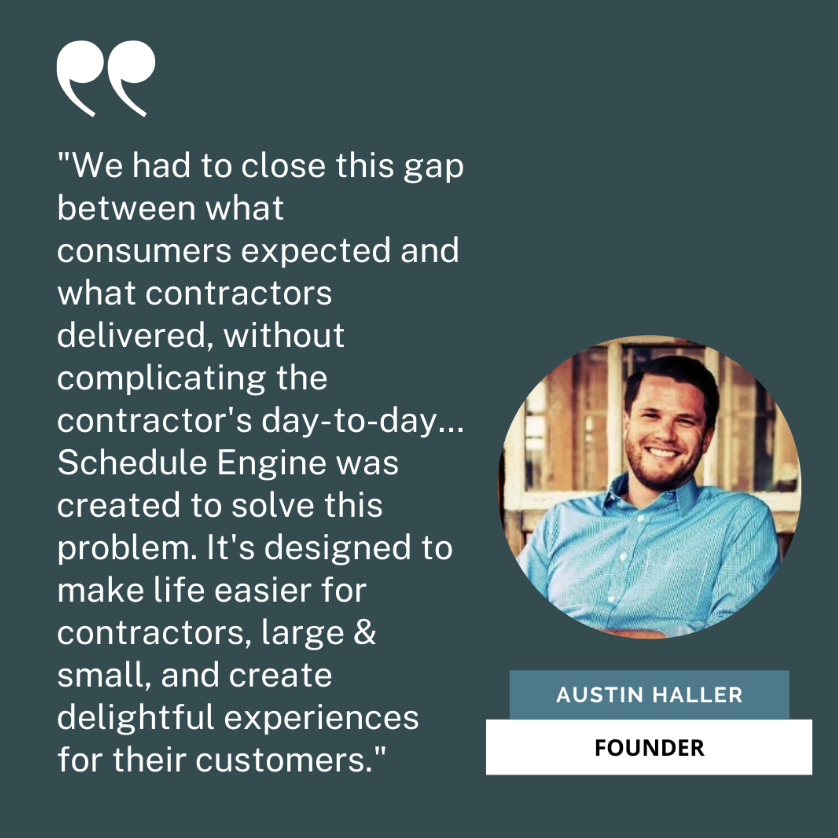 Since our founding, Schedule Engine continues to work in pursuit of those two goals. As a company built for contractors, by contractors, we aim to give back as much to the home services industry as it's given to us. So we've continued to innovate to keep up with the changing landscape, providing tools for contractors to exceed customer expectations and helping contractors achieve the most manageable life possible.
From its founding in 2016, Schedule Engine expanded its offerings from an intelligent online booking platform to a full suite of software and services for contractors. And we wanted to support contractors' ability to access and make the most out of that suite of services.
As we expanded our suite of services, we knew we wanted to offer you new resources and insights from our growing community of contractors to support your business today and into the future. So, we went to work over the past several months, reimagined our look, and created helpful, insightful content to match. Please welcome to the stage, the new and improved ScheduleEngine.com!
What's New?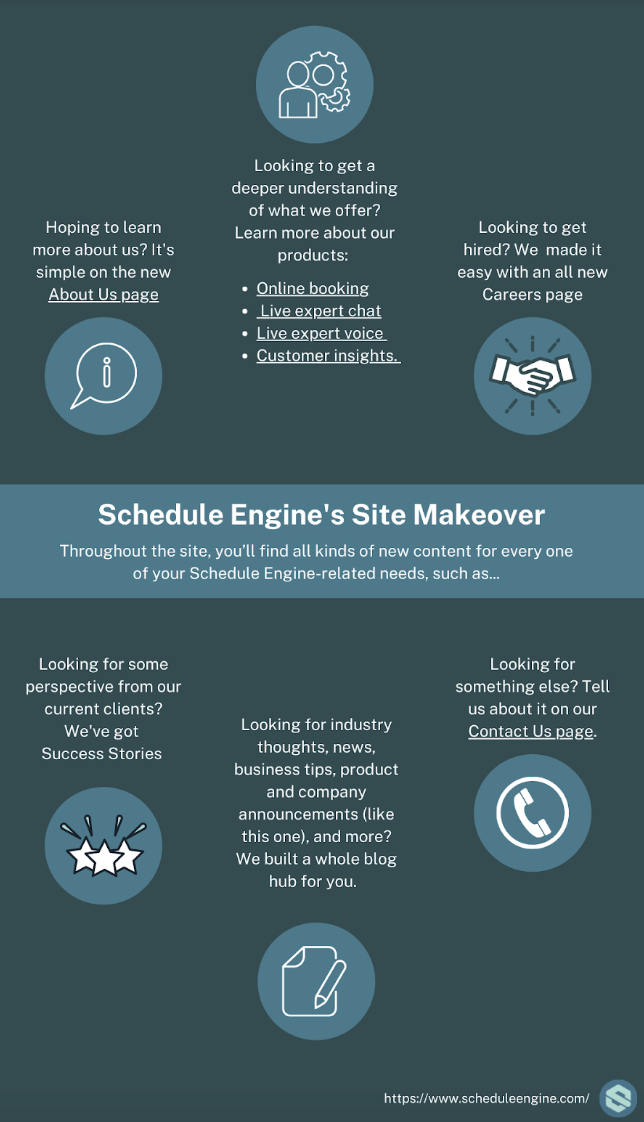 We did a complete overhaul of the site—all for no one other than you. We:
Revamped our look and feel (isn't it sleek?).

Built numerous new pages.

Created a one-stop-shop for all of your favorite Toolshed content.

Launched the home for this very article: a resource hub, which includes blogs, case studies, and events.
We're so excited about what came out of it—and even more excited to introduce it to you. Throughout the site, you'll find extensive amounts of new content for every one of your Schedule Engine-related needs.
And that's just the tip of the iceberg! Please sit back, put your feet up, and take a virtual st(c)roll through our brand new stomping grounds to find out what we've got going on.
What's In It For You?
In short: the whole thing. The very point of the reimagination of our digital brand was to look and work better for you. You can now easily learn about, interact with, and contact Schedule Engine at any time. We will continue to serve up weekly fresh, hot-topic reads on our blog, such as insider tips for the trades and trends impacting the industry as a whole. Plus, we'll share stories about our happy clients twice per month. So, don't go too far—there is more to come soon!
Please think of this as our way to thank you for coming on this brand journey and empowering Schedule Engine to become what it is today.
So, feel free to dig around in the blog or take a gander through our latest case studies to see and learn from what Schedule Engine has become.
And, as always, we're available if you want to chat! If you want to learn more about Schedule Engine and how we can empower your business success, book a demo today.