Eddie McFarlane
If you haven't visited the Toolshed, it's the place field technicians, service managers, and home service leaders go to sharpen their skills and build their careers. We got to sit down with Toolshed's very own Eddie McFarlane to gain insights into what it means to be a leader in the trades and beyond.
With years of experience in different career roles under his belt, Eddie's got some tips and tools for you to add to your leadership toolkit.
How to Be an Industry Leader
So, what does it take to become an industry leader? Well, if the answer were simple, the discussion would run quite dry. But because leadership can adapt differently across business industries, there are several important elements and challenges to address, especially in home services.
In the Toolshed episode, Winners Have a System, Eddie brings on CEO and President of Nexstar Network, Julian Scadden, to discuss what it takes to color outside the lines as a leader in the trades.

Lead with Your Unique Skills
Eddie and Julian explore the importance of leading with the skills and intelligence associated with your role. Whether you're a technician, service manager, or business owner in the trades, you can be a leader in any position as long as you hold true to your character and integrity. They describe integrity as embodying the consistent alignment of your own core values, thoughts, and beliefs and explain that:

"It's not about who you are in front of people, but about who you are when nobody's looking."
Remember to Reflect
Before you sit back and ponder your core character values, remember it's not as simple as bringing pen to paper. Be patient with yourself and take time to develop your character by reflecting on your own experiences, highs and lows, and how these events may have shaped you morally. morals.
Want to hear more from Eddie and Julian's discussion? Join the Toolshed Facebook group and tune into the Toolshed episode here!
So now you may be asking yourself, where do I start? Eddie expands on what he and Julian consider the most challenging, yet equally important, leadership to manage: self-leadership.

What is Self-leadership?
Self-leadership is the ongoing practice of understanding who you are by identifying your core values and guiding yourself towards them. With that said, yes, you get to be the main character! However, keep in mind that self-leading requires patience and careful attention to how you carry yourself and your values. At the end of the day, perception is reality for many-- what people around you see is what they get.
To help develop impactful self-leadership qualities, Eddie believes you are the average of the five people you spend the most time with. As such, it's important to surround yourself with graciously self-led individuals who can project their best leadership tendencies onto your own behavior.
Self-leading requires putting in the effort behind the scenes and bringing it to the forefront of your roles and relationships, which brings us to the ideology of private and public victories.
Private vs. Public Victories
As an extension of self-leadership, Eddie and Julian ascribe to Dr. Stephen Covey's thoughts on public and private victories in your professional (and personal) life to distinguish and understand the difference between the two.
Private victories precede public victories and consist of:
Identifying and developing your values and limitations.

Holding yourself accountable for how you carry out those values.

Demonstrating those values as an effective and influential contributor in public settings.
Public victories are the result of personal victories and involve:
Diligently working with and on yourself to model your top values and impact the goals you and your teammates achieve in the long run.
Appointed vs. Moral Leadership
Depending on your role at work, you may have set expectations for leading, from managing newly onboarded employees to delegating workloads for entire teams. You're assigned these expectations, but how you carry them out from your own beliefs and values is what distinguishes you as a leader. This mindset can help you build genuine relationships with your colleagues to bring your business's public victories to new heights. You get to lead by example.

Eddie's Top Tips on How to Become a Leader
Having worn many hats throughout his career, including the toque of a chef, Eddie acknowledges the incredible opportunities he's worked hard to achieve. But he understands the privilege he's been awarded and knows he'd be nowhere without the highly talented and kind individuals who have shaped him as a leader.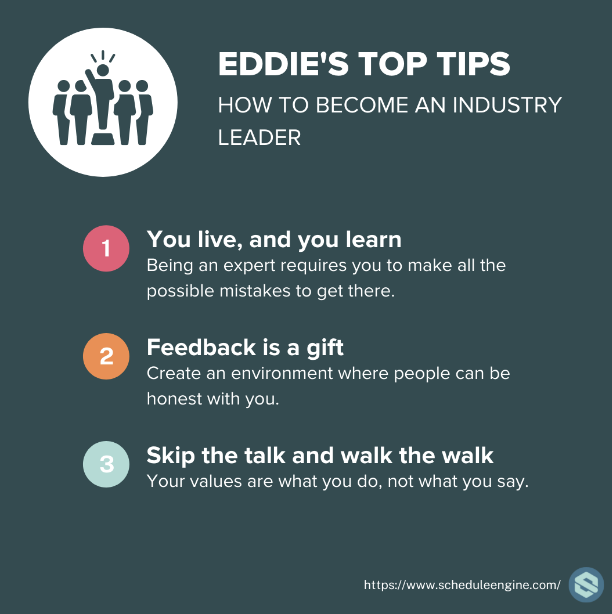 Here are a few of Eddie's top tips for becoming an industry leader:
You live, and you learn: Being an expert requires you to make all the possible mistakes to get there.

Feedback is a gift: Create an environment where people can be honest with you.

Skip the talk and walk the walk: Your values are what you do, not what you say.
A Sneak Peek at Eddie's Top Values
Eddie truly has some wonderful insights into how you can become an industry leader. And while you'll learn to identify and model your own values, we thought we'd share Eddie's top four values that he lives by day in and day out:
Gratitude

Temperance

Wisdom

Interconnectedness

Feel free to adapt any or all of these values as your own as you continue your journey in becoming an industry (self)leader. Overall, it starts and ends with self-leadership, keeping it consistent as you grow.

Want to learn more about leading in your industry? Download our latest Resource Guide on Exceeding Customer Expectations & Winning the Customer Experience: A Blueprint for Today's Home Service Provider.