It feels like just yesterday I was writing about what to expect at Service World Expo 2021, and now here I am again, writing about how it went. Can you believe it's over?
Last week, I and a few of my Schedule Engine teammates made our way out to Louisville to attend the Expo, and let me tell you, it was grand! Whether you were there and saw us (I hope you did), missed us, or couldn't make it at all, I want to be sure you're all in the loop on what went down. Here's the ICYMI event wrap-up.
What Went On
There was plenty of enjoyment to be had at this year's Expo: time with the team, chats with industry professionals, a slew of excellent speakers, and much more.
The Key Highlights
Among my favorite moments from this year's event are:
1. The speakers!
I continue to be impressed every year with the caliber of speakers presenting at Service World Expo. This year's keynotes: Gino Wickman, Tony Drew, John & Vicki LaPlant, and Joe Cunningham showed up and showed off! A job well done to everyone involved.
I was particularly impressed with keynote speaker Krish Dhanam, whose keynote I enjoyed attending at his last event, the Barefoot Roundtable, in May. He came back better than ever and gave yet another fantastic keynote on building a culture to set your company up for business success. His story—one of growth among challenges—was not only fascinating but inspiring. Dhanam immigrated to the U.S. with only $9 in his pocket and went on to build a wildly successful career shaping the company culture of organizations including The United States Army, Marriott Hotels, Pepsico, Christian Dior, and more. I know I speak for my whole team when I say that we walked away feeling energized and excited to continue to build our own company.
2. The awards!
Service Nation never fails to recognize the greats in our industry, and they did it again at Service World Expo 2021. It was wonderful to see so many of the members of our industry be awarded for their hard work and excellence. One of the highlights was Danielle Putnam's receipt of the Woman Contractor of the Year award. Congratulations, Danielle!
3. Conferences. Are. Back!

After the past two years we've had, simply attending Service World Expo 2021 in person was a highlight. There is nothing quite like being able to walk the booth floor, speak face-to-face with customers, and connect with industry professionals. Service Roundtable deserves a massive shout-out for organizing such a spectacular schedule of events and bringing us all together again.
Schedule Engine at Service World Expo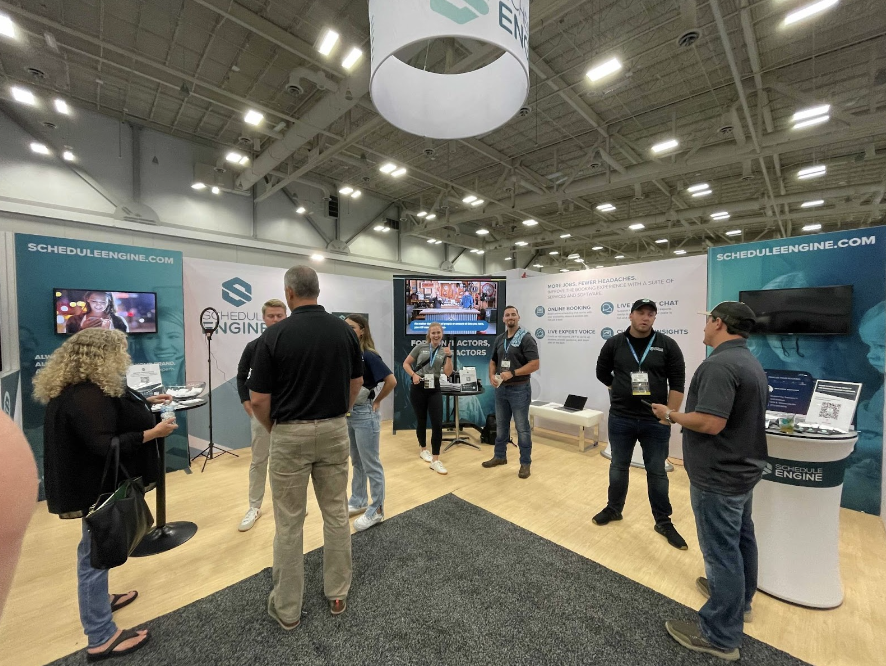 Did you catch us? If not, you missed out. 😉
Since the last time we attended Service World, Schedule Engine has evolved from an online scheduling solution to a suite of online scheduling services and software for contractors. We had a blast sharing our new experience with customers, partners, providers, and industry members alike. Plus, we had Toolshed playing on repeat at the booth, which, as always, was a fan favorite.
Breakout Session: The 3 Myths of Online Booking
Also, while we were there, yours truly did a little breakout session! I hosted a talk on the 3 Biggest Myths of Online Booking. Here's a quick recap: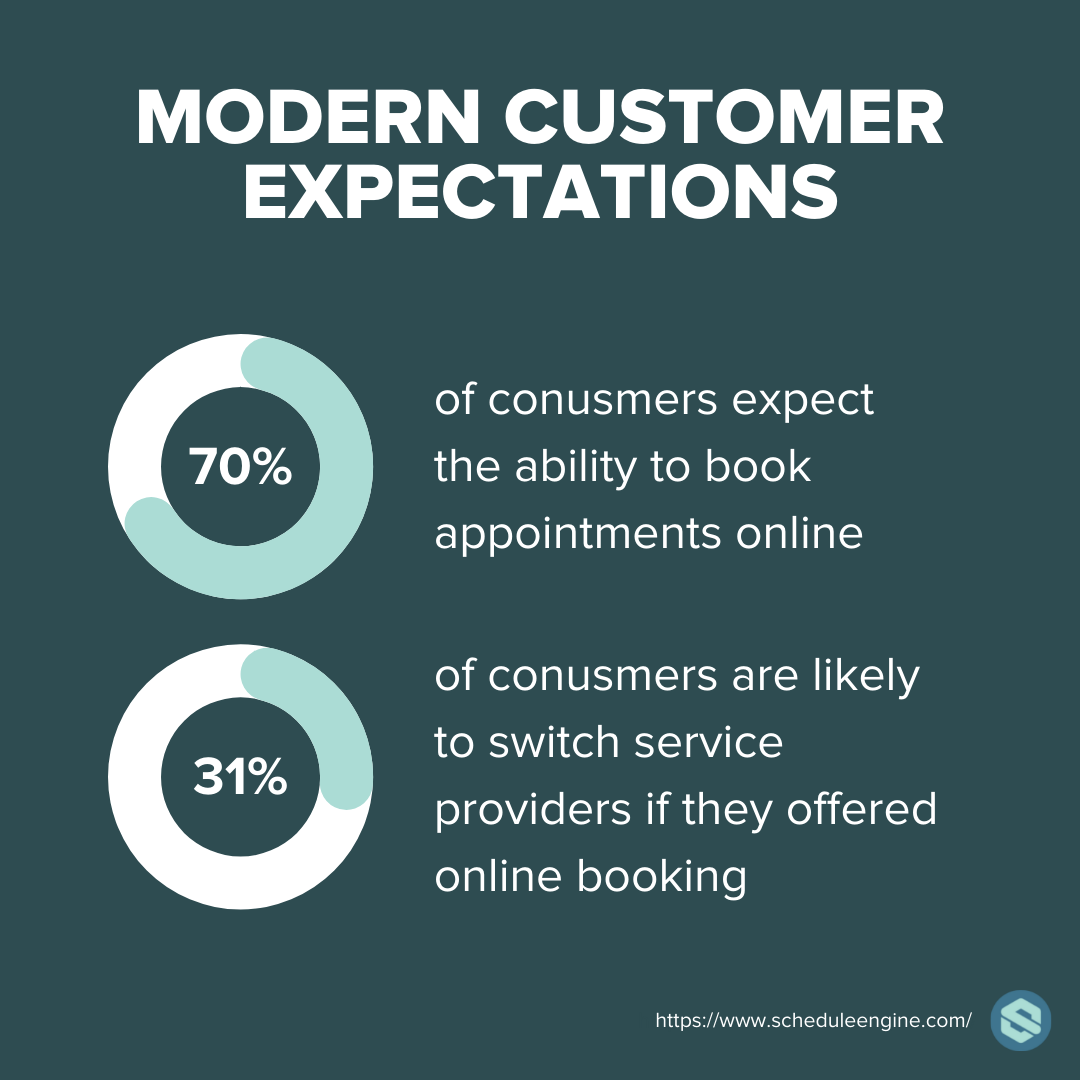 Many of the industries consumers interact with daily have gone digital. You can track your pizza from oven-to-door thanks to Dominos, purchase and receive a car online thanks to Carvana, and so much more. So why shouldn't you be able to do the same with your home services provider?
Well, the short answer is you should. And most consumers agree. 88% of customers expect companies to accelerate digital initiatives due to COVID-19. This digital expectation is primarily driven by consumers' increasing valuation of convenience over price. Online booking is a solution you can implement to keep up with the changing expectations of modern home services customers.
We hear three common objections to online booking, and during Service World Expo, I tried to bust these myths wide open:
1. My consumers don't want it.
Well, take another read of the statistics above—they do. Customers are increasingly seeking opportunities to interact with companies when and how they want. Companies that offer online booking and other online services experience lower abandonment rates and higher conversion rates.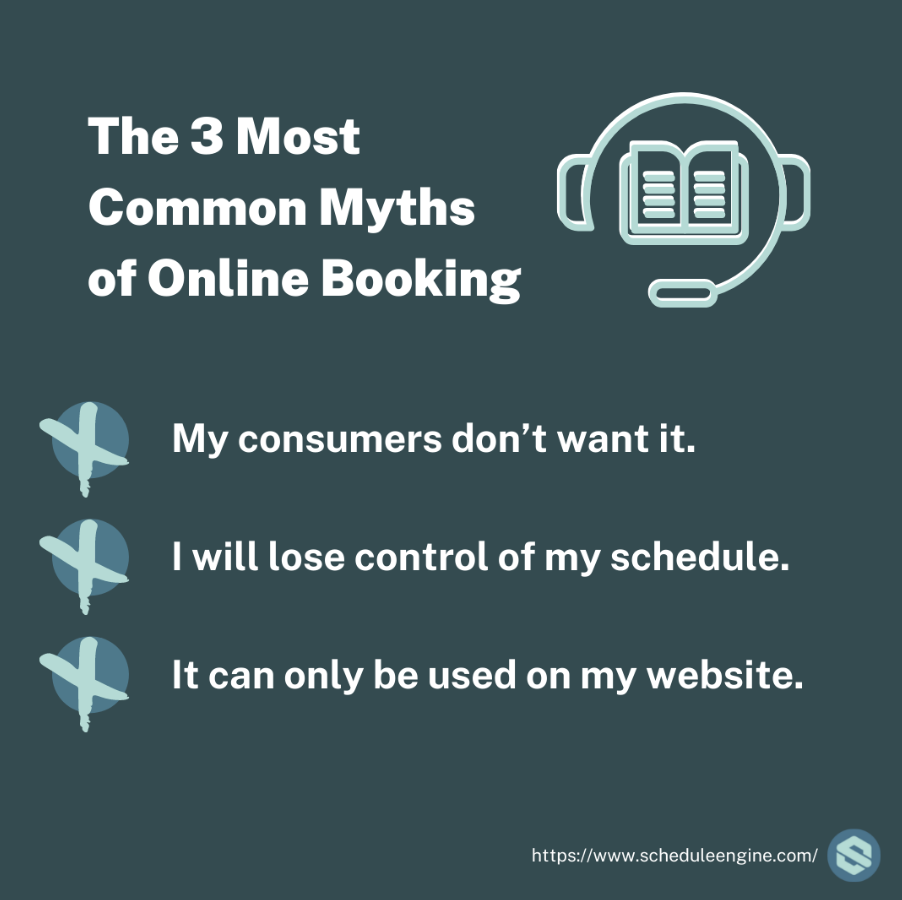 2. I will lose control of my schedule.
Offering customers the option to schedule 24/7 doesn't mean you have to dispatch appointments 24/7. You can offer the same time windows on your online booking software that your CSRs do over the phone, except they don't need to be on the phone to do it. If anything, you're saving your team time while bringing in more customers.
3. It can only be used on my website.

Customers can book an online appointment whether they land on your website, go to your social media page, or visit your partner's OEM website. You can offer online booking over an email blast, text message, direct mail, or even a QR code. You can use online booking to drive conversion on ALL of these channels.
So, there you have it. With these myths debunked and behind us, you can focus on the benefits that offering online booking options for your customers can bring to your business:
Differentiation and loyalty

Growth via scalability/efficiency

Operational savings
If you'd like to learn even more about how to offer the most convenient experience for your customers, check out articles in our Business & Management blog category, or join us in the Toolshed, a place we've created for contractors to go to sharpen their skills and build their career.
What To Do Now
Now that you're caught up on everything you may have missed from Schedule Engine, there are a few next steps you can take to act on the information you received at this year's Service World Expo:
Attending the event isn't the end of the road—it's just the entryway. Now, you have to take the road to its destination! Act on your learnings to get the most out of your Service World Expo 2021 experience.
Did you miss the event, and are still interested in working with Schedule Engine? Reach out any time! We'd love to hear from you.