As the lingering effects of COVID-19 still impact our day-to-day lives in the home services industry, the pandemic also created a homebuyer rush. According to Pew, within 2020, "The number of homeowners increased by an estimated 2.1 million over the prior year." More homeowners mean increased demand for contractors and skilled laborers across the United States.
While this should be good news, the pressure to find qualified talent to meet that demand can be overwhelming as we experience a tumultuous labor shortage that began even before the pandemic. The current reduced size of the workforce has created a cascading effect through the HVAC industry. It affects manufacturing, suppliers awaiting units, and customers who are left waiting for unit installation delays. The shortage is affecting every single part of the process.
Since March 2020, roughly 20% of workers across industries have changed careers. And with a 50% increase from pre-pandemic levels in trades-related job postings, we understand the challenge in closing the gap between hiring qualified talent and filling roles quickly to meet demand.
We've compiled a collection of techniques, tools, and services to help you address the labor shortage and help you find skilled technicians, dispatchers, and customer service representatives. By implementing a few of these tips and leveraging the right tools to fill your business' needs, you can start to boost your worker productivity, stress less, and ensure both you and your employees are empowered.
Making Sense of the Shortage
With 83% of tradespeople reporting they are satisfied with their choice of work, it might not be readily apparent why the talent pipeline is dwindling. Yet, 77% of tradespeople report lack of talent as an industry-wide issue. And, across trades, the pinch is being felt.
80,000 HVAC jobs are currently unfilled. According to the U.S. Bureau of Labor and Statistics, electrician employment needs a projected 9% growth over the next decade to keep up with project demand. Shortages of plumbers are creating longer-than-expected wait times for homeowners across the country.
Outside of the pandemic, two other significant factors are attributing to the gap between demand and qualified talent: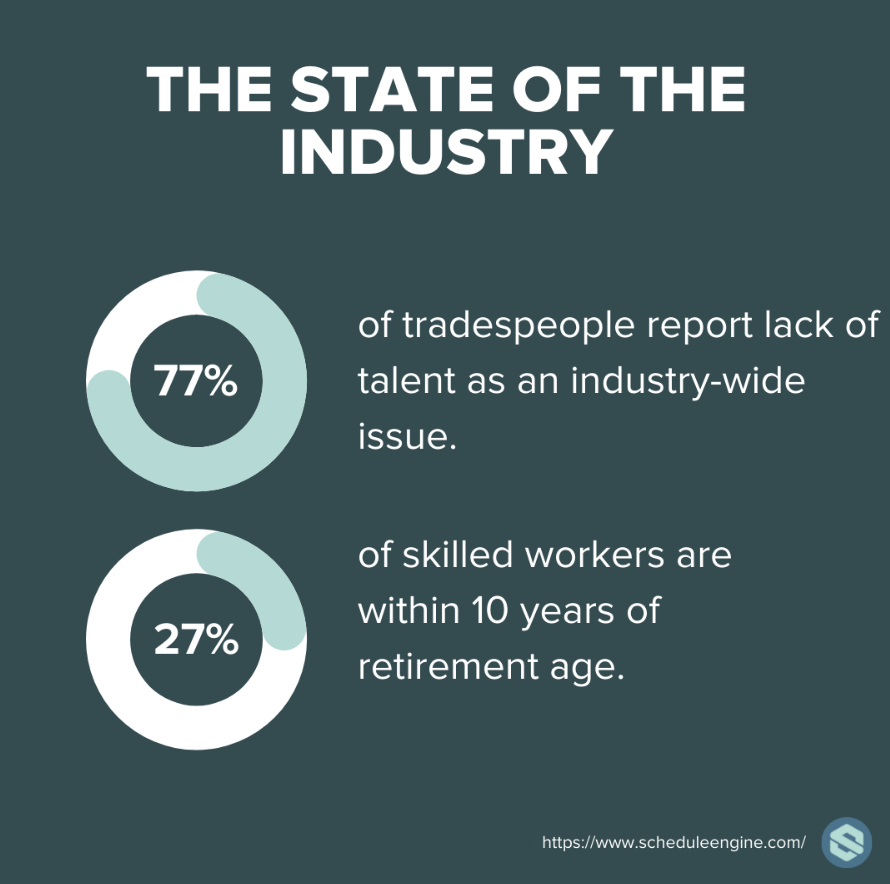 No doubt, this data is not a revelation - you've been experiencing it yourself! We share these numbers not to inform you and not to scare you, but to show you that this labor shortage is a systemic issue and you're not alone. In order to overcome this labor crunch, you need to deploy new strategies and tools to help lift some of the load across your business.
Closing the Gap
Tackling this shortage takes some planning and won't be fixed overnight. There is no one-size-fits-all approach to recruiting and retaining talent. Still, there are some tactics and solutions you can seek out to help you maximize your recruitment ROI and manage your business efficiently while you seek out new hires:
How Schedule Engine Can Help
Through our Online Scheduling tool and live services: Live Voice and Live Chat, you can have automated tools and industry-trained agents taking care of your scheduling and capacity management needs. By streamlining these tasks with our technology, you can improve your efficiency, make the most of the resources you currently have, and enjoy more time back to focus on your growth and high-value tasks without getting burnt out.
Adopting our Online Scheduling services means your customers can book online with no effort, attention, or sign-off from your team, and our live services are pay per use—so you only pay for what you use. Whether you need us for an hour, a day, week, month, or year, we're here to support you at any time and help your expenses mirror your revenue, demand, and labor supply.
To keep it extra simple, our trained-in-the-trades agents are available 24/7 and provide the same service you'd expect your highest-performing CSR's to provide. Our team of live agents tackle your overflow, after hours, weekend, and emergency calls and website chats when demand picks up and you're short on labor, and book jobs right in your dispatching software for extra efficiency. You handle providing exemplary service in-home, we handle the rest.
Want to learn how to refresh your marketing tactics, strengthen your digital presence, optimize your booking process, and wow your customers throughout the entire sales cycle? Download our latest Resource Guide on Exceeding Customer Expectations: A Modern Home Service Customer Blueprint.