Extra! Extra! Read all about it: another powerhouse home services industry event is on the horizon! And this one is sure to be a big one: EGIA Epic 2021.
Due to its cancellation last year, this is the first EGIA Epic that Schedule Engine will have the pleasure of attending, and we're hoping to make a big splash. To do so, we've sponsored the mobile app for the event (keep your eye out for it on the App Store, coming soon👀).
We've heard excellent things about EGIA Epic, and we're looking forward to having a great experience together. To make sure we do, I thought I'd do what I can to prepare you to have an *epic* time this October. Here's what to expect and prepare for EGIA Epic 2021.


What To Expect
EGIA Epic is an annual event hosted by EGIA, a nonprofit organization dedicated to helping contractors achieve success via education, training, services, tools, and more. This year's Epic event is October 28th-29th, 2021, at the Paris Las Vegas in Nevada.
What's on the Roster?
EGIA Epic 2021 features a whole slew of speakers, presenters, and breakout sessions. There are countless networking opportunities with industry providers and the always highly anticipated Evening Party for socializing on Thursday the 28th.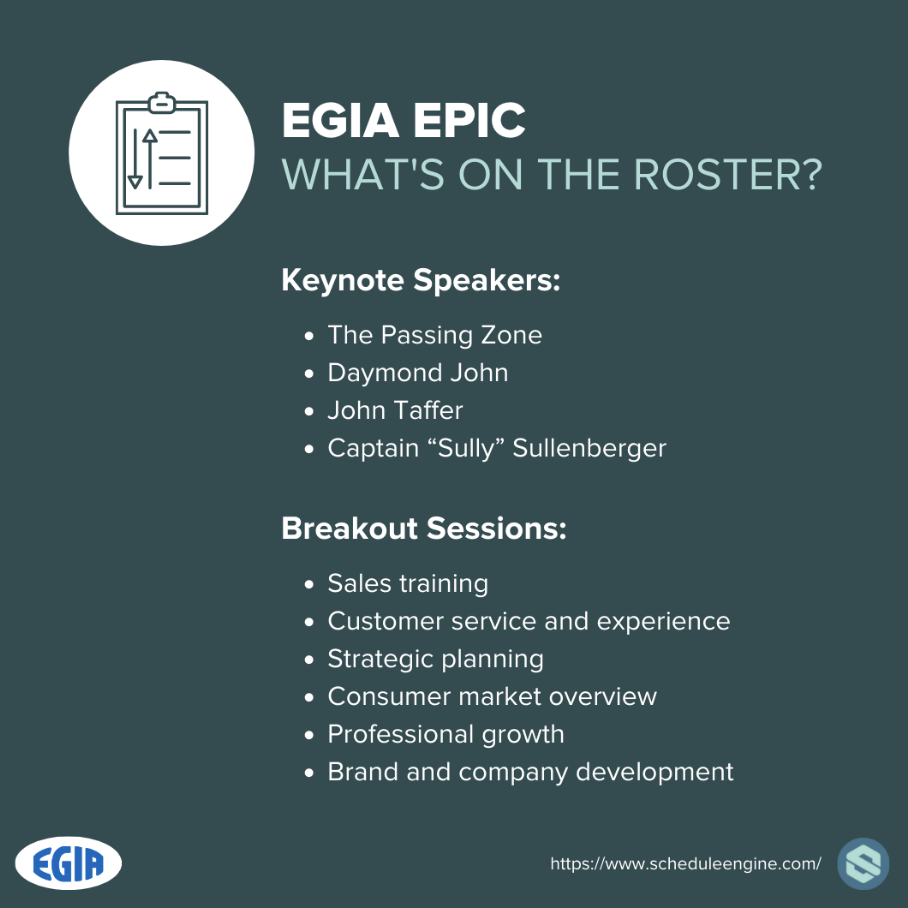 The scheduled events for this year's Epic feature celebrity keynote speakers:
The Passing Zone, Entertainers and Speakers on the Power of Partnership, Innovation, Collaboration, and Execution

Daymond John, Shark Tank Investor, Entrepreneur, and FUBU CEO

John Taffer, Executive Producer and Host of Bar Rescue

Captain "Sully" Sullenberger, "Miracle on the Hudson" Captain, Best Selling Author and Subject of the Major Motion Picture Sully
Plus, there will be a whole slew of breakout sessions covering topics that include:
Sales training

Customer service and experience

Strategic planning

Consumer market overview

Professional growth

Brand and company development
In other words, there's plenty to look forward to. Have your open mind, sponge mentality, and a pen and paper ready! To get a head start on learning before the breakout sessions, check out our Business & Management Resource Hub.


Schedule Engine at EGIA Epic 2021
And of course, one of the things to look forward to most is that Schedule Engine will be on the floor! Our team is rolling out its booth to share insights, tips, and information about our products and services with attendees. Want to learn more about our Live Voice, Live Chat, and Online Scheduling services? Stop by our Schedule Engine table and say hi!
We're particularly excited about this event after our CEO's appearance on EGIA's Cracking the Code earlier this year. Austin spoke with Weldon Long about how Schedule Engine can optimize your customer experience—check it out!


What To Prepare
To reap the best experience at EGIA Epic this year, there are a few things you can do to prepare.
Set and achieve some goals.
Before you arrive, set some goals you'd like to accomplish while you're there. Here are some questions you can ask yourself to help set event-related goals. How many keynote sessions would you like to attend? How many industry connections would you like to make? What tangible takeaways would you like to bring back to your team after the event? Write down the answers to these questions, and turn them into goals you can chase while you're there.
Come up with a list of questions you have for speakers and vendors
Think about what you'd like to learn from speakers and vendors at the event. Identify business needs and challenges that you'd like them to help you solve. Here are a few examples: How do you prepare for seasonal spikes in demand? How do you provide the best customer service experience?
Start interacting with the event digitally.
There's bound to be some buzz on EGIA's social media channels (Facebook and LinkedIn) and website in the days and weeks leading up to the event. Follow these accounts to stay in the loop about event details and who's attending. You can also post your own "I'm going!" announcement to connect with people who're attending ahead of time.
What To Do While You're There
Once the big day arrives, here's what to do on the floor to get the most out of the event.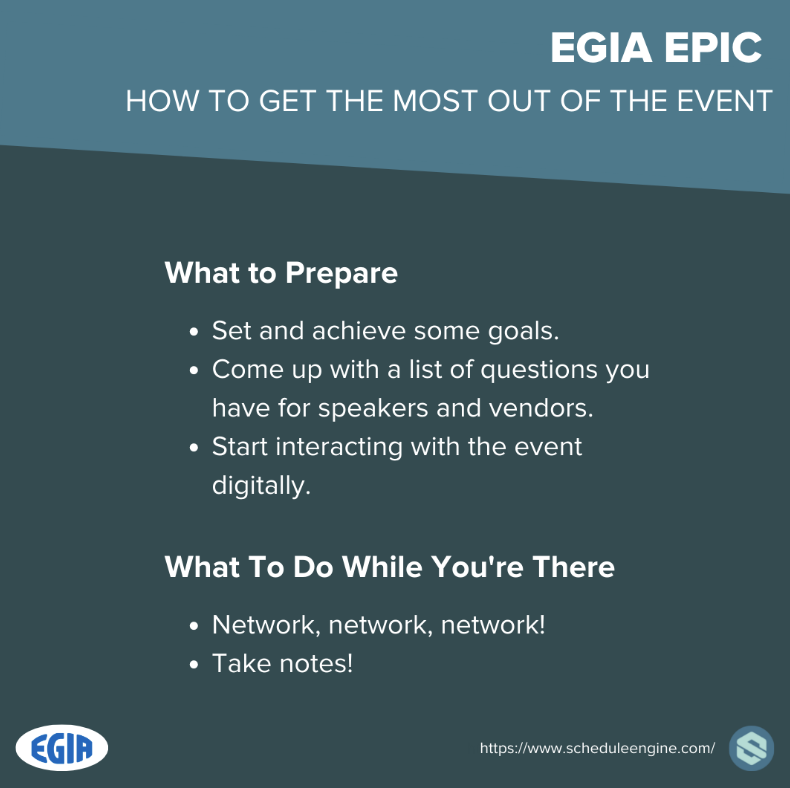 Network, network, network!
One of the biggest opportunities at industry events is all the people—industry veterans, leaders, and peers alike—you can meet. Do some voice exercises, practice your elevator pitch in the morning, and seek out stories each day! The best thing you can do? Introduce yourself to as many people as possible, and make sure to get their contact info so that you can make long-lasting connections.
With all the legendary speakers listed above doing sessions, there are bound to be a boatload of takeaways you might want to bring back to your team. But you don't want to forget them! Bring a notepad and a pen and take some notes of things that stick with you while you're on the grounds to make sure you can bring those notes back to your team when you return from the event.
With your expectations and preparations taken care of, you should be good to go! Here's wishing you the most epic of EGIA Epics this year.
Not registered for EGIA Epic yet? Well, what are you waiting for? Get signed up here. And if you're interested in chatting before then, reach out any time!