The home services industry is many things. It's highly competitive, highly demand-driven, and highly personal—making top-tier customer service highly important. Do you know what I mean? Let me break it down for you.
The home services industry is highly competitive.
If you're an HVAC contractor in an urban area, there may be up to 100 other contractors in the same service code who can fix a customer's furnace when it goes out. In such a saturated space, providing exceptional customer service sets you apart.
The home services industry is highly demand-driven.
When something goes wrong in a customer's home, it's an emergency. If the furnace goes out in the dead of winter, a customer isn't going to leave a voicemail for a contractor who didn't answer. Instead, they're going to call every contractor they find on Google until someone books an appointment. Being that business—the one that provides trained phone support and a confirmed booking 24/7/365 —ensures you capture that business.
The home services industry is highly personal.
The home services industry is unique—no matter the home issue, you, as the contractor, enter their home—their personal space—to fix it. Letting another person into your home requires a great deal of trust. Ensuring you're the company that can offer that trust can differentiate between getting the job or missing the opportunity. Providing customer service made up of knowledgeable and personable interactions can help to show customers that you can be that for them.
The Home Services Industry for Small Contractors
All three of these facets of the home services industry are especially true for small contractors competing for customers. If you're going to win customers in a market that is as competitive, demand-driven, and personal as this one (especially when there are big giants involved), the way to win is with exceptional customer service. You're small but mighty and can provide personalized, home-grown customer service that builds one-to-one relationships with the people you serve—that's what makes your business stand out.
No matter how crucial this aspect of your business is, it's also a challenge. It's no secret that smaller contractors have fewer resources to support ambitious customer service efforts. But you can rise to the challenge.
And I'm here to help. Here are some ways to provide top-tier customer service as a small home services business owner.
How to Provide Top-Tier Small Business Customer Service
To provide the customer service that empowers you to compete, you need to be available 24/7. This effort can be difficult, especially for a small shop running a small CSR team or an owner-operator business. Yet, offering that 24/7 support can be the deciding factor between getting business or not.
Small Business Customer Service Action Plan
Follow these steps to get to the level of customer service you need to excel in the home services industry.
1. Nail your in-house customer service
Within the hours your team answers web chats or phones, that team should be the best one in town. Build a team that utilizes a human touch and friendly, personable demeanor with expertise in the industry, to give your customers the best experience possible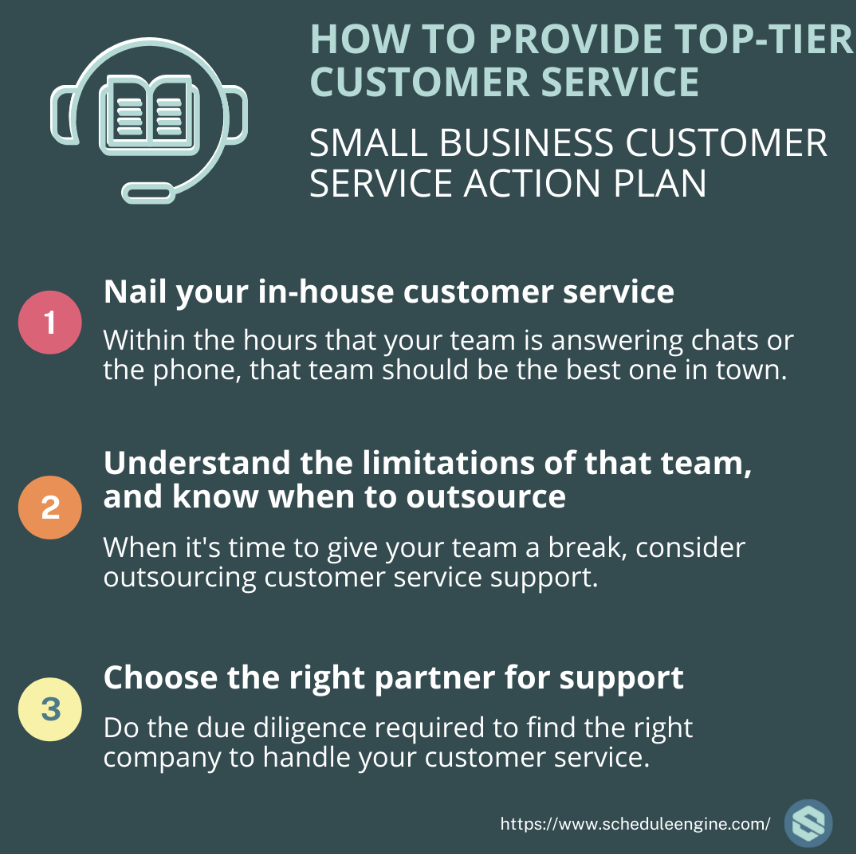 2. Understand the limitations of that team, and know when to outsource
While that team may be rockstars, they can only be rockstars long-term if you give them time off to rest. To maintain employee retention and a strong team, you need to give back to your employees. Consider outsourcing customer service support when it's time to provide them with that break (whether it's after-hours, weekends, holidays, or otherwise). Let your people be the experts during their designated hours, and pull in support when you need it. That way, your customers are supported by the best, all the time.
3. Choose the right partner for that support
Once you're ready to outsource your customer service support when your team is off, do the due diligence required to find the right company. A customer can tell when they reach a call center, especially one that doesn't have the expertise or industry knowledge. Find a customer service provider whose team is professional, personable, and has palpable expertise in the home services industry. A customer support representative with industry-specific knowledge can provide a much higher level of support for your customers, so choosing that partner is key.
How Schedule Engine Can Help
And that's where Schedule Engine comes in! As a company built for contractors, by contractors, we know the industry like the back of our hands. We created a team by hiring rockstar, industry-trained customer service representatives to support our Live Chat and Live Voice services so that they can treat your customers and book complete jobs the way that your top-performing CSRs do. Paired with our Online Scheduling, you can provide your customers with immediate service and capture every opportunity at every touchpoint by meeting your customers exactly where they are, with no extra effort from you or your team.
Our suite of technology solutions allows you to provide an always-on (24/7), five-star review customer service experience, and be there for your customers no matter how they'd like to interact with your business.
Want to learn more about how Schedule Engine can help your small business provide exceptional customer service for your consumers? Reach out today! We'd love to hear from you.