Home services companies often compete with dozens of contractors in the same service code who can solve a homeowner's issue, whether it be a nonfunctional furnace, a clogged drain, or a dead electrical outlet. In such a saturated space, providing exceptional customer support sets you apart. Learn how to build trust with customers and win more jobs.
Build a Personal Connection
Letting another person into your home requires a great deal of trust, and building that trust starts with your customer service representative (CSR) answering customer calls.
"We all spend so much money on marketing, but at the end of the day it's the conversation that counts," says Eddie McFarlane, co-host of Schedule Engine's Toolshed video training series for home service leaders and technicians
Train your service agents to use empathy and kindness to provide excellent customer experiences. A strong greeting should include a thank you, your CSR's name, the company name, and an offer of assistance. From there, build out phone scripts to guide the optimization of your call center operations.
Many customers browse your website before calling; so don't forget your online first impression matters too. Share your company's story on an "About Us'' page. Use pictures of your staff on the job and out in the community to further personalize your brand. And don't forget to claim and fill out social media profiles.
Offer More Availability
"In the home services industry, when something has really terribly gone wrong, somebody wants to pick up the phone," says Schedule Engine Director of Customer Success Savannah McDermott.
"And if the furnace is out in the dead of winter, the customer isn't going to leave a voicemail for a contractor who didn't answer. Instead, they make phone calls to every contractor they find on Google until someone books an appointment."
Customers don't want to get caught in a loop with your phone system's interactive voice response (IVR). To provide the customer service level that empowers you to compete, you must provide 24/7 availability. This proves challenging, especially for a shop running a small CSR team or an owner-operator business. Yet offering 24/7 call center management support can be the deciding factor between getting business or not.
3 Steps to Provide Top-Tier Customer Service
If you're going to win customers in a market as competitive, demand-driven, and personal as this one (especially when there are big giants involved), the way to win is with exceptional customer service. But it's no secret that smaller contractors have fewer resources to support ambitious inbound call centers. Rise to the challenge with these steps to provide top-tier customer service as a small home services business owner.
1. Nail your
In-house
Customer Service
Within the hours your team answers web chats or phones, your reps should be the best ones in town. Build a team that provides a human touch and friendly, personable demeanor to give your customers the best experience possible. And in a tight labor market, if you need help, look for call center services with the home industry knowledge base—whether in HVAC, plumbing, electrical, or garage door repair—to truly understand your customers' needs.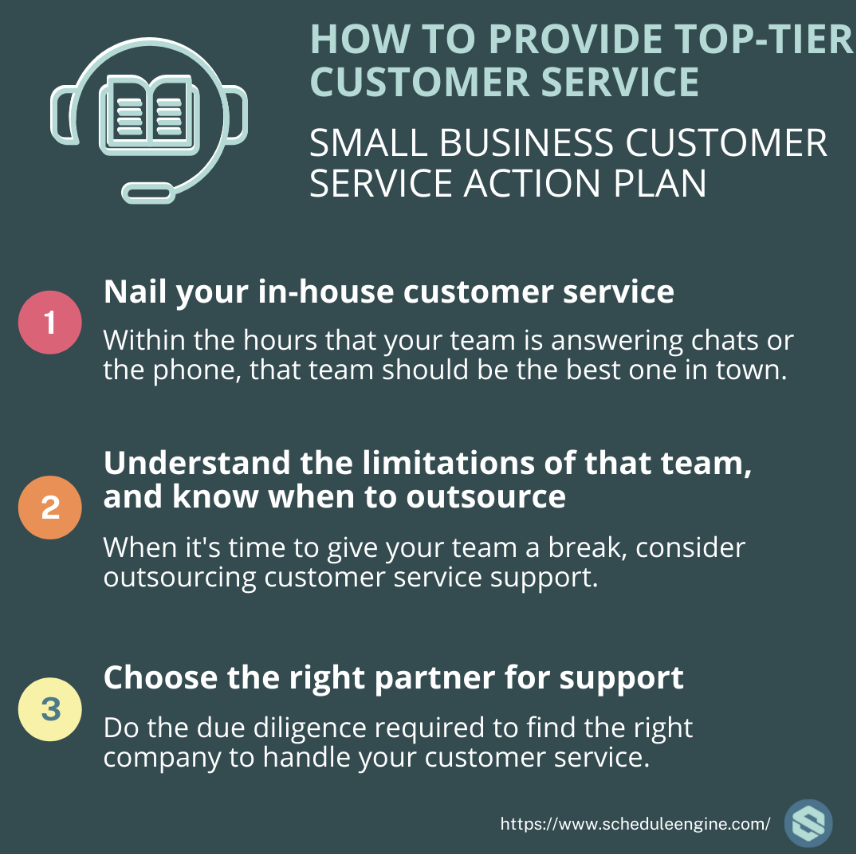 Live Service from Schedule Engine helps complement your brand and build customer relationships by providing timely support.
"Nobody who ever picks up the phone at Schedule Engine Live is picking up the next phone for a dentist or healthcare office," McDermott says. "Our voice agents go through pretty extensive training about how this industry works, so they're able to be really specialized and meet the needs of our client base."
2. Know When to
Outsource
While your team may be rock stars, they can only be rock stars long-term if you give them time to rest. To maintain employee retention and a strong team, you need to give back to your employees.
Consider outsourcing customer service support to a call center solution (whether it's after-hours, on weekends, on holidays, or otherwise). Let your people be the experts during their designated hours, and pull in support when you need it. That way, your customers are supported by the best call center, all the time.

Schedule Engine offers escalation automation services to help your business solve customer needs no matter the hour.
With call-routing escalation automation, you create unlimited custom workflows by setting contact preferences (phone, SMS text, email) and a list of who to contact in order.
"If your first tech is asleep, we automatically hit up your second on-call tech," McDermott adds. "We can do as many of those custom escalations as you need all the way up to waking up your manager."
3. Choose the Right Partner
Once you're ready to outsource your customer service support, conduct the due diligence required to find the right contact center solution. Look for a customer service provider whose call center agents are professional, personable, and have palpable expertise in the home services industry.
Schedule Engine allows businesses to easily adjust coverage on the fly for emergencies, overflow demand, call-ins, or even a quick lunch break. Whether you have a large inbound call volume or just need help with after-hours callers, the agents are on standby and ready to jump in when needed. And, as a company built for contractors, by contractors, we know the industry like the back of our hands.
"The cool thing about Schedule Engine Live Voice is that it's not just a standalone answering service," McDermott says. "It's actually a fully integrated service that stacks right on top of your scheduler. All of the information our organization has about your company, needs, and processes is already in our systems and ready to use via our live agent services. It's all seamlessly integrated. It helps funnel things into the same spot your CSR teams are already super familiar with."
By integrating with your existing systems, Schedule Engine agents follow your company's lead with skills-based routing. Paired with Online Scheduling, you can provide your customers with immediate assistance and capture every opportunity at every touchpoint by meeting your customers exactly where they are, with no extra effort from you or your team.
The cloud-based system delivers all work orders to the Schedule Engine dashboard automatically and extracts real-time availability from your dispatching software, so everything is in one place. Service managers gain access to all inbound activity, including call recordings.
Academy Air, a St. Louis-area HVAC company, originally partnered with Schedule Engine for after-hours support, but then leaned on them during staffing shortages.
"Schedule Engine actually fulfilled a call center role for Academy Air during a time of rebuilding," says Michelle Micheletti, Regional Director of Marketing for Academy Air. "The team really kept our business flowing during that time, because we didn't have people to answer the calls. Most of our calls were just going to abandon, or if you'd go to a third party, you're just turning around and giving that message back to a lean call center that can't call them back."
Rather than losing calls and missing opportunities, Academy Air deployed Schedule Engine Live Voice to answer incoming calls 24/7 and provide customer satisfaction.
"It helped us from a business perspective, it helped our call center, and it also created a great experience for our customers," Micheletti says. "Customers feel fulfilled, they're being booked right then, and they're taken care of."
Schedule Engine's suite of cost-effective, omnichannel technology solutions allows you to provide an always-on, five-star customer service experience and be there for your customers no matter how they'd like to interact with your business. And with fewer outbound call center callbacks to make, your CSRs gain more time to focus on providing excellent customer service.

Customer relationship management (CRM) software and Google Analytics integrations allow Schedule Engine to be implemented and configured quickly and easily to capture the right opportunities by meeting customers where they are. Metrics tied to the calls help prove ROI.
Want to learn more about how Schedule Engine's scheduling and call center software solution can help your small business provide exceptional customer interactions and meet your KPIs?