It's that time of year again. Many say the Winter holiday season is the most wonderful time of the year, and to them, I say "Bah Humbug!" Only kidding, I also love the holidays, but one of my favorite events of the year is right around the corner: Service World Expo. For a home services industry veteran like myself, this weekend serves up many wonderful gifts comparable to those that arrive around the holidays—and three months early, no less!
Like the holiday season, the Service World Expo demands some preparation on the part of everyone involved. Gearing up for survival requires that you do a couple of things:
Set your expectations.

Prepare yourself.

Take action while you're on the grounds.
And you've got none other than a 4-year SWE attendee to guide you through it all.
What To Expect
Service World Expo is one of the biggest events in the home services industry. From breakout sessions, keynotes, themes, social events, to you name it — it features many moments and opportunities you don't want to miss.
Some vendors really go all out, and as an attendee, you have a chance to reap the benefits. You might want to pack an extra suitcase for all the free swag and raffle earnings you could win. Although, one of last year's vendors raffled off a Ford F150, and I'm not sure that'd fit in your suitcase…
What's on the Roster?
To give you a short answer: a whole lot! Just take a look at the schedule—it'll be a great mix of educational sessions, updates on the latest and greatest from Service Nation's vetted partners, and keynote speaker sessions (including one by yours truly). Service Nation staff also graciously hosts various social events and mixers, so there's always something to do.
Don't worry; there are plenty of scheduled breaks so you'll have plenty of time to recharge and brainstorm new ideas. Workshops and speaker sessions will cover topics spanning the gamut, including: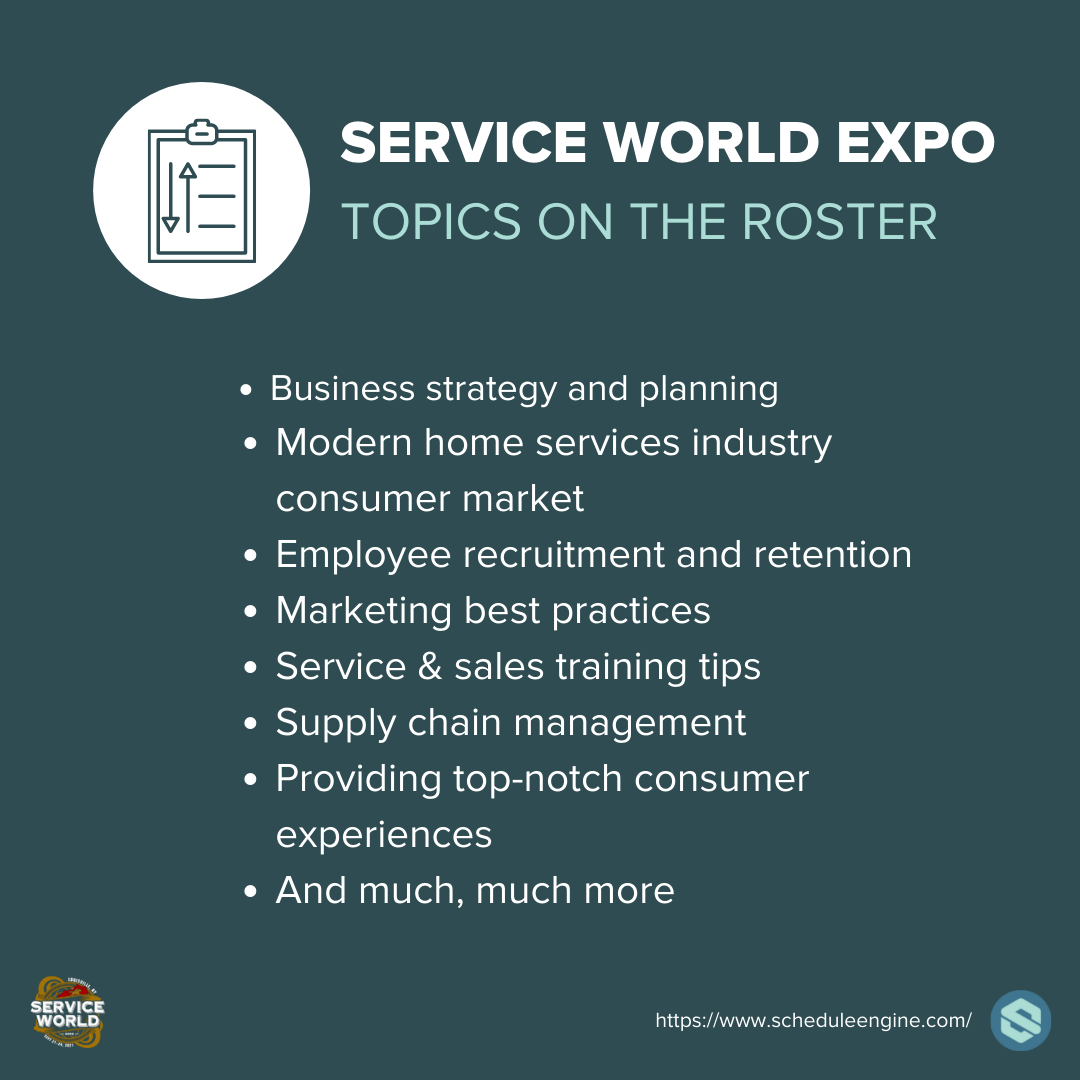 Business strategy and planning

Modern outlook on the home services industry and consumer market

Employee recruitment and retention challenges and how to overcome them

Marketing best practices

Service and sales training tips

Supply chain management

Providing top consumer experiences

And much, much more




Schedule Engine at Service World Expo
And guess what?! My company Schedule Engine and I will be there too (shameless plug). This event is near and dear to our hearts, and not only because it's reminiscent of the holidays. Service World Expo was the very first conference that we, as a Schedule Engine team, attended back in 2017. In both 2017 and 2018, Schedule Engine graciously won the Innovation Showcase. Every year since we have stepped up to support and sponsor this fantastic event.
Usually, you can catch one of Schedule Engine's own leading a breakout presentation helping contractors stay up to date with the latest consumer trends on CX. This year, it'll be me, presenting the biggest online booking myths.


What To Prepare
When the holidays roll around, you know there's some prep involved. The same goes with the Service World Expo! Here are a few things you can do ahead of time to prepare:
Familiarize yourself with the floor map and breakout sessions schedule.
Once you're there, the amazingness surrounding you can cause your eyes to wander, and the sheer number of people can make it easy to miss a key session or vendor you wanted to see. Make a list of the breakout sessions you wish to attend and the vendors you want to see ahead of time to make sure that doesn't happen.
Going on my 4th year in a row now, I have lived and learned and cannot recommend this pro-tip enough. Whether you want to take advantage of the social scene or prefer to stay sharp throughout the weekend, you'll need basics to do so. Hit a local pharmacy and stock up on a case of water, Emergen-C, chewing gum or breath mints, and any other basic needs to stash in your hotel room. Trust me, slugging a few bottles of water a day will go a long way!
Start interacting with the event digitally.
There's usually an app you can download and register a profile, so consider doing that ahead of time. It's also a great idea to start posting on your LinkedIn and other social media networks (using the event hashtags, of course) to identify other people attending and get a little brand visibility.
What To Do While You're There
You've set your expectations, you've prepped, and now it's time to dive in. To ensure you get the most out of the weekend, here are a few things to keep in mind while you're celebrating this better-than-the holidays holiday:
Network, network, network!
As one of the first in-person events in a while, one of the most underrated benefits will be the networking you can do face-to-face (or mask-to-mask) with your peers. You don't get this kind of face-time anymore, so take advantage of it!
Don't shy away from vendors.
Obviously, there's a little bit of bias here (take a stop at Booth 517 PL to visit us at Schedule Engine!), but vendors are an excellent way to find new resources, partners, and more in the industry. They're all vetted by Service Nation, and you might be surprised by what you uncover.
Set and achieve some goals.
I'm a big fan of goal setting, so I could talk for hours on this one! You don't want to leave the weekend and realize you didn't get as much out of the Expo as you could've. So, make some tangible goals. For example, from a peer-to-peer networking perspective, you can (and should) make 5-10 new industry connections that you can keep in touch with after the event. What else would you like to achieve?
Remember those good 'ole schooling days when you used to take notes in class? Well, those days aren't behind you. You're going to hear a lot of good stuff from a lot of brilliantly intelligent people—and you don't want to forget it all! Make a habit of writing down the key pieces of information you hear in each session so that you can come home with some key takeaways to share with your team.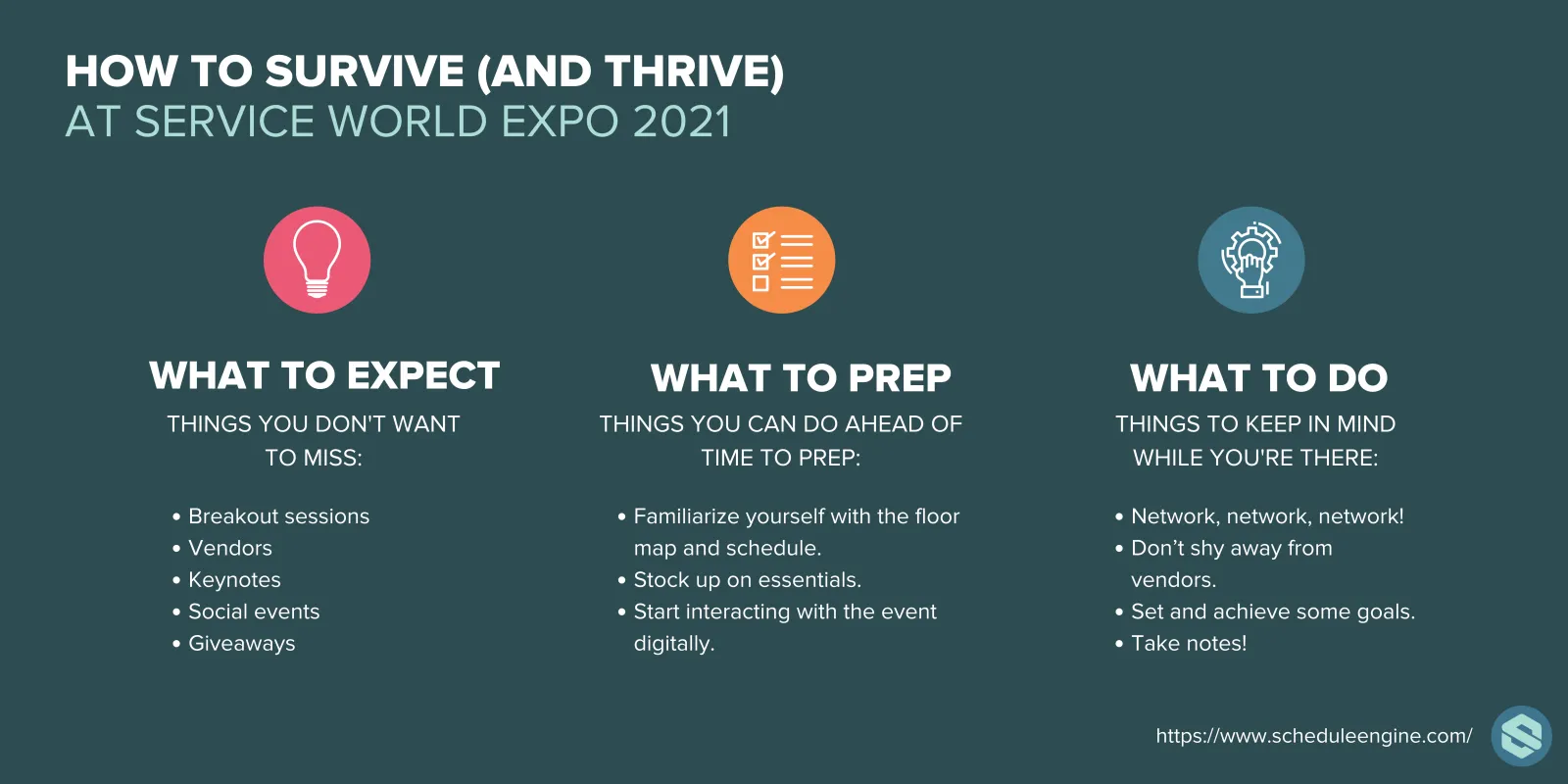 And with that, I set you free into the Service World Expo (Winter) Wonderland. Don't worry; I'll tell Santa you've been nice this year so that you have as happy a holiday as possible. 😉

Not registered for the Service World Expo yet? Well, what are you waiting for?! Get signed up now! And if you're interested in chatting before then, reach out any time!