Once a year, ACCA hosts its Fall Meetings: a tried and true, double-whammy of home services industry forums that give you all the tips and tricks you need to run a top-notch business. ACCA is one of our most long-standing partnerships at Schedule Engine, and we are honored to attend this year's event yet again! As a previous Fall Forum attendee, I thought I'd share a bit of what I know to help you set your expectations and prepare.
What To Expect
ACCA, or the Air Conditioning Contractors of America, is a nationwide non-profit organization built for professionals in the HVAC-R industry. ACCA hosts annual Fall Meetings, broken up into two forums: the Office & Operations Managers Forum, November 1-2, and the Service Managers Forum, November 2-3. In this smaller, more intimate setting than other large-scale industry events, attendees get the opportunity to truly get to know each other and spend some quality time growing collectively.
Both events will take place at the New Orleans Marriott in New Orleans, LA. Each event provides in-depth training, networking, speaker sessions, and more opportunities to empower home service industry members.
What's on the Roster?
Both forums will get the chance to attend the keynote speaker session with the CEO of One Tribe Foundation, Jacob Schick. One Tribe Foundation is an organization raising awareness for and combatting PTSD-related suicide by empowering veterans, first responders, and their families. Driven by his challenging yet inspiring life story, Jake is a "staunch advocate for maximizing the potential in people from all walks of life," and will be sharing that message and why it matters for you. This session is definitely not one to miss!
Each event also features its own scheduled speakers, covering numerous topics as follows.
Office & Operations Managers Forum Speaker Topics
Business growth strategies

Collaboration and team building

Client care training

Marketing

Productivity and planning

Team and workforce development

And more!
Service Manager's Forum Speaker Topics
Workforce development

Talent recruitment and retention

Service manager training

A conversation on value

Invoice coaching

Business strategies to drive profit

And more!
Schedule Engine at ACCA's Fall Meetings
What's more—Schedule Engine will be there! The team and I will be at the event meeting you, chatting with you, and learning alongside you. We'll be giving the low-down on our Schedule Engine suite of services, so make sure you stop by our table to hear about our Online Scheduling, Live Chat, and Live Voice services. We'll even have a few interactive experiences to show you just how seamlessly our services work with your current systems and processes, and we'll be running an offer for anyone who signs up with us at the event. Long story short, you'll want to be there.


What To Prepare
Before you roll up, there are a few things you can do ahead of time.
Set and achieve some goals.
Believe it or not, events like these are a real chance to advance your career and your business. Setting some goals can help you do so. Think of a few things you'd like to accomplish while you're at ACCA's Fall Forums (i.e., meet X number of people, speak to so-and-so, make X number of industry connections, bring home X number of tangible takeaways for my team). Once you set those goals and have them written down, show up at the event and begin achieving them!
In preparation for such a hefty couple of days, bring all the day-to-day necessities you might need to stay energized, such as a water bottle, a comfortable pair of shoes, a pack of gum/breath mints, a pen, a notepad, and an open mind!
Start interacting with the event digitally.
Keep tabs on ACCA's website and social media accounts (Facebook, LinkedIn) leading up to the event. You're likely to find event details there, or even a glimpse at who in your network will be attending. It can be a good idea to post your own "I'll be there!" announcement on your social channels to let your network know you'll be at the event, too.
What To Do While You're There
Once you're prepared, it's time to hit the tradeshow floor! Here's what to do while you're there.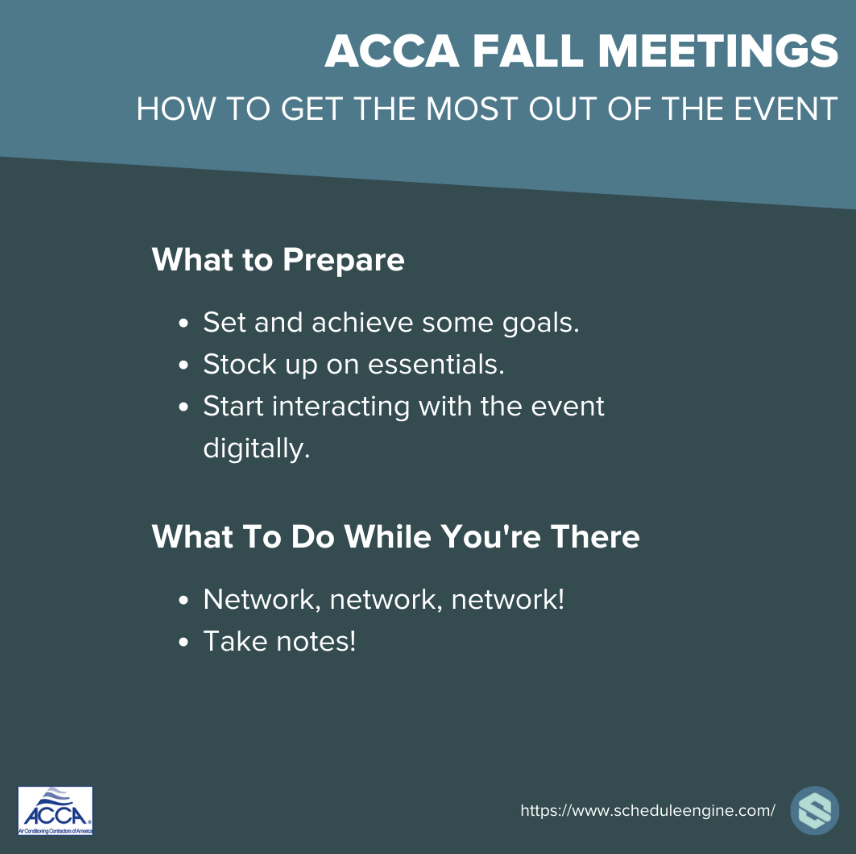 Network, network, network!
Maybe the single most important benefit of events like this one is the networking opportunity it presents—take advantage of it! Get out there and introduce yourself to as many industry professionals as you can, and follow up with them after the fact, to make sure you make connections with the many helpful people that'll be there.
There's so much to learn in a short amount of time at the Fall Meetings. I would highly recommend taking some notes throughout the event to ensure you don't forget any of it! Plus, that way, you have a specific list of tangible takeaways to bring back to your team to learn from the experience and impact your business.
That should have you prepped and ready to go! Enjoy the Fall Meetings 2021—I hope to see you there!
Not registered for the ACCA Fall Forums yet? Well, what are you waiting for? Get signed up here. And if you're interested in chatting before then, reach out any time!