Home services industry professionals, get excited! There's a new industry event in town—Service Hero! This event is not like your traditional, typical home services industry event. Service Hero was started by a young and highly successful contractor business owner Victor Rancour, making a difference in the industry by hosting his own event.
As the first of its kind, this event is sure to live up to its hype, and the team and I at Schedule Engine are excited to be a part of it. Here's what to expect and how to prepare for Service Hero.


What To Expect
Service Hero is an annual event that brings in some of the industry's most prominent players for an ultra-training session for home services contractors and business owners. This year's Service Hero is taking place October 29th - 30th, 2021, at Caesar's Palace, Las Vegas, NV​​.
What's on the Roster?
Service Hero offers tiered levels of training with industry-leading trainers Victor Rancour, HVACR magazine 30 under 30 feature, and Brent Buckley, a multiple-time top-selling technician in the country. Renowned as two of the best salesmen in the business, and with 30+ years of experience between the two of them, Rancour and Buckley are beyond equipped to show you how to level up your service sales process.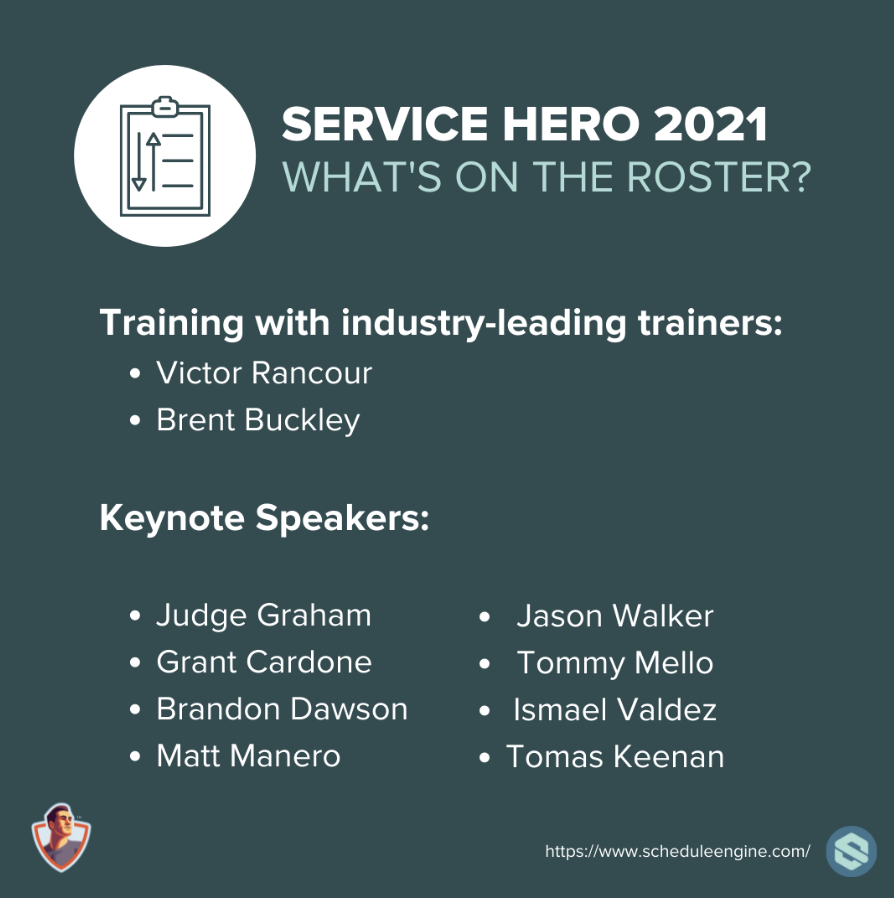 Plus, there is a whole schedule of guest speakers, including:
Judge Graham, Tech Entrepreneur, Operator, Investor, and Author

Grant Cardone, CEO of CardoneCapital

Brandon Dawson, CEO of Cardone Ventures

Matt Manero, President of Commercial Fleet Financing, Inc., Author of "The Grit" & "You Need More Money"

Jason Walker, "The Master of the Hustle"

Tommy Mello, founder of A1 Garage Doors

Ismael Valdez, Owner/CEO at Nexgen Air Conditioning Heating and Plumbing

Tomas Keenan, former CEO of Top Class Installations and current COO of Break Free Academy
Each one is bringing their unique experiences and insights to the table, and that'll be something you don't want to miss.
Schedule Engine at Service Hero
And of course, yours truly will be there! Swing by our table to learn more about our Live Voice, Live Chat, and customizable Online Scheduling services. We're offering interactive experiences to demonstrate how our suite of services works seamlessly, around-the-clock with your current systems and processes to ensure dispatchers and technicians can complete their jobs efficiently. Plus, there may even be a special prize deal for anyone who signs up with us! You won't know unless you stop by. 😉
What To Prepare
The best way to get the most out of this experience is to prepare accordingly. Here's what you can do.
Set and achieve some goals.
Before even stepping foot on the tradeshow floor, write down some goals. How many industry connections would you like to make? Anyone specific you're hoping to meet? What takeaways do you hope to bring back to your team? These types of questions can guide your goal-setting, and when you arrive, you can accomplish them.
Industry event days are long. And when I say long, I mean it. So, bring all those things that help long days go by faster—a water bottle, some comfortable shoes, a pack of gum/breath mints, a mask, or anything else you might need. You won't regret following this piece of advice, trust me.
Start interacting with the event digitally.
Before the event begins, there's sure to be chatter about it on Service Hero's LinkedIn, Facebook, and website. Stay in the know about event details and find out who else is attending by following these accounts and regularly checking in on them. You can also let your social networks know that you're attending by posting about it and tagging Service Hero in your post.
What To Do While You're There
And you're off to the races! Once you're on the floor, here's what to do to ensure you get the best experience possible.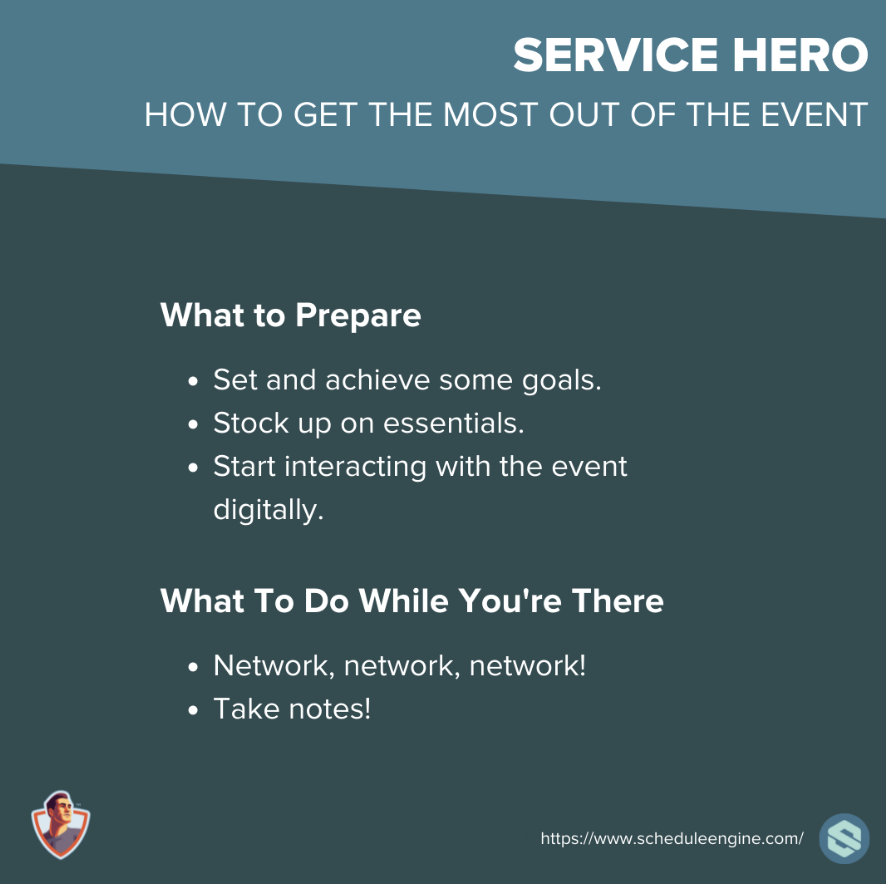 Network, network, network!
How often do you get to stand in a room full of home services industry leaders, professionals, and peers? There's so much to learn from them! Get out there and introduce yourself, and make connections with attendees that can help you and your business grow.
With all the learnings and insights that the event will throw your way, you don't want to let anything slip your mind. Take notes at each presentation and session you attend so that you have tangible takeaways to bring back and share with your team when you return.
With all these pieces of advice in your pocket, you're more than prepared for Service Hero 2021. I can't wait to see you there!
Not registered for Service Hero yet? Well, what are you waiting for? Get signed up here. And if you're interested in chatting before then, reach out any time!