Is it cliché to say that EGIA Epic was epic? Because it was. Last week, the team and I spent a couple of days in Las Vegas networking, exploring new ideas, and challenging our assumptions at EGIA's annual industry event.
Did you miss it? Don't worry, I've got you covered. Here's the breakdown.
What Went On
From the presentations and sessions to our conversations with clients, partners, and peers, there was never a dull moment at EGIA Epic 2021. Here are some highlights:
The Key Highlights
Among my highlights from this year's event are: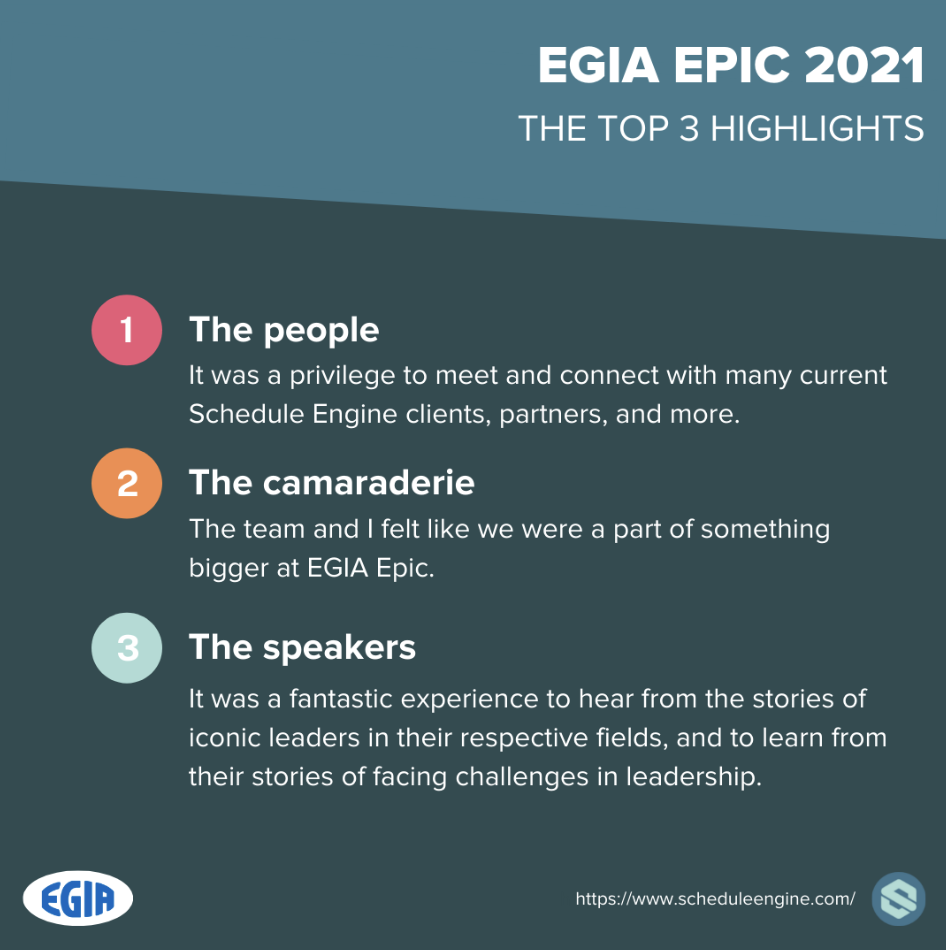 1. The people
The team and I were blown away by the caliber and reach of EGIA's industry network. It was a privilege to meet and connect with many current Schedule Engine clients and partners, as well as many more players in the industry. We are honored to be a part of this community and look forward to continuing to be in the future.
2. The camaraderie
The team and I felt like we were a part of something bigger at EGIA Epic. The event worked to bring the industry together in a meaningful way by collecting all of the attendees—vendors, partners, and presenters alike—in the same room. This effort allowed for idea exchange, expansive conversation, and collectivity in the mission of growing in our industry. The power in all coming together in that way was truly rewarding.
3. The speakers
Wow, the speakers at this event—John Taffer, Captain Sully, Daymond John, to name a few—were truly extraordinary. Based on the buzz I heard throughout the event, I think I speak for all of the attendees when I say: it was such a fantastic experience to hear from the stories of such iconic leaders in their respective fields, and to learn from their stories of facing challenges in leadership. The lessons I learned from each of these speakers are ones I'll carry with me onward as Schedule Engine overcomes its own challenges as a leader trying to impact and improve an industry.


Schedule Engine at EGIA Epic 2021
Schedule Engine had a blast at EGIA Epic 2021. It was thrilling to meet and connect with industry professionals, peers, and more and tell them all about all the new and exciting developments at Schedule Engine.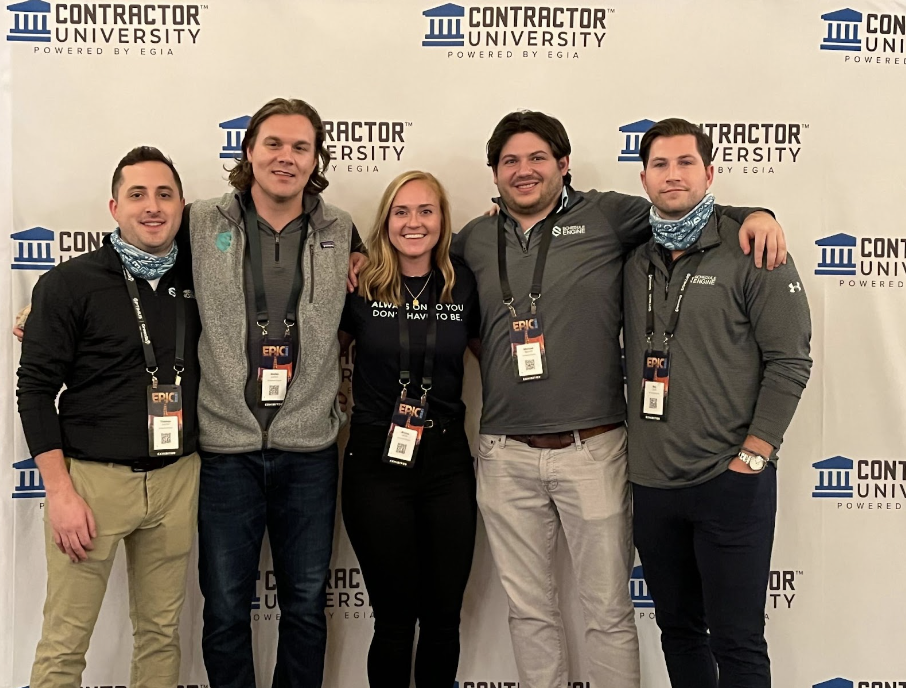 Did you miss us? If so, I'll give you the rundown on our spiel. Schedule Engine has expanded into more than just an online booking platform; we're a whole suite of services that can help support your team and grow your business exponentially. With Online Scheduling, Live Chat, and Live Voice services all in one place, you can ensure peace of mind across all your customer service channels. Want to learn about how we can help you capture more jobs and simply your schedule? Reach out; we'd love to tell you more.
In honor of the epicness of the event, we also had an epic giveaway at EGIA 2021. I'd like to wish a huge congratulations to Expert HVAC & Refrigeration for winning our Schedule Engine trade show raffle, earning their first 6 months of services and first 100 Live Voice calls free. Talk about a lucky duck 🐥!


What To Do Now
If you want to maximize the return you get from attending this year's event, there are a few things you can do:
Get in touch with vendors and companies you found interesting at the event (if that's us, reach out here!)

Share your learnings with your team

Put your notes into practice

Sign up for more events like EGIA Epic
Missed the event but are still interested in how you can work with Schedule Engine? Reach out any time! We'd love to hear from you.