What once used to be a series of phone calls, endless dial tones, voicemails, and a handwritten confirmation between contractors and customers to book a single home service appointment has evolved into a few simple computer clicks --and Schedule Engine has been part of that seamless magic since 2017.

As of today, the US on-demand home service market is worth $600 billion and is expected to grow at a compound annual growth rate (CAGR) of 49% from 2021 into the foreseeable future. With these numbers, it's no surprise that technology is finding innovative ways to enhance the experience and streamline the demand of the home services industry.
As the world and our customers become more dependent on technology every day, it's crucial to acknowledge the conversation around automated technology-enabled services. We sat down with the Vice President of Schedule Engine, Strick Tudor, to discuss the rise of technology-enabled services, how they're shaping the future of home services, and Schedule Engine's part in it all.

What are Technology-enabled Services?
Before we tackle the discussion of technology-enabled services in the home industry, let's dive into what they are and how they've evolved.
In 2020, the company Index Ventures defined technology-enabled services (TES) as below:

"Companies offering tech-enabled services bundle software and humans to provide 'superhumans-as-a-service' as a turnkey solution."
In short, tech-enabled services are advanced solutions you can adopt to increase your business's service efficiency, availability, communication, and bottom line--so you can work and grow smarter.

The Tale of Telematics
Before contractors started using more recent technology-enabled services, they may have considered telematics systems for better insight into managing their workforce. Telematics is a method that tracks the movement of vehicles, equipment, and other assets on a digital map using Global Positioning System (GPS) and on-board diagnostics (OBD) technologies. This technology was an early entrance to the more common enterprise resource planning (ERP) and field service management (FSM) systems we see today.
With years of experience in the industry, Strick has witnessed the rise of technology-enabled services, and seen it really take flight within the home services industry in the past five years. The initial goal of these home service tech-enabled solutions was to help contractors work more efficiently within their team by enhancing internal and external communications. Considering the accelerating impacts of the pandemic, Strick explains how this technology is evolving to enable human resource efficiency and accommodate consumers to feel more comfortable with virtual engagement as they practice social distancing and prioritize home and personal hygiene like never before.
Overall, the continuous goal of technology-enabled services is geared towards interconnectivity of inbound demand, conversion, and seamless user experiences.
Across the Industries
While the rise in technology-enabled services in home services is relatively recent, other industries have made endless breakthroughs with this technology for more than a decade. From personal styling to finance management, tech-enabled services make it easier for businesses to accommodate their customers' needs and preferences.
Within the fashion industry, StitchFix, a personal styling company, combines the minds of real human stylists and technology to better understand and tailor their customer's fashion preferences.
In the finance world, the company Pilot combines their in-house Artificial Intelligence (AI)-powered software with the brains of real accounting experts to provide small businesses with automated accounting and bookkeeping services.
Nowadays, there are technology-based services for just about everything, helping individuals and businesses improve their routines and management operations. So, how can your home contractor business benefit from a technology-enabled service?
How Technology-enabled Services Can Help your Contracting Business
Your home services business is far from seasonal. Whether it's a hot and humid summer day or a cool fall afternoon, homeowners will always need your help. But with technician shortages, higher customer expectations, and the challenge of meeting demand during after hours, holidays, and high call volume, it can be difficult to manage everything at once. This is where technology-enabled services like Schedule Engine can step in for support.
Most contractors running field teams would agree that the traditional way of manually managing teams is highly inefficient. You lose time in allocating tickets to your technicians, planning your routes, assessing preventative maintenance schedules, and a plethora of other field activities. It can cost you actual revenue due to time losses and low productivity.
Find Your Solution With Field Management Software
If you haven't already hopped on board, consider improving your operational efficiencies with Field Service Management (FSM) software. FSM software helps contractors manage all the resources involved in their field management: processing job orders, automating dispatch, keeping track of repair tasks, managing customer service contracts, sending out invoices, collecting customer payments, and more. Examples of great FSM providers are ServiceTitan, Housecall Pro, Successware, FieldEdge, Servman, Service Fusion, Sera, and more. Investing in an FSM software saves you time on managing standard business operations, opening the door for you to prioritize and capitalize on new opportunities.
According to Forbes, the market for home and system warranties has had a CAGR of approximately 12% per year for the past four years. And the popularity is expected to continue to grow, catalyzed by the COVID-19 pandemic.
If you find your warranty tracking overwhelming or complicated to manage manually, consider investing in web-based software like iWarranty to help your business track service history over the entire product lifecycle to improve your warranty liabilities, manufacturing, and post-sale operations. Additionally, it can help reduce costs, improve customer satisfaction, and enhance your operational performance.
In 2022 and beyond, customers will expect the option of being able to book a job 24/7, whenever it is convenient for them. To accommodate this, rather than overwhelming your staff with having to work more often or staff phones after hours, your business can explore cost-effective technology services and solutions, take the pressure off your customer service team, and streamline your business.

With Schedule Engine, you can automate your business's booking flow with Online Scheduling and book jobs with no effort, attention, or sign-off from your team. You can integrate Live Chat operated by industry-trained agents on your website and socials to field questions, build your brand, and book you jobs. And you can offer Live Voice services to handle customer overflow, after hours, or emergency escalation calls to ensure your customers are taken care of 24/7. Strick positions Schedule Engine as the swiss army knife of home service technology-enabled services:

"Everything we're doing is win-win-win. It's creating a better experience for the consumer. It's empowering providers and contractors with essential technologies and tech-enabled solutions that allow them to meet consumer expectations, increase their bottom line, and compete more competitively in a landscape that's not necessarily an even playing field."

Better yet, you're still retaining human interaction to improve your customer experience and help book jobs better and faster. To ensure all your marketing touchpoints are working together to build your business, you also get access to Customer Insights to get a 360-degree view of your customers.

Seamless Integrations
More and more, technology-enabled services are deeply integrated with other technology-enabled service platforms through standard web-based API sets. As long as the integration is seamless, you can optimize your business's operation and configure your unique needs into the platform, and rest easy knowing your tech-enabled service is working around the clock to meet all of you and your customers' needs.
Schedule Engine integrates seamlessly with your Field Service Management software and your website, with no extra effort required from you or your team once you get started. With everything packed into a simple and engaging interface, Schedule Engine's integration helps you track:
What services are being booked

Frequency of booked appointments

The overall customer journey: from searching to booking, to payment, to the 5-star review they leave you

And more!
With Schedule Engine, you'll spend less time on tedious tasks, allowing your team to focus on follow-ups, customer relations, and other valuable outreach that helps you convert and retain customers.
Take a look at Air Control Heating & Air. The owner, Bill Barry, was on the hunt for software that would function with his dispatch software, Housecall Pro. Looking to simplify the home service experience, make it easier for his customers to do business with him, save time for his team and empower them to work efficiently, Bill discovered Schedule Engine.
"Our website was basic before Schedule Engine. We never had the ability to book online. We needed technology that would work with our installations and systems, and that would integrate with Housecall Pro. Schedule Engine was exactly what we were looking for to go to the next level," Bill shared in an interview.
Bill and his team at Air Control have reaped the benefits of Schedule Engine's Online Scheduling and Live Chat services. The team has been highly impressed with the credibility the chat function lends to their brand and the level of dedication our industry-trained agents have to their customers.
They also get less phone calls now that customers can book whenever they want online, even after hours or on weekends. This frees up their team to tackle more valuable tasks and strengthen the business in ways they couldn't before.

The Future of Tech-enabled Services in Home Services
To wrap up, we return to our discussion with Strick about the exciting future of technology-enabled services and Schedule Engine's part in it all--which he sums up in one word: unlimited.
Strick acknowledges the growing divide between contractors who use technology to streamline their business and those who don't, comparing it to a "Blockbuster vs. Netflix" fork in the road he believes will continue widening. Referencing Schedule Engine's services, Strick emphasizes the power they can provide for contractors at either end of the technology-savviness spectrum.
"We're in a great spot because Schedule Engine can play a value-add role for small, medium, and large contractors. We're in a position to help any home service business."

In the past, he's seen how technology has been done to contractors as opposed to being created for contractors. Looking forward, Strick is excited about the dynamic innovation technology-enabled services like Schedule Engine are introducing to the home services industry to do just that.
Whether you're operating a contracting business with two or 200 employees, adopting a technology-enabled service may just be the solution for you to save energy and build out your network of resources.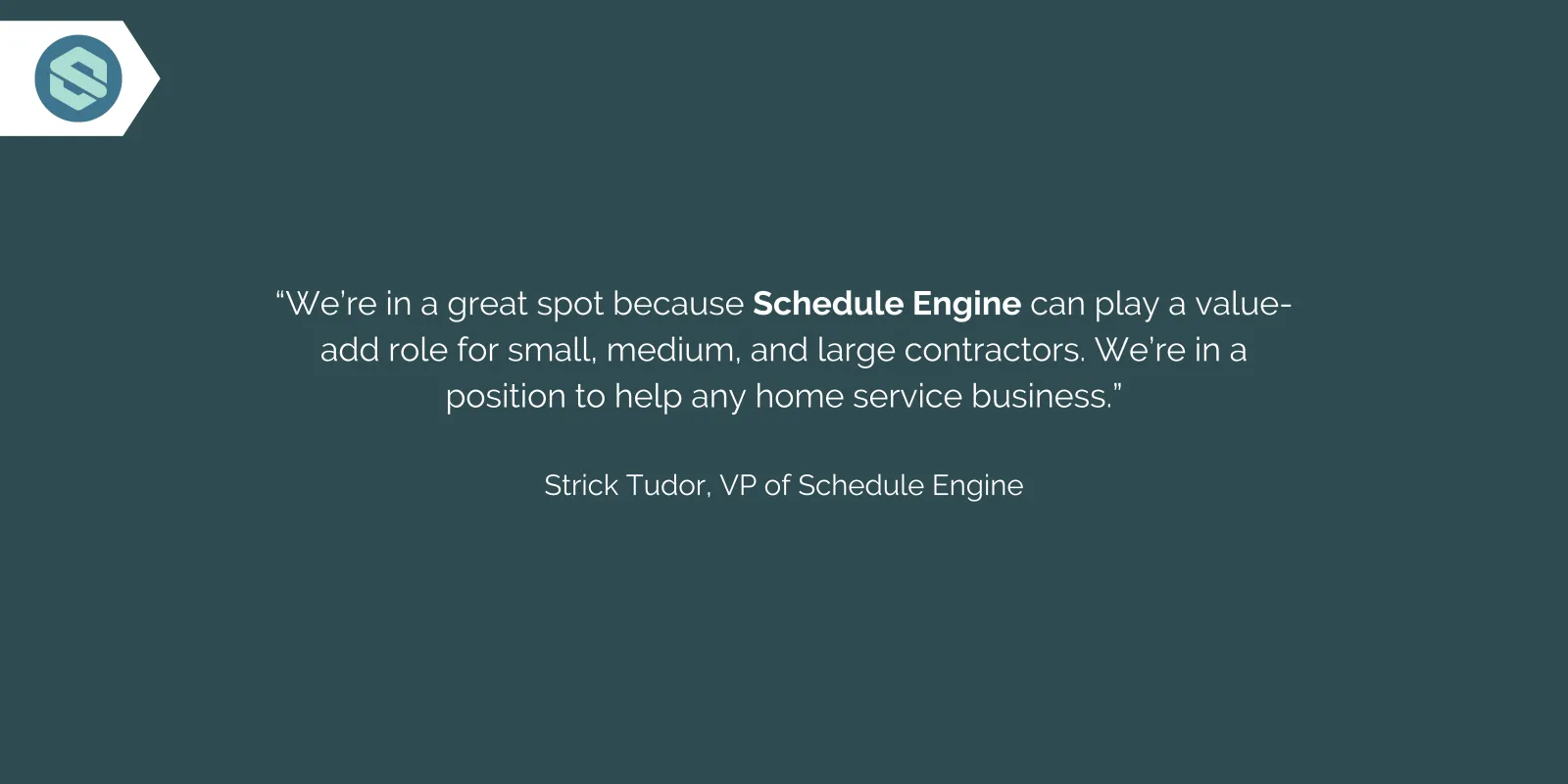 Want to learn more about how Schedule Engine can support your business from digital marketing tips to Online Scheduling?
Download our latest Resource Guide on Exceeding Customer Expectations & Winning the Customer Experience: A Blueprint for Today's Home Service Provider.