Another industry event has come and passed, and it continues to amaze me how uniquely valuable each one is. This past week, the Schedule Engine team and I attended the Air Conditioning Contractors of America (ACCA) Fall Meetings in New Orleans, Louisiana, and have come out the other side educated and excited about what's to come.
If you didn't make it this year, don't you worry! I'll give you the play-by-play.

What Went On
There was so much to teach and learn at the ACCA Fall Meetings 2021. Here are some highlights:
The Key Highlights
Among my favorite moments from this year's event are:


1. Contractor keynotes

As is always the case at home services industry events, the keynote speakers at this year's ACCA Fall Meetings were excellent. Yet, I greatly appreciated ACCA's speakers, especially because many of them were contractors themselves. They told the stories of the home service industry from the inside, giving audience members a glimpse into the true trials and tribulations of working in this industry and calling out how we can work together to make it better. Huge kudos to Renee Lucas (LCS Heating and Cooling, LLC), Shelly Matter (HB McClure/HB Home Service Team), Matt Marsiglio (Flame Furnace), Chris Crew (The Blue Collar Success Group), John Michel (Business Development Resources Inc), Crystal Williams, (Lemon Seed Marketing) and keynote presenter Jacob Schick (One Tribe), among others, for giving such insightful presentations.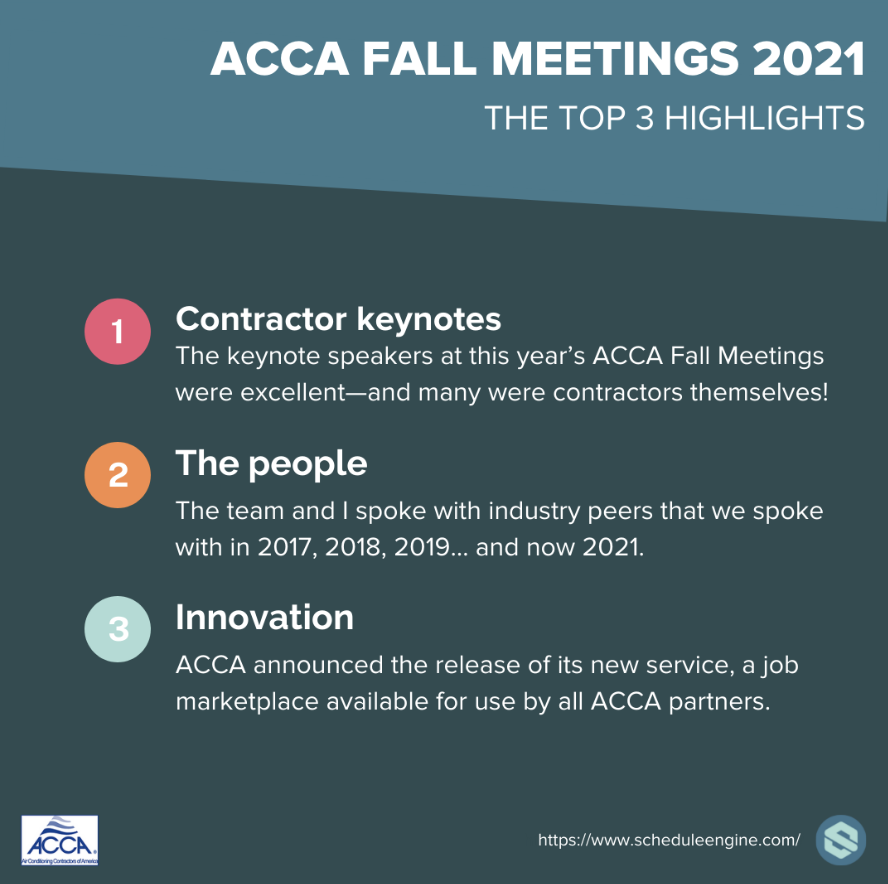 2. The people
The ACCA community is composed of some of the best and brightest in the industry. For me, every ACCA event is an opportunity to connect and share insights with leaders shaping the future of our industry. ACCA brings together manufacturers, policymakers, software and service providers, and home service owners and managers. Building these relationships and getting to know one another better empowers us to learn from one another more deeply and fruitfully each time. I greatly appreciate ACCA for bringing us together so intimately and thoughtfully in this way.
3. Innovation
Leave it to ACCA to unveil all-new, valuable technologies at their industry events! ACCA announced the release of its new service at the Fall Meetings, a job marketplace available for use by all ACCA partners. Recruiting and retaining talent is of utmost importance, and it shows—many of the presentations at the Fall Meetings covered this topic. By thinking out of the box and seeking solutions to hard-hitting complexities, the ACCA Board of Directors did it again. They excel at putting the needs of its contractors first (making us very proud of our very own Schedule Engine co-founder, Eddie McFarlane, who sits on the board at ACCA).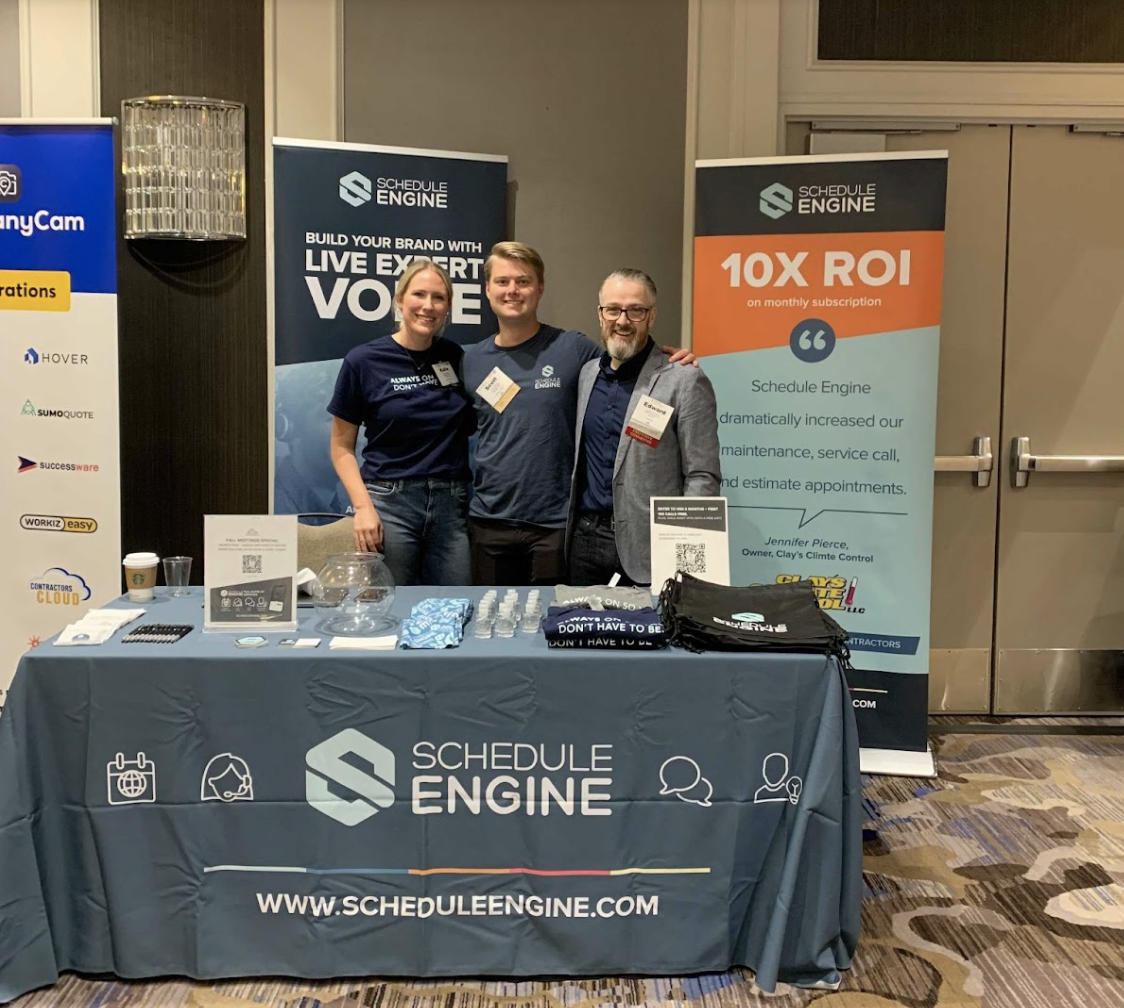 Schedule Engine at ACCA's Fall Meetings 2021
The Schedule Engine team was, as always, honored to return to ACCA's Fall Forums this year. It gave us the opportunity to get back to our contractor roots and hear their trials and tribulations firsthand, in order to better equip us to help them. Schedule Engine is dedicated to making contractors' lives easier by streamlining the complexities of scheduling into a solution that works for everyone. By offering a suite of services—Online Scheduling, Live Chat, and Live Voice— we strive to help contractors seamlessly manage their customer service experience.
While we were out there, we had a big 'ole giveaway worth noting, too. The Schedule Engine team would like to congratulate Bartholomew Comfort Service for winning our Schedule Engine booth raffle, winning 6 months of services, plus their first 100 Schedule Engine Live Voice calls free. Now that's worth celebrating!
Breakout Session: 3 Biggest Myths of Online Booking
Yours truly also hosted a breakout session at the forum this year. Here's a little glimpse into the insights I shared:
The 3 Biggest Myths of Online Booking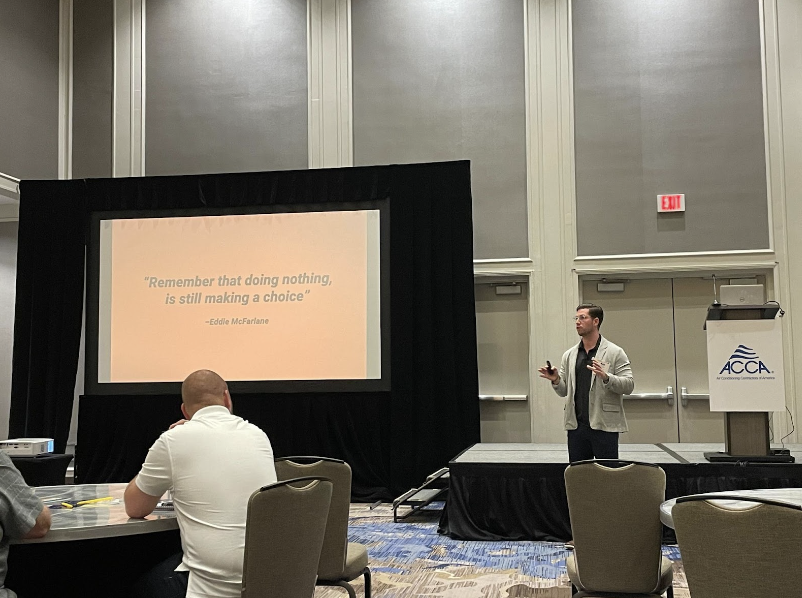 Today's consumers expect easy, convenient, online-based scheduling options when doing business with their local contractor. The answer consumers are seeking is digital services—88% of customers expect companies to accelerate digital initiatives due to COVID-19. Online booking is a solution you can implement to answer their call.
Yet, when new, technology-driven solutions arise in the industry, it's easy to be intimidated by the process of figuring it out. You may be asking yourself, "Is offering online booking worth it?" I'm here to help alleviate that intimidation and skepticism.
Here are three of the most common objections to online booking and my thoughts on overcoming them.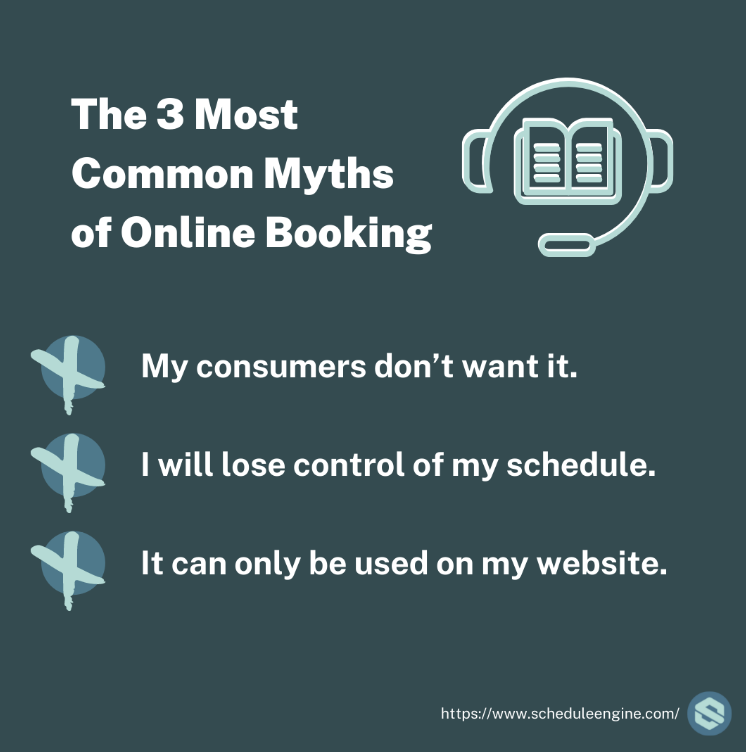 1. "My consumers don't want online booking."

Customers desire interactions when and how they want. Nearly 70% of customers prefer to book online if a variety of booking options are available. You can decrease abandonment rates and increase conversion rates by offering online booking and other online service experiences.
2. "I will lose control of my schedule."
Giving customers control of your schedule will not mean you will lose control of yours. With online booking, you can decide the time windows you offer. The benefit is, you don't need a CSR to do it over the phone! If anything, you're saving your team time while bringing in more customers.
3. "It can only be used on my website."

Here's the thing about technology: it's smarter than it seems! You can put your online booking link wherever you prefer to interact with your customers—whether that's your website, your social media page, your partner's OEM website, in an email blast, text message, direct mail, or elsewhere. Online booking is the tree that bears fruit on all channels.
Now that we've overcome the most common objections, try focusing on the benefits that offering online booking can bring to your business:
Differentiation and loyalty

Growth via scalability/efficiency

Operational savings
Want to learn more about how to offer the most convenient experience for your customers? Check out the articles in our Business & Management blog category, or join us in the Toolshed for tips and tricks from industry professionals.


What To Do Now
Now that you've soaked in the knowledge of ACCA's Fall Meetings, don't let it go to waste! Follow up on your experience to get the most benefit by:
Getting in touch with vendors and companies you found interesting at the event (if that's us, reach out here!)

Sharing your learnings with your team

Putting your notes into practice

Signing up for more events like EGIA Epic
Missed the event but are still interested in how you can work with Schedule Engine? Reach out any time! We'd love to hear from you.