Cold season is here! Snow is trekking in, pipes are freezing, and heating systems are on their last legs. And when you're operating a heating, ventilation, and air conditioning (HVAC) company in winter, heat is an utmost necessity for your customers.
With phones ringing off the hook, you'll want to be prepared to handle incoming calls from frantic customers whose heaters have turned a cold shoulder. Before we dive into how you can optimize your business strategy for the cold season, let's break the ice by breaking down how the cold impacts the HVAC industry as a whole.
How the Cold Impacts Your HVAC Business
If you're in the HVAC industry, you're familiar with the seasonality that comes with it. As cold weather strikes, HVAC systems have to work a lot harder to warm an entire home. When a heating system goes out during the cold season, it's likely due to old age, a lack of operational efficiency, or poor routine maintenance.
So, what does this mean for you?
When temperatures decrease, the demand for your business increases--a lot. However, while the cold generally brings in higher call volumes, booked appointments, and increased revenue, it can also deepen the burdens the HVAC industry already faces today. This strain is what I like to call 'capacity logic'-- the extent to which your business can deliver based on the size of your team and availability of resources.

Skilled Labor Shortages
There are approximately 105,000 HVAC companies in the US, and most of them only have a handful of employees. With older generations retiring from the industry, contractors are struggling to attract new talent to a career in the trades (one of the trends we'll continue to see in 2022). As a result, it can be difficult to handle high demand and manage customer expectations when temperatures drop, resources are limited, and competition is stiff.
If you're low on staff but expect high demand this cold season, you'll want to look for alternative methods to help your team. I'll touch on some of these methods below.
Global Supply Chain Delays
Another challenge HVAC contractors deal with is the uncertainty around the supply for HVAC parts. Heavily impacted by the pandemic, the back-order on equipment strains the capacity at which contractors can book and scale jobs, especially during the cold season. Contractors work hard to build strong relationships with their customers, but turning those calls into revenue when they're short on supply is challenging.
Extreme Weather Conditions
Even with the best HVAC business strategy, the unpredictability of extreme cold weather in regions like the Southwest can trigger unsettling challenges as you try to maneuver thousands of calls from customers whose homes and systems are not built for a drastic climate. Last February, during the Texas arctic blast, one of our clients in Austin (my very own hometown) was getting twenty to thirty thousand calls a day from worried homeowners in the area. Fortunately, they had integrated our Online Scheduling service to help reduce calls and direct customers towards online bookings.
Now, for those of you located in a region used to harsh winters, what's winter without the occasional cold spell?
While two or more consecutive days of unusually cold temperatures are brutal for homeowners experiencing issues with their heat, they can increase your HVAC business's same-day calls by 20%, resulting in a revenue increase of 70%. Not a bad business problem to have, right? Well, that depends on if you have enough employees, resources, and equipment to handle the cold spell havoc.

Customer Expectations
Never underestimate your customers. The majority of them go online to find quick and convenient solutions to their home's heating issues--and they'll likely expect the same efficiency from your business. From online reviews to knowing what HVAC repairs and installations can cost, they'll be sure to keep your business accountable. This means you have to be transparent about your services, your pricing, and do your best to support your customers in their buying journey as soon as possible.
Luckily, you don't need a magic wand to manage the cold spells and winter temperatures ahead. Instead, it's best to focus on ways you can strengthen and amplify your business and marketing strategies so you and your team can bring the heat in more ways than one this season.
Preparing for the Cold
When temperatures drop, you know what's coming to your call center. To relieve some stress during your cold season, consider the following tips for how to strategize and prepare in the shoulder season:

Manage Your Marketing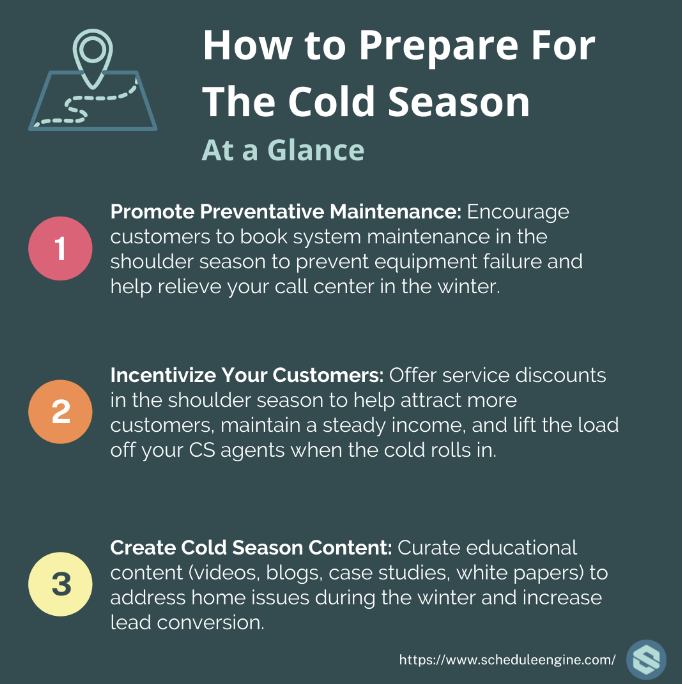 Just because your HVAC business may be seasonal doesn't mean your marketing efforts have to be. Implementing the following marketing strategies in the fall can help sustain your business during the winter:

Create a cold-weather playbook: Outline a step-by-step cold weather marketing campaign guide for different scenarios like cold spells or heavy snowfalls so that when the time comes, you know exactly what, when, and how to market to your customers and prepare them for the weather ahead.
Promote preventative maintenance campaigns: Remind your customers to book maintenance appointments in the shoulder season and emphasize why they're essential. When you empathize with them about the struggles of dealing with a broken heater when it's cold, they'll feel a greater sense of urgency to book preventative maintenance to prevent critical equipment failure.

Incentivize your customers: Offer discounted system upgrades, repairs, or installations during mild weather seasons. While this may earn you a little less, it can attract more customers, still maintain a steady flow of income, and lift the load off your phone lines once winter hits.

*Pro Tip: Incentivize your customers to book system maintenance in the spring when you have their attention during the cold season--it can be as simple as entering them in a prize raffle when they book an appointment.

Cross-promote other HVAC products: Remember that HVAC isn't limited to heating and cooling. Market other products and services that can help with ventilation and Indoor Air Quality (IAQ): duct cleaning, humidifiers, dehumidifiers, zone systems, air purifiers, and more).
Add complementary services: Evaluate your team's HVAC skills and see if you have the bandwidth to cross-train them in other non-seasonal services like plumbing to bring in additional revenue.

Create content: When you can provide answers to your customer's most common questions about winterizing their homes, you'll establish credibility in the HVAC market. From frozen pipes to faulty furnace switches, create blogs, videos, and social media posts to provide your customers with solutions to their home issues. When they trust your content, they'll likely trust your business, turning your content into conversions.

Many HVAC companies scale back on their marketing efforts in the off-season, assuming they won't book as many jobs or maximize their Return On Investment (ROI). However, building a base with customers during the off-season and emphasizing the benefits of preventative maintenance will help you and your customers prepare for the cold season.

How to Conquer Your Cold Season
Now that you know how to prepare for the cold season, let's dive into how you can conquer the cold as you navigate the high demand for HVAC services once winter is in full swing.

Target Your Marketing
Communication with your customers should be a top priority during the cold season. Know your audience and find a way to be omnipresent at the time and on the channels your customers use. Using social media, email, and text outbound strategies and providing clear, digital calls to action (CTA) across all your platforms can go a long way to reduce friction between your services and customers. And if you created content during the shoulder season, now is a great time to promote it.

*Pro Tip: Avoid sending email or text blasts to your customers if your staff is already overbooked. Instead, reach out to those who have an appointment or need to reschedule.
To echo the marketing strategies mentioned above, cold season is a great time to use digital tools like WeatherAds, Paid Search, and Google Shopping campaigns to target your marketing efforts based on real-time weather events. By amplifying your online presence, you can increase search clicks, click-through rates (CTR), and conversions.
*Pro Tip: When winter casts a cold spell, activate and sustain your advertising and bids for at least a day or two after the temperature reaches an extreme degree--homeowners may wait to see if it'll pass within a few days before calling about an issue with their HVAC system.

Staffing
A common challenge HVAC contractors face is how they should staff their team for the peak and shoulder seasons—-a decision that's often much easier said than done. While there are a few strategic staffing methods you can implement for either season, why not find a solution that can support you during both? Whether you're looking to alleviate stress from your technicians, Customer Service Representative (CSR) team, or ensure you schedule the highest-priority jobs, consider technology solutions to help your business operate at peak efficiency.

Turn to Technology
With the recent and significant rise and adoption of technology-enabled services in the home services industry, HVAC contractors can leverage support across their business to handle calls and appointments at any time, day, and season.
From digital marketing to Field Service Management services, there are countless opportunities to help your business win during the cold season. Digital advertising companies like SearchKings help generate lead generation campaigns for small and mid-size businesses. Field Service Management (FSM) companies like ServiceTitan and Housecall Pro offer an array of services to help streamline booking flows, track consumer data, and improve customer experience. Other digital services like The New Flat Rate offer contractors menu pricing to detail and deliver different pricing options for customers to choose from, relieving technicians the stress of becoming last-minute salespersons.
Schedule Engine and our triad of services, along with our Customer Insights, can help your business not only survive but thrive during the cold season.

How Schedule Engine Can Drive Your HVAC Business
Your HVAC business can catch a lot of heat in the winter if there's a lack of communication and operational efficiency. With Schedule Engine's suite of services, we can help you bridge the gap between three disparate parties: your digital marketing efforts, technicians, and customers--all of which are critical when demand is high in the winter.
Online Scheduling: This service allows you to direct customers away from endless dial tones and towards booking their appointments online. This streamlined booking can lift the load off your CSR team when there's an acceleration of inbound calls, helping reduce the number of missed calls and revenue.
Live Voice: As an extension of your business, our industry-trained live agents are ready 24/7 to help you field every call and book complete jobs after hours or when you are tied up. Our live agents make sure high-value jobs are sent to the right technician at the right time--all at your level of professionalism. Paired with our escalation strategies workflow, you can ensure your customers are taken care of and prioritized during a cold snap.
Live Chat: To help relieve your call center in the winter, our 24/7 live chat service connects your customers with live, trained-in-the-trades agents that can help them book appointments online, without having to pick up the phone.
Customer Insights: Going back to your marketing strategy, this service allows you to track and capture data from every part of your customer's journey, implement booking links and QR codes to boost your offline marketing efforts, and tailor the overall customer experience.
Check out what we were able to do for CoolToday, a contracting company with 300 technicians.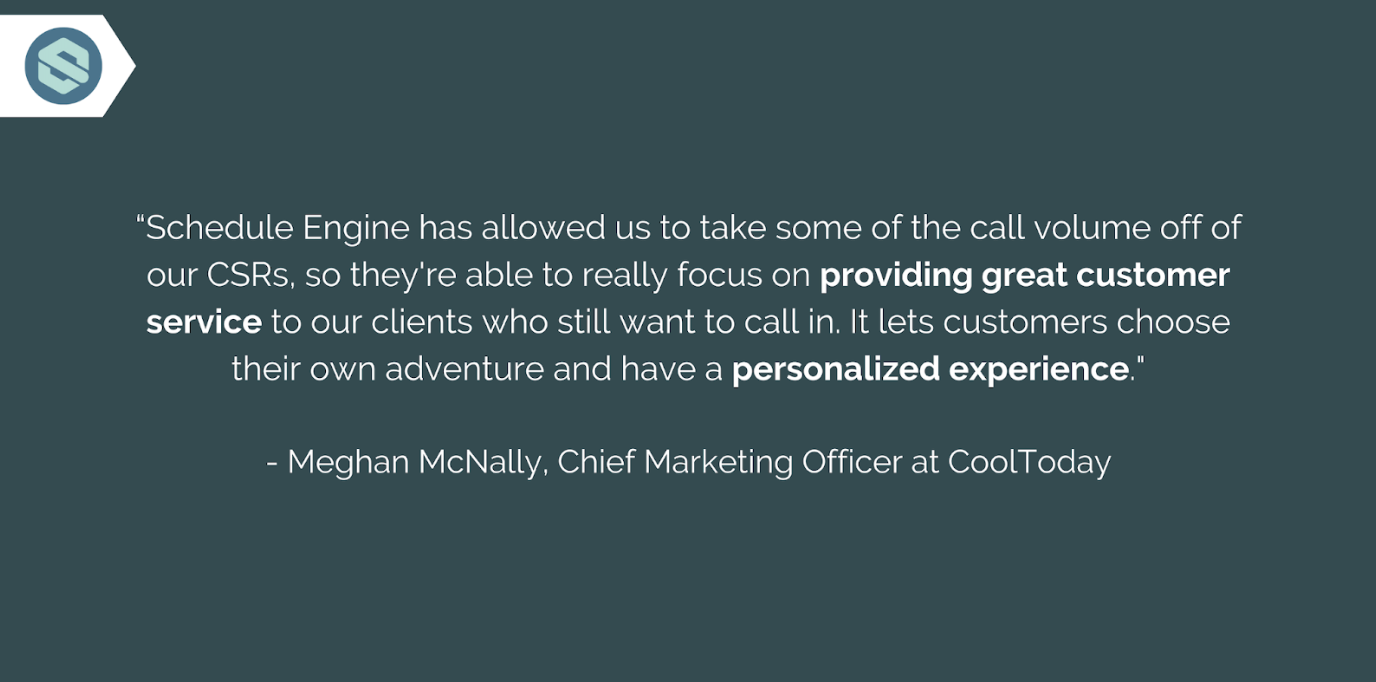 Using Schedule Engine's Online Scheduler, CoolToday books an average of 400 appointments a month, 80% of which come from existing customers, and 40% of which are booked after hours.

If your business is on thin ice during the winter season, don't wait to enhance your operational efficiency and provide your customers with a trusted and reliable experience when their HVAC systems are unable to.
Want to know how Schedule Engine can help your HVAC business as the cold weather ramps up over the next few months?